WINNER's Nam Taehyun CLEANS OUT Instagram Account Following Dating Accusations
After allegations made by netizens, WINNER Nam Taehyun responds to dating rumors.
WINNER Nam Taehyun was accused of dating rumors after fans and netizens gathered alleged evidence through his Instagram. They collected his preference in music, movies and other personal preferences and accused him of dating. After such allegations were made, WINNER Nam Taehyun, via Instagram, responds to the rumors.
The post has been since deleted on his Instgram but we managed to attain a photo of his post.
Originally posted on Pann, Nam Taehyun posts his response via Instagram on dating rumors.
Titled "Hul, Nam Taehyun Responds To Lovestagram Rumors," here is the direct translation of the post and comments below.
"I've been following Nam Taehyun since 'Acting School' but this post just came up.
He also deleted all his posts regarding his favorite movies and music.
I guess many anti-fans sent him hate messages. There are also so many malicious comments towards him.
If he is responding it like this, it means that there is no way that he is involved in 'Lovestagram' with anyone.
I really feel bad that his rumors started spreading."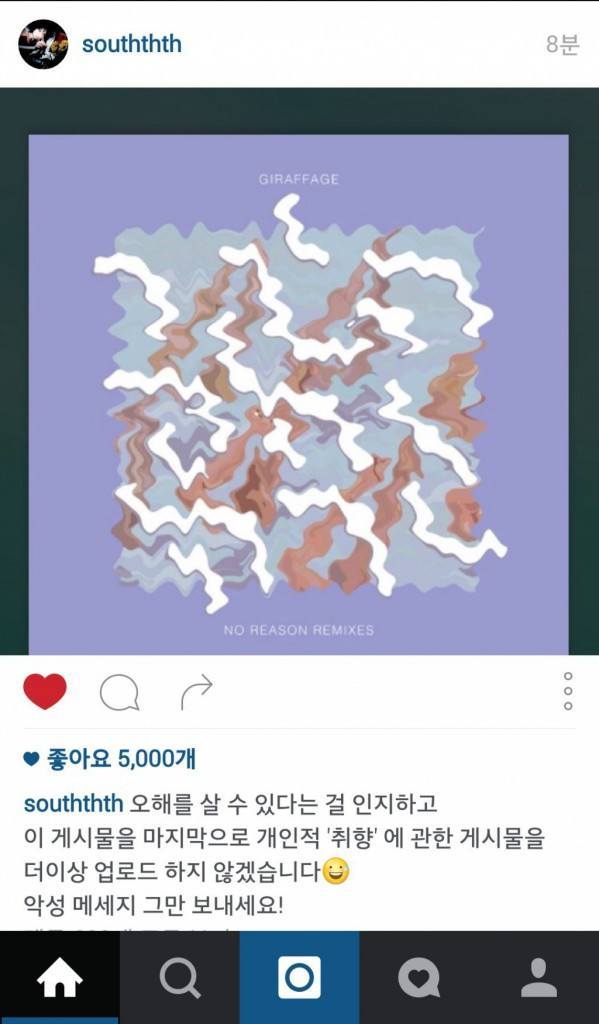 Nam Taehyun: "I won't be uploading any posts after this last post regarding personal 'preferences' because it may cause a misunderstanding amongst viewers. 🙂 Stop sending me hate messages!"

---
NETIZEN REACTIONS
Koreaboo has collected reactions from Netizens who commented on the original article from our Korean source. The below comments are the most popular comments at the time of this article being published.
---
[ +135 / 0] It was such a fan service for him to prefer music and movies to all of his fans even during his hiatus. Because of anti-fans and fans who were offended by the rumors, his Instagram account became something that he can't use to communicate to his fans.. As a fan, I'm really upset that he has to go through this when he is even hurting physically and now mentally through this.. Through all this, there were so many people leaving bad comments and sending him hate messages.. I hope he stops being criticized for outrageous allegations.
[ +129 / 0] Hey anti-fans, don't you think this is too much? He has been suffering from rumors even before his debut.. You guys were trying to mix him with other girls through his Instagram posts. What do you want him to do when you guys are even attack his personal space?
Source: Pann
Share This Post