Yang Hyun Suk says Antenna Music's studio is the size of YG's dressing room
SBS Survival Audition K-Pop Star 4's eleventh episode aired on February 1st and the judges were scheduled to meet at Antenna Music's headquarters. The judges are always joking with each other and this episode reveals Park Jin Young and Yang Hyun Suk's thoughts on the interior of Antenna Music's headquarters.
In the episode, Antenna Music's representative Yoo Hee Yeol is seen busily checking every room on the day of the meeting and spent the night prior to filming with his staff to make sure that the building is clean and tidied up for Park Jin Young and Yang Hyun Suk's first visit.
After a tour of Antenna Music's headquarter, Yang Hyun Suk and Park Jin Young had commented mostly on the small dance studio. As a singer who used to frequently dance in his performances, Park Jin Young kindly told Yoo Hee Yeol that the mirror was mounted on the wrong side of the wall.
Upon Yang Hyun Suk's arrival, Park Jin Young kept on asking him to point out what is wrong with the dance studio. Yang Hyun Suk used this opportunity to joke around with Yoo Hee Yeol and said, "This is the size of my dressing room." In response, Yoo Hee Yeol laughed and said, "Stop filming!"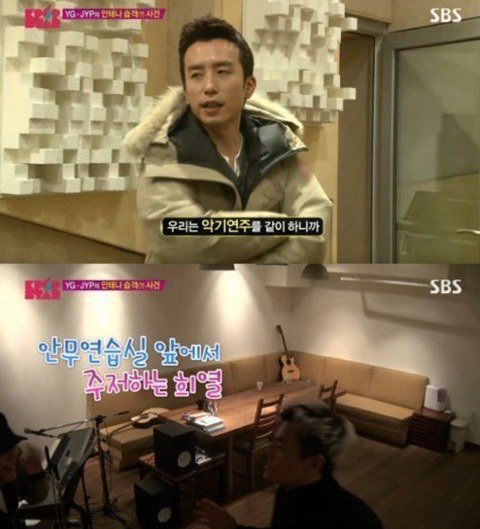 Source: YTN Plus
Share This Post