Zhoumi bravely confesses his desire to appear on "We Got Married" with Song Jieun
Super Junior M's Zhoumi has made his mark in the variety world by bravely confessing his desire to be partnered with Secret's Song Jieun on MBC's We Got Married!
The cast of E Channel's Brave Writers was graced with the presence of Super Junior members Kyuhyun and Zhoumi on its November 27 broadcast. Zhoumi's unexpected burst of variety-assertiveness truly lightened the mood.
Zhoumi's cute yet bold statement, "I want to rise in entertainment," aroused laughter among the cast and audience, who good-naturedly nodded along to his declaration that because he debuted in Korea late, he was enthusiastic in trying everything out variety-wise.
He then decided to make his first lasting impression on Korean variety by confessing that he would like to appear on the dating vareity-reality show We Got Married with Secret's Song Jieun. Following that statement, he recorded a video message for the singer, saying, "Jieun, would you like to go on We Got Married with me? I'll treat you well. Let's rise together".
Zhoumi later on became the object of the MC's affectionate teasing, as writer Park Won Woo offered the idol a spot on his upcoming new show Match Made In Heaven, to which Zhoumi enthusiastically declared, "I will definitely accept!", causing more laughter to spread among the audience.
Regardless of the star's variety life, his musical career has established a strong fan base for him through his solo debut in Korea with "Rewind," even going on to win first place on SBS MTV's The Show. He received support for his debut from his fellow idol friends f(x)'s Amber, FIESTAR's Cao Lu, TASTY, miss A's Jia and Fei, and fellow Super Junior members.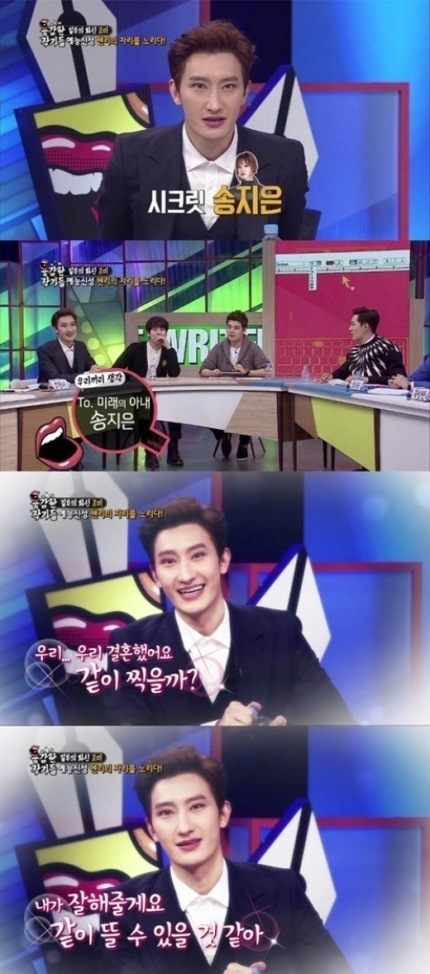 Source: TV Report
Share This Post