10 Korean Stars You Should Be Following On Instagram
While many idols are known to have popular Instagram accounts, there are a select few that have some of the best. Here are just a handful of the many Korean stars that have Instagrams that are worth following!
1. Amber – @ajol_llama
Amber has one of the most iconic Instagram accounts out of any idol. If you can think of it, she's probably posted it. Photos of her pets, friends, performances, and daily life fill up her account, and she posts fun, new photos multiple times a day.
2. B.A.P's Zelo – @byzelo
If you love watching idols live stream, Zelo's account is definitely one you should be following. Zelo streams almost every day (and sometimes multiple times a day) and loves talking to his fans. He keeps it real, showing his bare face and lying in bed as he talks to fans. He even fell asleep while streaming once!
3. BTOB's Hyunsik – @imhyunsik
Hyunsik is another frequent live streamer. Even if he's just walking around during the day, he'll still stream on Instagram and talk to his fans. He also posts photos of his daily life regularly. Not to mention, his smile is to die for!
4. Christian Yu (Rome) – @christianyu_
Christian's Instagram has blown up with his recent boost in popularity. His photos are near professional quality, and while he doesn't stream live often, when he does it's a treat. The way he transitions from Korean to English while he talks will make you swoon!
5. Tiger JK – @drunkentigerjk
Tiger JK's hilarious live streams are definitely worth turning on notifications for. He doesn't censor any of his comments and goes out of his way to respond to questions from his viewers. Other rappers like Bizzy and Junoflo also make frequent appearances on his streams!
6. HyunA – @hyuna_aa
HyunA posts multiple times a day on Instagram of everything that happens in her daily life. From friends to her favorite beauty products to snacks, you never know what to expect when you follow HyunA, but it's guaranteed to be great.
7. Tablo – @blobyblo
Tablo always keeps it real on his Instagram account. He always posts pictures of his daily life and often posts some of the most epic performance shots from Epik High's concerts. Oh, and did we mention adorable photos of his daughter Haru?!
8. GOT7's BamBam – @bambam1a
BamBam is another frequent poster with some of the cutest photos filling up his feed. All of the selfies he posts throughout the day make you feel like you're right there with him.
9. SHINee's Key – @bumkeyk
Key's Instagram is the complete package. He posts pictures of his everyday activities like shopping and traveling, and often gives fans a behind-the-scenes look at photo shoots and performances.
10. KARD's BM – @bigmatthewww
BM definitely proves why his name is  "Big Matthew" through his posts on Instagram. He posts post-workout selfies often and isn't afraid to show off his body. If you take a peek in the comments, you might even see the rest of the members of KARD (and even other idols) complimenting him!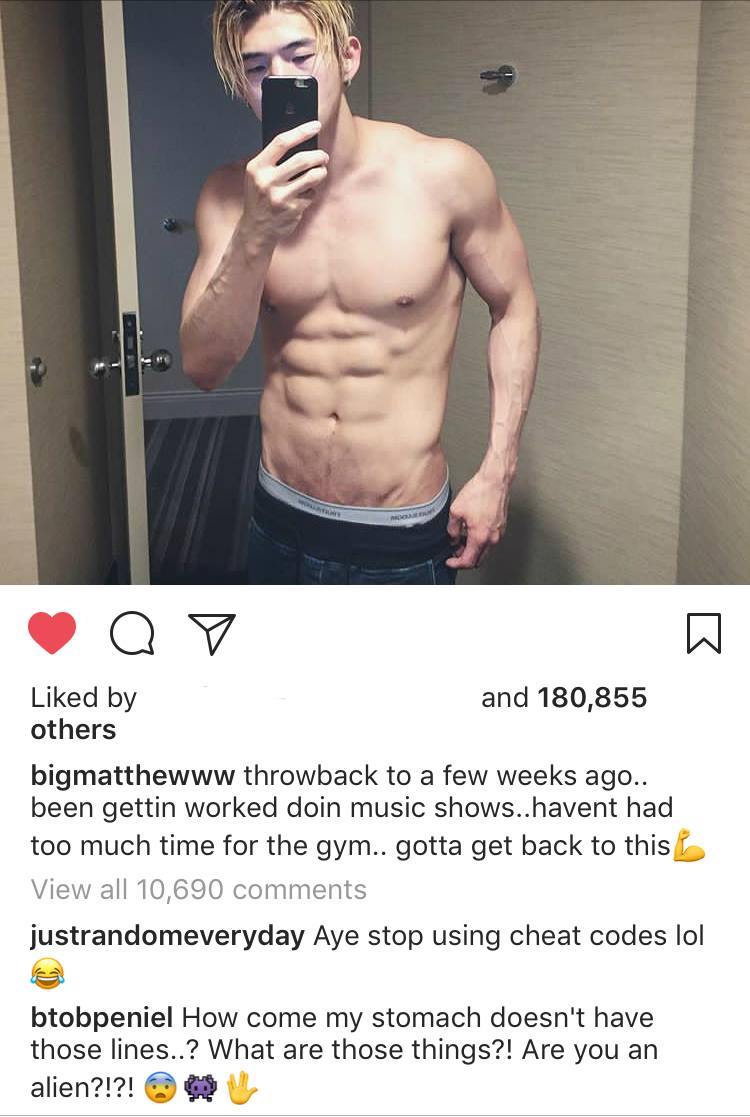 Share This Post