10 Most Emotional Reactions After Winning Awards
Winning an award is an amazing experience, so it's no surprise that idols get emotional about it!
There have been plenty of iconic moments for idol groups that fans know like the back of their hand. Here's just ten of the best award-winning moments.
1. Wanna-One
Wanna-One recently won their first ever music win with "Energetic" on Show Champion.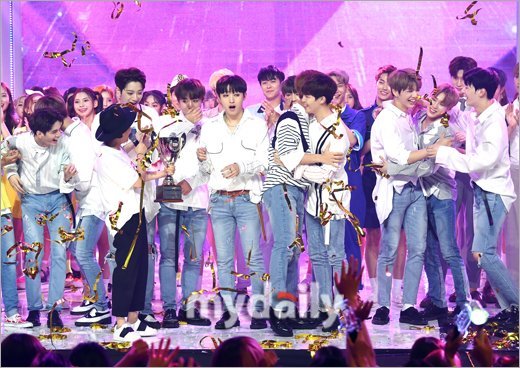 Everyone was shocked, but members Jihoon, Jinyoung and Jisung had some particularly dramatic expressions to share!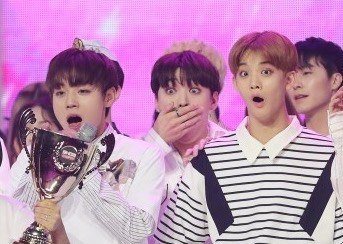 2. EXOEXO's first win with "Wolf" back in 2013 became quickly emotional after usually composed and strong leader Suho broke down into tears.
3. BTSBTS lived out an unforgettable moment winning Top Social Artist at the Billboard Music Awards this year, surrounded by screaming fans. They became the first ever K-pop group to take home an award from the hugely popular US awards ceremony.
4. GFRIENDWhen GFRIEND won their first ever win with "Rough", all the members were overwhelmed, but it was member Yerin who had the toughest job. She was an MC on The Show during their win, and she definitely tried her best to host her way through the end of the show without crying too much!
5. f(x)f(x)'s first win as a quartet with "4 Walls" quickly got very emotional, especially for members Luna and Krystal. 
6. SHINee
SHINee's first ever win with "Love Like Oxygen" was back in 2008. At the time, the youngest member Taemin was barely even 15. However, it's Jonghyun and Key who are seen being the most overwhelmed by their momentous win.
7. MAMAMOO
MAMAMOO are usually known for their strong image, but they clearly couldn't hold back their joy at their first win (and pitted up against two SM artists as well!). Solar can barely get through her thank-you speech, and the four go in for a well-needed group hug.
8. Miss A

Back in 2010, when Miss A got their first ever win for "Bad Girl Good Girl", the group got the shock of their life. When Min hands Chinese member Fei the microphone, she delivered a short winning speech in Mandarin!
9. TWICE
TWICE's first win with "Cheer Up" was just over six months since their debut, and you can tell exactly how surprised and happy the group are. While leader Jihyo delivers a composed and eloquent speech, you can tell even she's emotional as a tear rolls down her face while she's speaking!
10. Girls' Generation
Perhaps one of the most iconic music show wins of all time is Girls' Generation's very first win with "Into The New World". The group's charm and Taeyeon's confident speech really show why they went on to become one of the nation's greatest K-pop groups.
Share This Post