10 Times K-Pop Kneeling Moves Were So Harsh, They Made Some Idols Injured
Many on this list were spotted with bruises.
Content Warning
This article includes descriptions of graphic content that may disturb some readers.
While K-Pop dances always look pretty, they're sometimes also equally painful. One of the most difficult moves idols do is when they suddenly drop to their knees no matter what venue they're in. As they can't wear knee pads in the real performance, it's no surprise that they get injured often.
While some dances on this list are simply painful, others caused noticeable injuries on the idols. Check out some of the most cringe-worthy knee dances below.
1. IZ*ONE
Because of this move in "FIESTA", the members of IZ*ONE had bruises on their knees that makeup could not completely hide.
2. BTS
BTS may not hit the floor particularly hard in this dance, but jumping up and down could cause significant joint pain. While they often look healthy, they are no strangers to injuries in their career.
3. BTS ("Dionysus")
"Dionysus" is another choreography where they have to hop repeatedly.
4. BTS (Billboard Music Awards)
Jimin was once spotted with bruised knees peaking out from his ripped jeans.
5. BTS (J-Hope)
J-Hope also gave it his all since debut as seen in this complicated move.
6. GFRIEND
Known for their intense performances, GFRIEND has had their fair share of knee drops. Members were seen bruised as a result of their practices.
7. NCT
NCT is no stranger to stunts, and dances like this show how dangerous they can be.
8. NCT (Taeyong)
Taeyong's move is especially scary as he jumps from almost a meter off the ground and lands on his knees.
9. NCT
The floor may be smooth in the practice room, but sliding continuously hundreds of times can get tiring.
10. Sunmi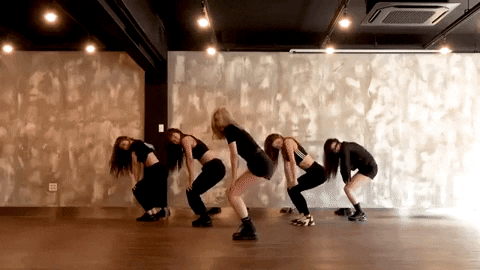 Finally, Sunmi has knee drops in most of her title tracks. Her choreography in "LALALAY", for example, makes her kneel on the floor multiple times.
Like the other idols, she was seen sporting painful bruises because of her profession.
Share This Post