10 Times MONSTA X Destroyed Monbebe's Hearts With Their Soft, Cute Outfits
The duality of MONSTA X knows no bounds.
MONSTA X has become known for their sexy, dark outfits and Monbebe loves it! However, some non-Monbebes have grown to think that that's all they wear. To put an end to that assumption, here are the most adorably soft outfits from MONSTA X that will brighten your day.
1. Sweater Paws Galore
MONSTA X quickly switched from their hardcore "Shoot Out" outfits to a much softer oversized sweater concept for "Myself".
2. Pastel Vibes
As one of Monbebe's favorite photos, this picture definitely deserves to be on the list as it's the definition of soft.
3. Kihyun's Boyfriend Aura
Kihyun often attacks Monbebes with his perfectly-crafted boyfriend style. This is no exception! What an amazing Spring style.
4. The Cabbage Worms
Many fans have a special place in their hearts for the iconic Monsta X-Ray cabbage worms!
5. Minhyuk's Pinocchio-chic
Minhyuk is constantly testing out his style when he MCs shows… this time he went for a fairy-tale look!
6. Ready-For-Bed Onesies
MONSTA X's double-chinned bears are an easy way to make anything cute! They make it even better with these onesies.
7. Shownu's Preppy Collared Sweater
Shownu looks amazing in this sweater/collared shirt combo. And that red hair!
8. Pastel Newsboy And His Pastel Assistant
Minhyuk teases Kihyun while both are in lovely pastel styles.
9. Just A Group Of Softies
The boys brought timeless pink and denim to Show Music Core for their "Crazy in Love" performance, adorable!
10. Hyungwon's Fuzzy Sweater
Hyungwon celebrates Christmas with a cozy sweater and soft, airy bangs.
Bonus: The Gorgeous Village Ladies (And Mayor Hyungwon)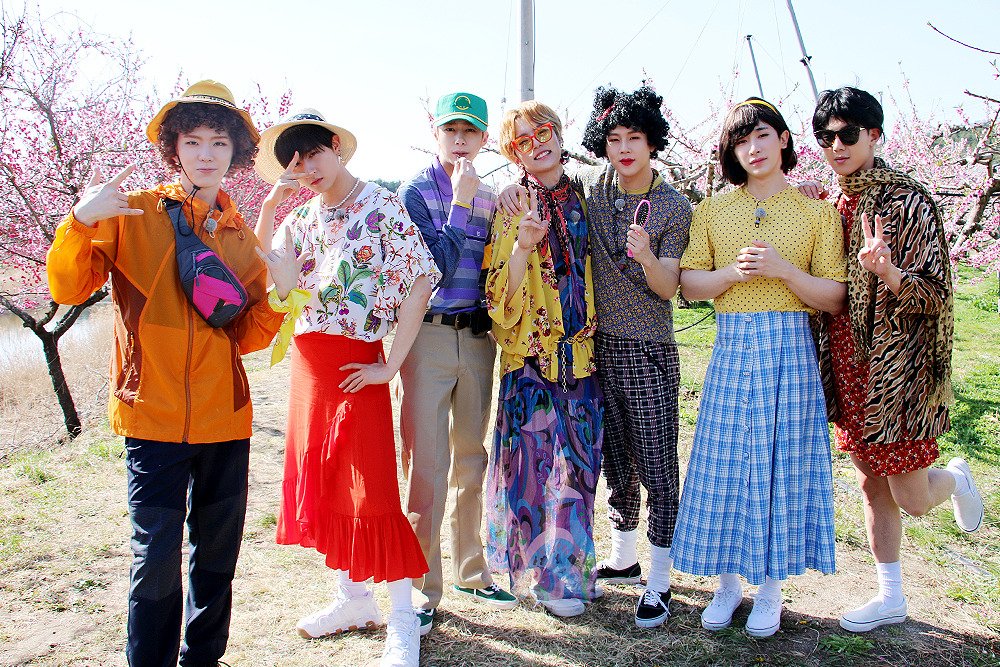 Which is your favorite outfit?
Share This Post