15 K-Drama Couples That Turned Into Real Life Relationships
Fans could tell they were dating before it was announced.
These celebrity couples met in front of the camera, but with sparks flying all over the place with strong chemistry, they took it off the screen and began dating in real life!
1. Lee Ki Woo & Lee Chung Ah
Actor Lee Ki Woo and actress Lee Chung Ah starred as the co-stars of Flower Boy Ramen Shop and revealed they were dating in 2013. They met on the set in 2011, but he took two years to ask her out.
2. Ahn Jae Hyun & Goo Hye Sun
Model-and-actor Ahn Jae Hyun and actress Goo Hye Sun from Blood were discovered to have dated for an entire year after the drama was released! Since the news of their relationship got out, Ahn Jae Hyun showered Goo Hye Sun with love on his social media and became the ideal boyfriend for many fans. The two got married in 2016, but divorced only after 3 years in October 2019.
3. Jung Eun Woo & Park Han Byul
Actor Jung Eun Woo and actress Park Han Byul met for the first time in their drama One Well-Raised Daughter that aired in 2013. Around December 2014, when the two were discovered to be in a relationship, Park Han Byul confirmed that she had broken up with singer Se7en earlier that year. Park Han Byul and Jung Eun Woo went their separate ways in 2015, after a short relationship of 7 months. Park Han Byul is now happily married and expecting a child.
4. Ji Hyun Woo & Yoo In Na
Actor Ji Hyun Woo and actress Yoo In Na began dating when Ji Hyun Woo made the first move to ask out his co-star of Queen In Hyun's Man in 2012, during a fan meet held in celebration of the end of the TV series. His out-of-the-blue confession of his love for Yoo In Na shocked everyone at the scene, including Yoo In Na herself. About ten days later, Yoo In Na admitted through her radio program that she and Ji Hyun Woo have begun dating. Their official break-up was in May 2014.
5. Lee Min Ho & Park Min Young
When City Hunter aired in 2011, its co-stars Lee Min Ho and Park Min Young were revealed to be dating. At the news unveiling the stars' relationship, both agencies carefully admitted the two "got to know each other better during the shoot and decided to take things further after the show ended." Lee Min Ho and Park Min Young broke up a year later due to their busy schedules.
6. Ji Sung & Lee Bo Young
Actor Ji Sung and actress Lee Bo Young didn't start dating until four years after they met on the set of Save The Last Dance For Me in 2004. The wait ended up being worth it, however, as the two got married in 2013 and gave birth to a beautiful daughter in 2015.
7. Ki Tae Young & Eugene
The co-stars, actor Ki Tae Young and idol-turned-actress Eugene, began dating in real life after starring on the show Creating Destiny together in 2009. The couple got married in July 2011 and had a daughter in 2015. This family of three received tremendous love from fans with their appearance on The Return of Superman. Eugene is now expecting a second child!
8. Lee Chun Hee & Jeon Hye Jin
Actor Lee Chun Hee and actress Jeon Hye Jin proved that, in some cases, age doesn't matter. Even though there is a nine-year difference, co-stars from the drama Smile, You began dating around 2009 and got married while expecting a child in 2011. In an interview, Lee Chun Hee explained during the shoot of the drama, he and his wife were not interested in each other because of the age difference. He confessed he instantly fell in love with the actress, however, when she drove up in a Volkswagen Golf GTI which has always been his dream car!
9. Kim Bum & Moon Geun Young
Actor Kim Bum and actress Moon Geun Young met on the set of Goddess of Fire and started dating in  2013. This couple's departure to Europe as a couple became a hot issue in Korea. The relationship lasted only about 7 months.
10. Yeon Jung Hoon & Han Ga In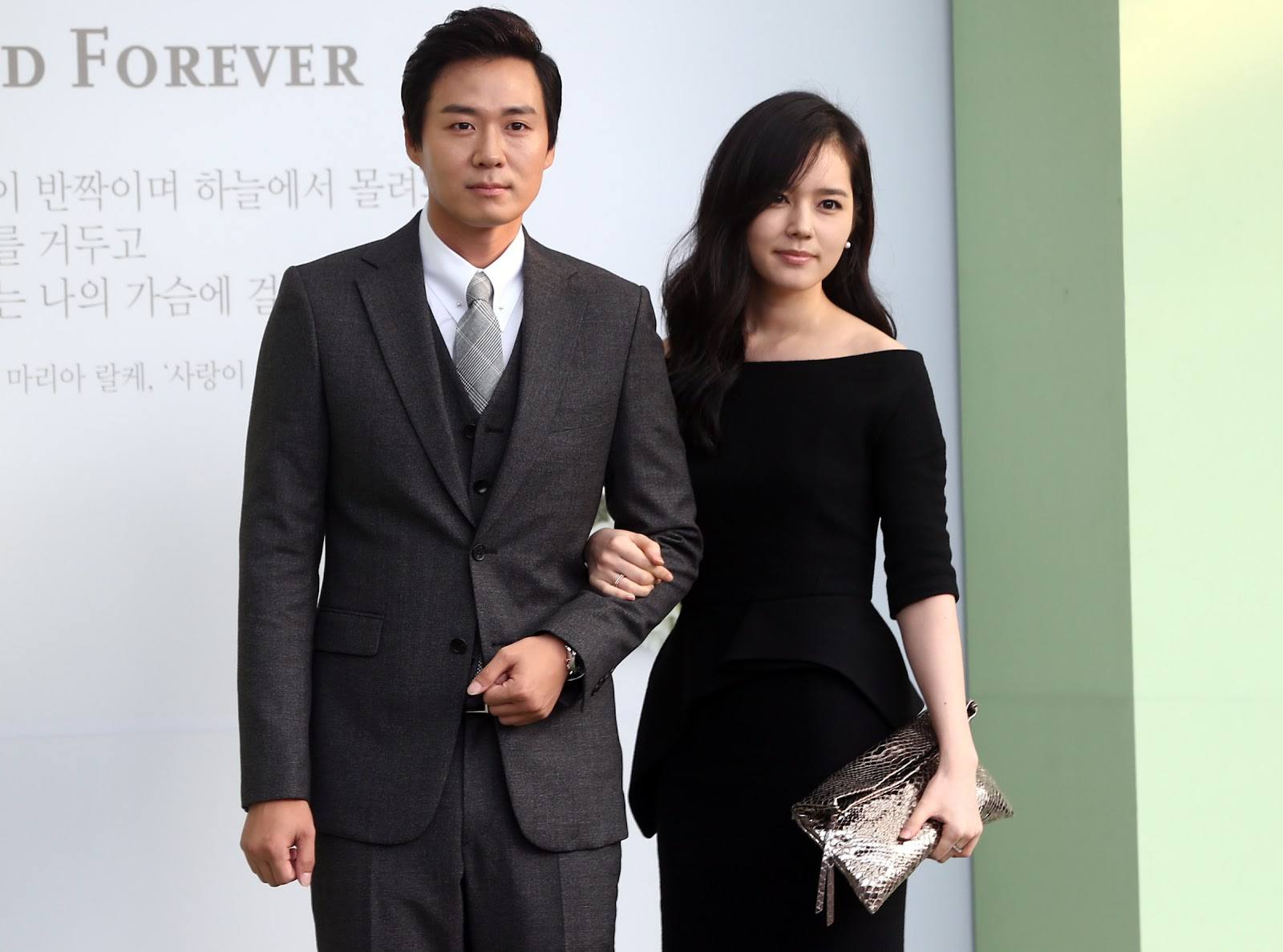 Actor Yeon Jung Hoon and actress Han Ga In have been together for a long time. They began dating around 2003 when they met on the set of Yellow Handkerchief. Then they got married in 2005 and have never left each other since. After being happily married for 11 years, the couple had their first child in 2016.
11. On Joo Wan & Jo Bo Ah
Actor On Joo Wan must have seen actress Jo Bo Ah as an actual princess on the set of the K-Drama Surplus Princess since the two ended up dating in 2014, the same year the series premiered. The two have broken up as of January 2017 for unknown reasons, while fans suspect it is because they "naturally grew apart."
12. Nam Joo Hyuk & Lee Sung Kyung
Model-and-actor Nam Joo Hyuk and model-and-actress Lee Sung Kyung fell in love while shooting Weightlifting Fairy Kim Bok Joo and continued the relationship after the show ended. They hade been friends since their modeling days, but feelings grew gradually to something more real. Sadly for fans of this real-life and drama couple, the pair went their separate ways in August 2017 after a very short relationship of 4 months.
13. Song Joong Ki & Song Hye Kyo
Actor Song Joong Ki and actress Song Hye Kyo were a match made on-screen during the smash hit Descendants of the Sun. After rumors started flying about dating during their trip to Bali, the couple released a surprise wedding announcement! The two, affectionately nicknamed the SongSong couple by the fans they got married following a surprise wedding announcement in October 2017. Their marriage only lasted 1 year and 10 months before divorcing in June 2019.
14. Lee Dong Gun & Jo Yoon Hee
Co-stars of the K-Drama The Gentlemen of Wolgyesu Tailor Shop, actor Lee Dong Gun and actress Jo Yoon Hee, began dating in real-life around the finale of the show in 2017. The two filed marriage papers first, as stated in Lee Dong Gun's official announcement made May 2017, and shared news of Jo Yoon Hee's pregnancy as well. The couple had a baby girl by December of 2017.
15. Ryu Soo Young & Park Ha Sun
Actor Ryu Soo Young and actress Park Ha Sun became a real-life couple after co-starring in Two Weeks that premiered in 2013. In 2015, their relationship was revealed to the public. The couple got married in January of 2017 and gave birth to a beautiful daughter in August of the same year.
Share This Post