16 Reasons Why TWICELAND Is The Happiest Place On Earth
TWICE's 1st World Tour TWICELAND: The Opening came to an end in June's encore concerts, but the experience will forever live on in the heart of ONCEs who attended the shows.
Through the beautiful stage set up and girls' breathtaking performances, TWICELAND was definitely every ONCE's dream and definitely the happiest place on earth.
Here are just a few reasons why TWICELAND was literally the best place to be:
1. Things Got Intimate Even Before The Concert Began
Before the concerts started, Jeongyeon, Jihyo, and Dahyun participated at the merchandise booth and directly sold goods to fans! Some lucky ONCEs were able to interact directly with the members and receive signed goods!
170618 #TWICELAND #ENCORE

Full Ver : https://t.co/frL1ZF8ZH2

cr: TheFlowerDancepic.twitter.com/JEd6N2OYeE

— dubu Φ (@2xDahyun) July 5, 2017
2. The Girl-Crush Vibes Were Off The Charts
At the first TWICELAND: The Opening concerts, TWICE performed covers of popular male idol group songs, including EXO's "Overdose" and SEVENTEEN's "Pretty U." 
TWICELAND OVERDOSE; CHAEYOUNG FOCUS;

CR: VIVID FILM pic.twitter.com/ETlClXS0jp

— dd c(h)aeng ? (@rctchae) July 20, 2017
3. The Best Fanservice Ever
During the encore for the concerts, some of the members took selfies and videos using some lucky ONCEs' phones! 
Playing with ONCE phone#Twiceland
pic.twitter.com/9fIBN1GTR0

— NAYEON (@limnaioen) July 21, 2017
4. The VCRs Were Perfect
At the beginning of the concert and in between performances, TWICE revealed some videos recorded just for the concert, and they were absolutely gorgeous! They're definitely must-watch clips! 
[VID] 170617 #NAYEON in #TWICELAND The Opening Encore VCR! ?#TWICE #트와이스 #임나연 #나연
Cr; UGYoda, imnayeon_intl
pic.twitter.com/CpCenDBznr

— 나연 (@YLINY95) June 19, 2017

5. The Birth Of Chaeriana Grande
During TWICE's TWICELAND: The Opening – Encore concerts, Chaeyoung put on extensions and had her hair up in  a high ponytail just like Ariana Grande. She even participated in the unit covering Ariana Grande's hit song "Greedy." 
─ TWICELAND✨
ㅤㅤㅤㅤㅤㅤ
ㅤㅤㅤㅤㅤㅤ「Yᴏᴜ ᴋɴᴏᴡ ᴛʜᴀᴛ I·ᴍ ɢʀᴇᴇᴅʏ ғᴏʀ ʟᴏᴠᴇ.」 pic.twitter.com/Hq9dBi46Xh

— Straw. (@_fxchaeng) June 21, 2017

6. They Literally Transformed Into Sailor Scouts
The nine members all resemble some Sailor Moon characters, and their performance of the iconic opening theme song definitely helped strengthen the comparison! 
https://youtu.be/ln6-juaRPlc?t=2m25s
7. The Stages Were Literally Magical
During the encore concerts, TWICE performed their two slowest songs, "Melting" and "Someone Like Me" under a magical arrangement of lights that looked like beautiful stars. ONCEs who in attendance were awestruck by their beauty shining under the lights! 
[VID] 170618 #NAYEON fan cam — '녹아요' @ #TWICELAND The Opening Encore #TWICE #트와이스 #임나연 #나연
Cr; nayeon2rang pic.twitter.com/x1IBjm5N0i

— IMNAYEON 임나연 (@IMNAYEON_INTL) June 19, 2017
8. They Proved They Could Pull Off Any Concept
From cute to girl-crush to sexy, TWICE really proved that they can literally pull off any concept with their various stages. 
twice performing partition at twiceland
– MENINISTS DIED TO BRING YOU THIS PERFORMANCE
– they honestly owned this choreo
– so much talent pic.twitter.com/qqSMAJ3z8z

— #6MonthswHoeniverse (@leehwitake) July 11, 2017
9. ONCEs Got To See Some Songs Performed For The Very First Time
Less than a month after their comeback with "Signal," TWICE took the stage at the encore concerts and performed several new songs for the very first time, including "Eyes Eyes Eyes" and "Someone Like Me." 
[VID] 170617 #NAYEON fancam — 'Eye Eye Eyes' @ #TWICELAND Encore Day 1!
Cr; Spinel_01
? https://t.co/qWJO4AT8bf pic.twitter.com/6geOSzoRF2

— 나연 (@YLINY95) July 8, 2017
10. The Aegyo Was Off The Charts
All the members took turn showing fans their aegyo, and everyone definitely had their heart skip a beat at least several times from the overwhelming cuteness!
え?!なに?!ミナリかわいすぎ。

cr.mimina0324#TWICELAND #MINA
pic.twitter.com/DrMKqzIvya

— 벨(ベル)? (@twiceNayeon_09) June 21, 2017
11. The Merchandise Game Was Legendary
TWICE really went all out with the beautiful merchandise at TWICELAND: The Opening. With tons of unique goods including the very first official K-Pop fidget spinner, TWICE's concert merchandise totaled up to over ₩1.5 million KRW (over $1,300 USD)!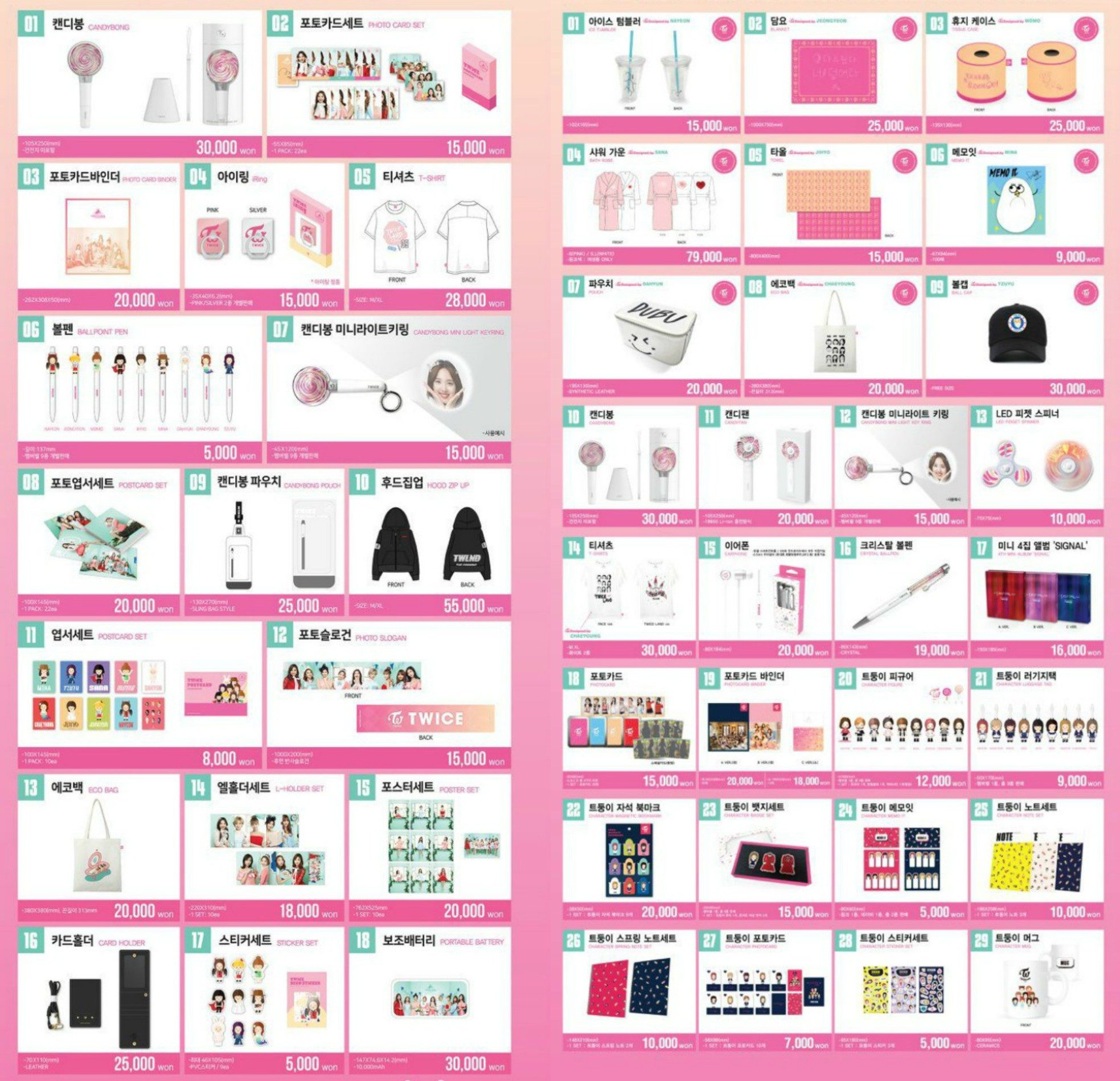 12. Ships Sailed On Stage
Mina and Momo (also known as Mimo) really showed their incredible chemistry on stage with their beautiful modern dance stage! Their perfect synchronization and imposing auras created a stage full of meaning without a single spoken word!
YinYang Couple marry ??????? #mimo #mina #momo

? #twice #twiceland ? pic.twitter.com/eMY2WnycyL

— mina x momo ?ミモ (@MiMo_Heart_Beat) July 27, 2017
Nayeon and Jeongyeon (also known as 2yeon) proved that their bond is close as ever as they teased each other during the encore stage. 
#2YEON. She's so annoying ? #TWICELANDENCORE #TWICELANDpic.twitter.com/buRxObQhpT

— 나봉 (@TWICE_IMNY) June 18, 2017
13. The Very First GIANT Candy Bong Ocean Happened
While TWICE has performed in front of a sea of Candy Bongs before (such as at music shows and fan meetings, TWICELAND was they were met with thousands of adoring ONCEs waving their synched Candy Bongs.
Twiceland pink ocean ❤❤ pic.twitter.com/Y7TkmWgUYX

— tzumato 쯔위마토 (@_tzumato) June 18, 2017
14. Things Got Emotional
The members got really emotional thanking their family, friends, and fans for showing them so much support so far in their careers. Even Tzuyu, who's known for being very in control of her emotion, broke into tears when giving her thanks. 
【尤达站独家】
170618 TWICE LAND encore concert
子瑜不要哭TT
严禁二传二改#TWICE #트와이스 #TWICELAND pic.twitter.com/iz92Jd0xEm

— Twice9-尤达宇宙护卫队 (@UGYoda) June 18, 2017

15. It Proved They Achieved Their Dreams
With thousands of fans in attendance, TWICE really achieved their dreams of becoming stars. They've gone through a lot since their trainee days and SIXTEEN, and fans couldn't be more proud. 
[VID] 170617 fancam — 'I'm gonna be a star' @ #TWICELAND Encore Day 1! #트와이스 #임나연 #나연
Cr; Spinel_01, imnayeon_intlpic.twitter.com/biaCLbpMX1

— 나연 (@YLINY95) June 19, 2017
16. Fans Sent TWICE The Sweetest Send-Off
To cap the tour off, fans sent TWICE a beautiful video message with beautiful words from ONCEs. Although it was the end of the concert series, ONCEs know that TWICE's journey as Asia's top girl group has just begun. 
Share This Post