18 Tips And Tricks You Must Keep In Mind Before Visiting South Korea
18 tips you MUST keep in mind before visiting Korea.
If you're traveling to South Korea, whether it's for the first or the tenth time, here are some hacks to make your vacation even better!
1. Bring things that can keep you busy in a hotel room — you can't leave for 2 weeks! Oh, and lots of cash too.
During the current Coronavirus pandemic, all foreigners entering the country on a tourist visa or visa-free will be required to quarantine in a government-designated facility for two weeks. This is normally a hotel near Incheon International Airport, and you are required to pay for the costs, which run about ₩2,100,000 KRW ($1,850 USD).
The quarantine procedure is simple — you can't leave your room. 3 meals a day are brought to your door, with lunch also including snacks. Bring something to do during your two weeks: books, computers, video games, something to keep you busy!
2. Make sure to pick up a transportation card to take the bus, train, and taxi!
Busses and trains use a tap on and tap off the system, so be sure to have your card ready when you're about to get on and off to avoid getting stuck in the sweep of people.
You can use them not only in Seoul but all over South Korea. By using transportation cards, you are charged less fare than when you pay with cash.
Not only can you purchase a transportation card with your favorite K-Pop star's photo on it, but you can also make personalized ones at locations in Hongik University Station, Shin Nonhyun Station, and Digital Media City Station.
3. Be prepared to scan a QR Code whenever you enter a restaurant or bakery.
Nearly all restaurants in Korea now require some sort of identification prior to entering. Most people opt to scan in a personalized QR Code that can be found on both Naver and Kakaotalk. If that option is not available for you, you are able to write down your name and phone number, so authorities can contact you if there happens to be a confirmed Coronavirus case at the location.
4. Avoid black taxis and ensure the fee counter is running as soon as you start driving — if you want to save money.
Black taxis deluxe model taxis and offer more passenger space and a higher standard of service — for a higher price. Take a silver or orange taxi for a more standard fee.
Some taxi drivers do attempt to rip off tourists by driving them to their destination without running the meter and then asking for a high fee at the end of the trip.
Another tip is to have the trip loaded on your maps application of choice so that you can watch where you are going during the trip to make sure you aren't driven around in circles.
5. Be vigilant about spycam crimes in South Korea. It's very scary and very real.
Spycam crimes within public baths and washrooms are rampant, and it is a good idea to wear a mask when using public washrooms.
Nowadays, Korean women wear masks to cover their faces and look around for holes even when going public restrooms. #Spycams are hidden in wall, and even INSIDE toilet. These crimes are rampant, also committed at public baths, gyms, swimming pools and lodging facilities. #혜화시위 pic.twitter.com/ksShOA6TLw

— Raphael Rashid (@koryodynasty) June 9, 2018
Spycams or molka are often installed in shoes, cigarette boxes, and more. Be vigilant when taking public transit, especially if you plan to wear shorts or skirts while traveling.
#Spycams are everywhere in Korea – so easy to install. Here are a few examples. So easy for a guy to look up a girl's skirt in subway as cams can be inserted inside shoes… #혜화시위 FYI men also spy on other MEN, especially at urinals and changing rooms. We live in a sick world pic.twitter.com/DDWLAJ0m8q

— Raphael Rashid (@koryodynasty) June 9, 2018
6. Festival culture in Korea is huge and definitely something you should join!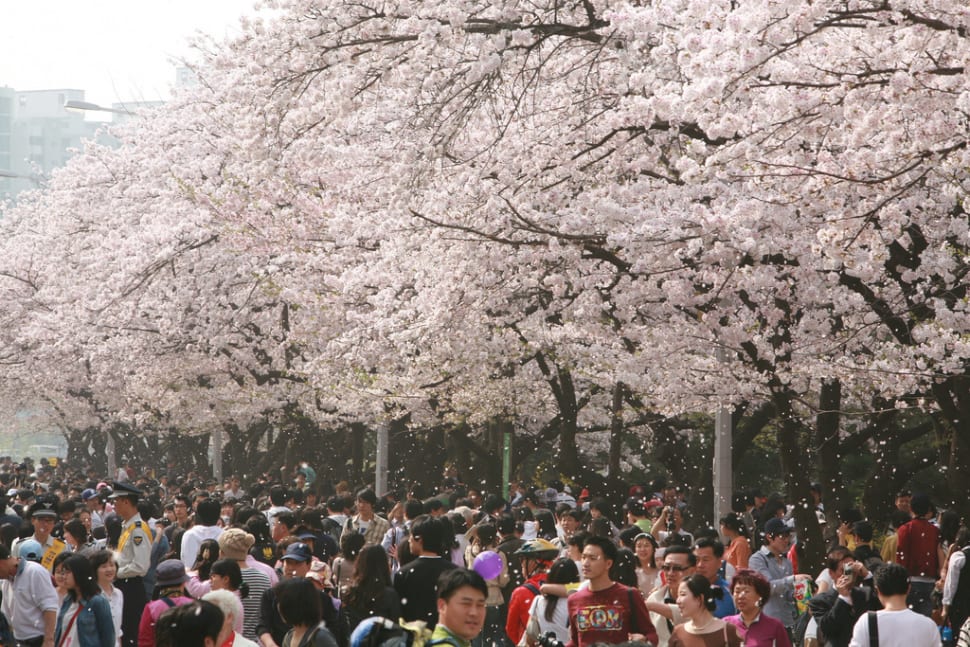 Research ahead of time to see if there are any fascinating festivals you'd like to visit, like the Jindo Miracle Sea Road Festival!
7. Carry around a little shopping bag in your backpack or purse in case you can't find a trash can.
It can be very tough to find public garbage disposal in South Korea, so keep a little plastic bag on hand to hold your coffee cups and straw wrappers until you find one!
This will reduce litter and prevent walking around awkwardly with an empty cup!
8. Follow the official social media of Korea Tourism and even Seoul Metropolitan Government, to be the first to hear about tour packages, flight deals, and even free K-Pop concerts for foreigners.
Korea Tourism has a main page as well as regional pages, so be sure to follow the social media for your local Korea Tourism office to get the best deals possible!
9. Mask Up! Especially if you are coming during the Coronavirus pandemic.
South Korea is running almost as normal during the current Coronavirus pandemic, with more shops, restaurants, and activities going on as normal. However, a mask is mandatory when going outside, whether it be using public transportation, shopping, and even walking in the park.
10. Download travel and transit apps specific for Korea, to look for fun things to do and to avoid getting lost.
The Google Maps app for South Korea is not perfect, and it's better to use Kakao Map (on Kako T) or Naver Map as it has an English interface. If you can read hangul, then Daum Maps would do as well.
When taking the subway, the Metro Seoul App and Subway Korea apps will be your best friend.
Apps like the official Visit Korea app or Mangoplate app will help you find the best places to sightsee and eat!
11. Carry your passport with you while shopping to claim taxes!
Tourists who shop in South Korea are entitled to claim a Value-Added Tax refund.
There are several restrictions based on which stores and how long you are staying so study up before you fly!
Some stores do immediate tax refunds, or they will give you a global tax-free receipt which you can use to claim your tax refund at all participating airports.
12. Pick up a data sim card or wifi egg at the airport to stay connected without racking up roaming bills.
You can either shop around at the different desks in the airport or reserve one. Sometimes they will mail the wifi egg to your accommodation of choice!
13. Look into booking a tour versus building your own tour with intercity busses and KTX trains.
There are plenty of incredible spots to visit in Korea outside of Seoul. You can visit them through tour companies who provide the train/bus tickets, accommodations, or guides.
If you're interested in building your own tour, the Intercity Bus and Korail websites are very tourist-friendly. You can find plenty of itinerary suggestions and great places to stay on your own if you are up to the challenge!
You can also meet free guides through the Youth Goodwill Guide program. These full-time students are good at foreign languages and provide a wonderful complimentary tour guide service.
14. Use language-learning apps and websites to learn hangul and basic key phrases to make your trip smoother.
Although a lot of storefronts, street signs, and transportation have English, it's best to learn some survival Korean and how to read hangul before you fly.
Don't worry, hangul used to be called "the morning language" because it's easy it could be learned in one morning!
15. Motels are, yes, generally for couples to have some private times.
However, there are a lot of nice ones you could potentially stay if you want to stay somewhere nicer than a hostel and cheaper than a hotel.
16. Experience Korea's incredible delivery food culture!
Sometimes you need a day of chilling in the hotel, homestay, or motel. That doesn't mean you need to miss out on the delicious food Korea has to offer. Use food delivery apps like Yogiyo, Shuttle, and Baedalri-Minjok to order in!
Some fast-food restaurants also allow you to order on your browser as well like McDonald's or Pizza Hut!
17. Look into flying into airports other than ICN.
When trying to save money on flights to Korea, be sure to search for alternate airports like Gimpo International Airport or Busan's Gimhae International Airport.
You could catch a sweet deal to an airport in another part of Asia. From there it's just another quick flight to one of these alternate international hubs in South Korea!
18. If you come across an event that you need a Korean account to buy tickets for, don't sweat it!
Check ahead of time to see if your bias group is having a Korean concert or if there are any exhibitions or musicals you'd like to visit while you are there.
If tickets are sold on Global Interpark Tickets, Auction, or other foreigner-friendly websites then you should be good to go.
If not, ask your Korean accommodation host for help to purchase the tickets or look into Korean virtual concierge services to get tickets for you.
Of course, if you've got buddies with a Korean registration number or alien registration number — they can help you out too!
Share This Post