19 Hidden Tattoos Of Idols You May Have Never Seen Before
Wonho has a tattoo secret tattoo… and you'll never guess where!
Although tattoos are still a bit of a sensitive topic in Korea, it's becoming more and more common.  It's no exceptions with K-Pop idols, with some exceptions like Jay Park getting tatted completely up, and idols like JYJ's Jaejoong having some pretty distinct ones. Some idols however, have been discreetly keeping their body art on the down low. Let's take a look at some of these idols.
1. Girls' Generation's Tiffany
Tiffany has a couple of hidden tattoos. The largest is on her left ribcage, and it says "Toujours belle", which is French for "forever beautiful".  A tiny inscription on her index finger says "Girls" in Japanese, while her middle finger is inscriped with "dreamer." Her foot tattoo says "Now Always and Forever" in Korean.
2. Girls' Generation's Taeyeon
While Taeyeon has numerous tattoos hidden all over her body, the largest and most noticeable one is the one that says "serenity." The "TY" in the word is larger than the other letters because it stands for her name of Taeyeon.
3. BoA
BoA has the letter "B" tattooed on her back, which stands for her name. Two angels are peering through the holes of the B, as if to say she has two guardian angels watching over her.
4. HyunA
Hyuna's most noticeable tattoo is the one on her shoulder that reads "My mother is the heart that keeps me alive". The tattoo is a symbol of Hyuna's love for her mother.
5. iKON's Bobby
Bobby has a tattoo on his back with the phrase "Fear only God Hate only sins". This tattoo must be special for Bobby because his father has the same tattoo on the same part of his back.
6. B.I (formerly of iKON)
IKON's B.I has a couple of noticeable tattoos on his body. One on his waist has the phrase "Like father, like son, like master, like man". On his chest, he inscribed the word "Nihilism". On his shoulder, he has a picture of a paper airplane with a sail and colorful balloons, which may symbolize iKON's track "AIRPLANE."
7. Hyolyn (formerly of SISTAR)
Hyorin has various smaller tattoos hidden on her body. The largest and most noticeable one, however, is the cross on her stomach. She got it for religious beliefs, as well as to cover up a scar she has on her stomach from a surgery she had when she was just a baby.
8. Nam Tae Hyun (formerly of WINNER)
WINNER's former member Taehyun has two tattoos on his left wrist. The first one says "STAY GOLD" while the second tattoo is a five banana peels. Many believed that this represented the five members of WINNER.
9. WINNER's Seunghoon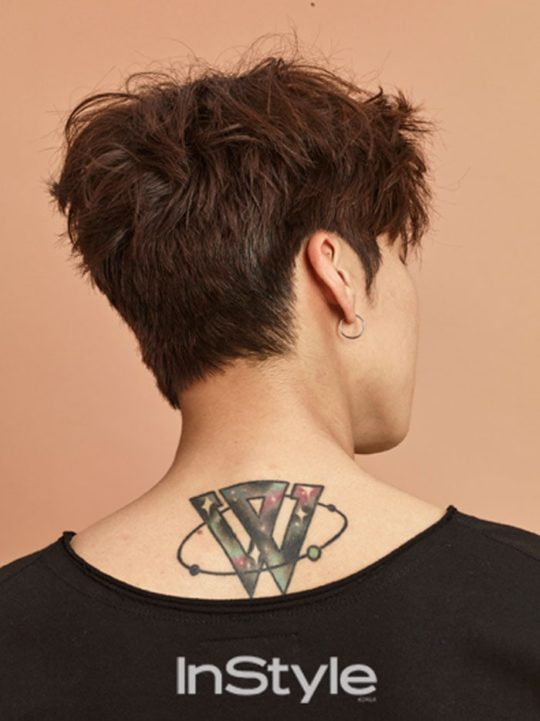 Lee Seunghoon of WINNER has a large "W" tattooed on his back, which obviously stands for his group's name. The tattoo is filled in with stars and colors of the galaxy, as if almost to say that WINNER will be taking over the galaxy.
10. Block B's Taeil
Surprisingly enough, Taeil has many tattoos all over his body. The largest and most noticeable one is a cheetah's face on his arm. Other tattoos that have been spotted are a flower and grenade, 777, MVP Lucky, an eye, a wasp and an anchor tattoo.
11. Block B's Jaehyo
Jaehyo has a tattoo of the letters "KR" on his left wrist. Some have guessed that it might be the initials of an old girlfriend or simply stand for "Korean Ramen" because he loves to eat! When asked about it, he replied that it doesn't stand for anything.
12. AOA's Jimin
Jimin has MANY tiny tattoos that she has posted about on social media. She has a fried egg tattoo on her arm to match her sister. The word "Elvis" (AOA's fanclub) across two of her fingers, "I love your mess" on her upper thigh, the word "HEY" on the back of her ankle, and quite a few more.
13. TEENTOP's Chunji
Chunji doesn't show his tattoo very often, and some fans didn't even know he had one! The words "This, too, shall pass away" are inked across his right shoulder in cursive, and they're only revealed when he wears sleeveless shirts.
14. B.A.P.'s Daehyun
Daehyun has a tattoo of the word "HOLD" in all caps on his right wrist. He hasn't revealed the meaning, but many believe it is deeply personal to him and B.A.P's history together. He also has the phrase "Best. Absolute. Perfect" [B.A.P's meaning] tattooed on his lower back.
15. SF9's Dawon
Dawon has a tattoo on the left side of his chest, but he hasn't fully revealed it yet, so no one knows for sure what it says. It's only been seen through his shirts, and based on the letters that have been seen, many believe it says "Grazie."
16. BTOB's Hyunsik
Hyunsik's tattoos aren't as hidden as some of the others on this list, but he doesn't show them very often. He has three that are known of: one of a triangle with the letters "I/V" (the Roman numerals for 1 and 5) inside it near his right elbow, a peeled banana on the back of his left arm, and one on the back of his neck that hasn't been fully revealed.
17. BTOB's Ilhoon
Ilhoon has a tattoo that stretches across his chest that's only seen when he's wearing sleeveless shirts (or no shirt). The words read "No one can be like God" in Spanish and are set between two flowers. He also has three paws on his wrist, which is a friendship tattoo with Ray and Kangjun, two members of the disbanded group C-Clown.
18. Wonho (formerly of MONSTA X)
Wonho also doesn't show his tattoos very often. So far, fans have been able to spot three. The one on his left thigh says "Life is C between B and D," which means "Choice between Birth and Death." He also has one on his foot that reads "Real recognize real fake," with an X above the second "real." Wonho also has a tattoo on the right side of his butt, but nobody's ever seen it (although rumour has it, it's a flower)!
19. GOT7's Youngjae
GOT7's Youngjae has two tattoos, one on each arm, but there are no clear photos showing what exactly they are. He's done a very good job of hiding them!
Share This Post