7 Idols Who Were Bullied Into Shutting Down Their SNS Accounts
Their accounts were just gone!
Social media can be really draining especially if you're in the limelight, which is why it shouldn't be too big of a surprise that some idols decided to shut down their accounts for one reason or another. Unfortunately, sometimes idols receive a ton of hate or backlash for some of their actions and, to avoid being overwhelmed by that hate, they often shut down their SNS accounts.
1. Leo (VIXX)
In 2016, Leo decided to close his social media accounts to the public after a fan club owner turned other fans against him.
The problem started when a fan club administrator identified as "Close To You" posted a vague photo of Leo with a birthday hat to her personal Instagram account captioned with "Together."
Fans began to accuse Jellyfish Entertainment of scheduling a special event with the fan site. Comments soon spread with many fans expressing their thoughts on a boycott. Some of these comments were left on Leo's Instagram and Twitter accounts, prompting him to make them private.
Luckily, things were set straight after both "Close To You" and Jellyfish Entertainment made a statement about the issue. Now you can look at as many posts of Leo as you want!
2. Kang Daniel (Wanna One)
Kang Daniel used to have an Instagram account but during Produce 101 he suddenly deleted the account. Nobody is certain why he made the decision to delete it, but it might have something to do with the unfair hate comments he kept getting.
3. Seo Shin Ae
The actress Seo Shin Ae got so much hate for a comment she made on an episode of Happy Together 3 that she completely shut down her Instagram account. In 2016, the teenager was a guest on the show alongside EXO members Suho, Chen, and Chanyeol. During the episode, she was asked if she was a fan of EXO and her reply was, "I like EXO but I'm a fan of Akdong Musician."
Following the airing of the episode, some upset EXO-Ls took to her Instagram and left some downright vicious comments. Ultimately, she decided she had had enough and deleted her account.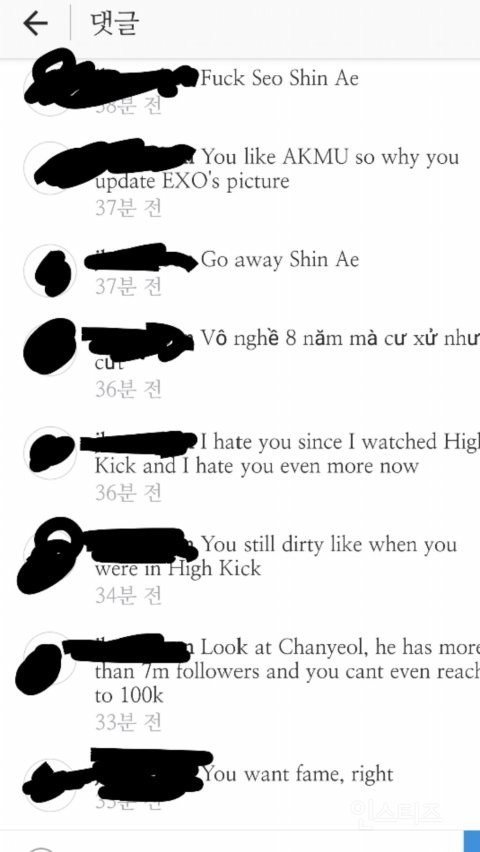 4. U-Kwon (Block B)
He might be on Instagram now but in 2014 he deleted his account after some nasty comments when his girlfriend Jun Sunhye caught the bouquet at a wedding.
She was the first to make the decision to delete her account, and he soon followed much to the disappointment of fans. Luckily, it's back!
5. Yoochun (JYJ)
Yoochun decided to delete his Instagram account because of a number of hate comments he was receiving back in 2017. At some point, he started the page back up again just to delete everything once again in June 2018.
6. Seo In Young
In light of a controversy in 2017, Seo In Young decided to delete her personal Instagram account and other SNS profiles. Netizens speculated that the decision was in response to the controversy that criticized her for being verbally abusive to the staff members of With You. Fans, however, were completely shocked!
7. TEEN TOP
Back in 2015, TEEN TOP's Neil was speculated to be dating a non-celebrity. Due to all the controversy surrounding the scandal, all the members of the group decided to temporarily delete their personal SNS accounts. They warned fans ahead of time and let them know that all communications would come through their official account instead. Since the deletion was only temporary, you can now visit their personal accounts.
Share This Post