7 Times Idols Got Bashed For Being "Rude" To Fans
They got all the wrong kind of attention.
1. SEVENTEEN
The boys of SEVENTEEN came under fire when some fans found fan letters trashed in front of their dormitory. Fans were mad that the letters weren't even read and called them out on it.
Pledis Entertainment made a statement saying that that none of the members threw away fan letters and that it must have been a mistake.
2. Park Hyung Sik
The talented singer and actor was called out when he ignored fans while filming High Society.
When he was promoting under ZE:A he would always greet and wave to his fans but fans felt snubbed since he started acting. After he finished filming the drama he made an official apology to his fans.
3. Former BOYS24's Hwayoung
A voice recording of Hwayoung was released by his ex-girlfriend chronicling possibly the rudest thing an idol has ever done!
In the clip, he can be heard insulting and complaining about his fans. At one point he literally says that talking to his fans makes him want to throw up! The clip was so damaging that BOYS24's agency apologized to fans and Hwayoung was removed from the group.
4. SEVENTEEN's S.Coups, Wonwoo, and Seungkwan
Fans were mad at the three members when another fan shared a photo of a note that she exchanged with SEVENTEEN. On the note the fan wrote, "What am I to you?"
In response, Seungkwan allegedly wrote, "My bread and butter" which is a slang for income. S.Coups wrote, "Woozi fan!" and Wonwoo laughed at S.Coups response. Some fans were shocked at their responses, while others thought they were just being honest.
5. BTS's V
V caught some flack at a fan signing event when he reportedly pulled a fan's hair. During the event, a very shy fan was talking to V but she could barely look at him. Then he reached out and pulled her hair upwards.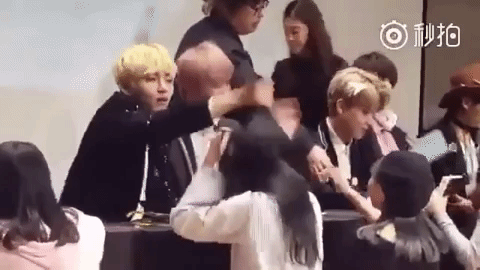 Jin noticed and told him to stop and netizens were quick to call V out on his actions. Some people viewed his actions as being rude while others simply think he was playing with her to make her more comfortable. The fan herself even made a statement that she was okay!
6. Apink's Eunji
Eunji received major backlash after she appeared on Challenge 1000 Songs. During the episode, she battled other celebs for the microphone.
At one point she even yanked the mic out of Olympic medalist Cho Jun Ho's hands. She later apologized for her behavior.
7. Hyolyn
Back when Hyolyn was still a part of SISTAR she shocked some fans with her cold attitude at a fan event.
One fan even reported being scared of her. Hyolyn later apologized for disappointing her fans and stated that she actually had a great time at the event even if she looked disinterested.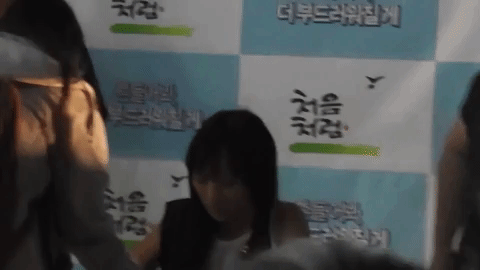 Share This Post