15 Deleted BTS V Posts That Prove The Internet Is Forever
Fans saved these posts faster than he could delete them.
Nothing in life is permanent, except what you share online! BTS's V deletes videos and photos as fast as he posts them, but his delete game is no match for ARMY. These 15 posts are here to stay!
1. "Butter (Hottest Remix)"
On June 1, V tweeted and deleted this video of himself dancing to "Butter." It was filmed during the shoot for BTS's "Butter" music video and posted to celebrate the song's debut on the Billboard "Hot 100" Chart.
TAEHYUNG DELETED THE VIDEO BUT WE HAVE IT SAVED, YOU CAN WATCH IT HERE..HE IS SO CUTE PLEASE

— koreasass 🧈👅 (@koreasass) June 1, 2021
2. This blurry, shirtless selfie
Last March, V uploaded a blurry shirtless selfie to the Weverse app. He gave ARMYs only 30 seconds to save it. When the clock ran out, the photo vanished!
3. This extreme closeup
Last May, V turned Weverse into his own personal photo dump by sharing two posts' worth of photos. Fans quickly saved them, knowing the photos could disappear at any moment. V deleted all the photos, but thankfully, they still exist online! This is one of them.
4. The car selfie
V looks too handsome for words in this selfie! He shared it as part of his Weverse photo dump.
5. Summer skies
On Weverse, V shared two boating photos from his vacation, taken with and by his friends.
6. Sailing
This is the second vacation photo V shared. The combination of a beautiful setting and a funny pose makes it the perfect picture!
7. Brand ambassador?
V protected his hairstylist's identity, but also his phone's. Since BTS are brand ambassadors for Samsung Mobile, V wrote "Samsung" over his iPhone.
8. Time Traveler V
V jumped ten years into the future by using an age-altering app.
9. Best friends
V snapped this photo of a photo of himself with J-Hope. If only their sunny smiles weren't blurred!
10. "Blue & Grey"
Are you missing V's blue hair era? Save this deleted photo to remember it by.
11. The closest of closeups
Even at close range, V's complexion is flawless. We need him to drop his skincare routine, stat!
12. The God of Trolling
V shared this behind the scene photo of himself wearing a halo headpiece. At the time, he was filming a "Dionysus" VCR for the 34th Golden Disc Awards. BTS's outfits were inspired by various Greek gods.
13. You've seen finger hearts…
…but have you heard of a "toe heart?" V might have invented it!
14. Black Swan
V's deleted photo of his "Black Swan" makeup has inspired fans to duplicate the look with their own.
15. The red glasses
Back in 2017, V accidentally tweeted a selfie while sharing photos by his photographer alter ego, Vante. In the picture, V is using a red glasses filter.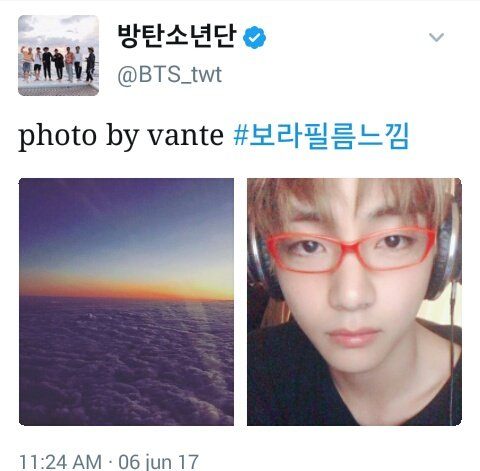 "Please forget that last photo," he wrote afterward. "I clicked the wrong thing. It isn't me."https://twitter.com/bts_twt/status/872097851701993472
Share This Post