CSJH The Grace's Lina and Jang Seung Jo look stunning in wedding photos
November 22nd marked the truly beautiful day in which CSJH The Grace's Lina and musical actor Jang Seung Jo tied the knot, officially being declared husband and wife!
Their private wedding ceremony was held in Gangnam, Seoul, and a few familiar faces were spotted in the audience, including actress Lee Young Ah, ex-M.I.L.K member Park Hee Bon, Go Ara, fellow CSJH members Sunday and Stephanie, EXO's Suho, and Shinee's Minho and Jonghyun. The presence of label-mates and their closeness as a company family was a beautiful sight to see, especially on a day so special as this.
The support and love from colleagues did not end there, as fellow musical actor Huh Gyu and singer Jang Eun Ah came along to perform and express their affection towards the breathtaking couple.
The photos released by NowWed magazine fail to thoroughly express exactly how stunning the couple looked at their wedding, but, even so, the photos themselves possess the ability to knock the wind out of viewers. All three photos showcase different emotions and aspects of the union of the two lovers, from heartwarming tenderness, to overwhelming joy, to a state of tranquility and peace that one cannot express through words alone. One common factor in every single, however, is the chemistry and love they reserve for each other that can be felt just by looking at the photos.
Lina and Jang Seung Jo first met on the set of their 2011 musical "Temptation of Wolves", and revealed their 2-year relationship for the first time in May of 2014, followed by the news of marriage. Due to their busy schedules, their honeymoon is said to have been delayed until closer to the end of the year.
Congratulations to the beautiful couple!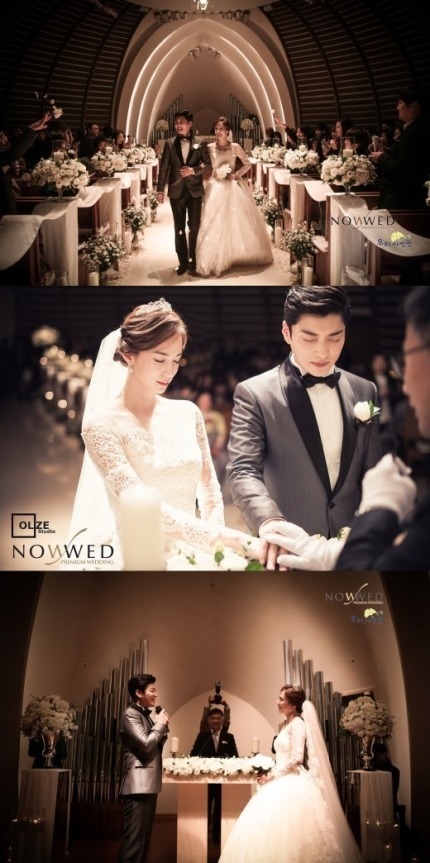 Source: TV Report
Share This Post