5 Surprising Connections Between TWICE and IZ*ONE That'll Blow Your Mind!
We're definitely saying "Yes" to more TWICE x IZ*ONE connections!
While we all know that IZ*ONE's Nako is the "ONCE President" due to her insane love of TWICE, did you know that TWICE has connections to IZ*ONE in a different way?
Here are five surprising connections between TWICE and IZ*ONE that took us completely by surprise:
1) Both TWICE and IZ*ONE's Lee Chaeyeon participated in SIXTEEN!
That's right! Lee Chaeyeon is actually a former JYP trainee and ranked 16th on Sixteen.
While she is currently signed to WM, she and TWICE still have a strong friendship, as the TWICE members immediately went to congratulate Chaeyeon when IZ*ONE won their first ever music show award!
2) TWICE's former manager "Sadness Unnie" is now the manager of IZ*ONE!
Kim Nayeon, nicknamed "Sadness Unnie" for having an uncanny resemblance to the character of "Sadness" from Disney's Inside Out, was TWICE's manager for years before eventually moving to manage IZ*ONE.
3) IZ*ONE's Kim Minju gets confused for Tzuyu…all the time!
While we didn't see it at the time, Kim Minju was continually compared to being Tzuyu's "doppelganger" during her time in Produce 48 due to them looking almost exactly alike!
4) TWICE and Sakura (w/ AKB48) met in Japan in 2017…and took photos!
Before her time in IZ*ONE, Sakura was actively promoting as a member of AKB and HKT48. During that time, she and members of AKB48 were able to meet TWICE (and take photos with them!) as both groups performed on Music Station Super LIVE in 2017. While Nako and Hitomi don't seem to be in the photo, eagle eyed fans might notice a few other Produce 48 contestants in the mix as well!
5) Jihyo and Dahyun showed their love for IZ*ONE's "La Vie En Rose" literally.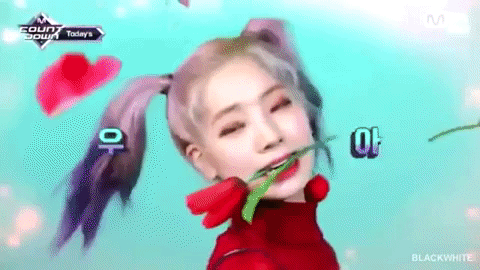 In a cheeky way to promote "Yes or Yes," Dahyun and Jihyo used IZ*ONE's "La Vie En Rose" as a way for fans to say "Yes" or "Yes"!
To make their love of the song even stronger, the song is used in the background when Dahyun asks "Do you desire La Vie En Rose"?
We're totally blown away be these connections, and hope that maybe one day TWICE and IZ*ONE can share the stage for a collaboration performance!
Share This Post