These Hot K-Pop Bodyguards Might Wreck Your Bias List
Fans can't help stanning these male and female guards.
The K-Pop world is populated by beautiful people, and some of them work behind the scenes. Whenever an attractive bodyguard shows up, fans can't help stanning them. Here are just some of the hot bodyguards that keep your faves safe!
1. TWICE
TWICE's female bodyguards are super beautiful badasses! Not only do they protect TWICE from danger…
…they also have a great rapport with the members.
They're fantastic at their job…
…and gorgeous enough to be mistaken for TWICE members!
2. BTS and TXT
Good news, Big Hit fans! If you keep track of BTS and TXT, you'll get twice as many opportunities to see this handsome bodyguard in action.
This staff member's visuals got a lot of attention starting in 2019, when he escorted BTS through the airport.
Fans also spotted him protecting TXT too. Now he has two fandoms stanning him!
3. BLACKPINK
If BLACKPINK's bodyguard wasn't working security detail, she could definitely be a model!
BLINKs couldn't help noticing this guard's fine features during the In Your Area world tour.
Some fans have even posed for photos with her!
4. Taeyeon (Girls' Generation)
Taeyeon's handsome guard looks like he stepped out of a K-Drama. He'll protect, he'll attack, and his hair's perfectly slicked back! He looks fabulous in a suit, of course, but his visuals also shine when he's dressed casually…
…or taking a swim!
He stole many fans' hearts while protecting Taeyeon during her PERSONA solo tour.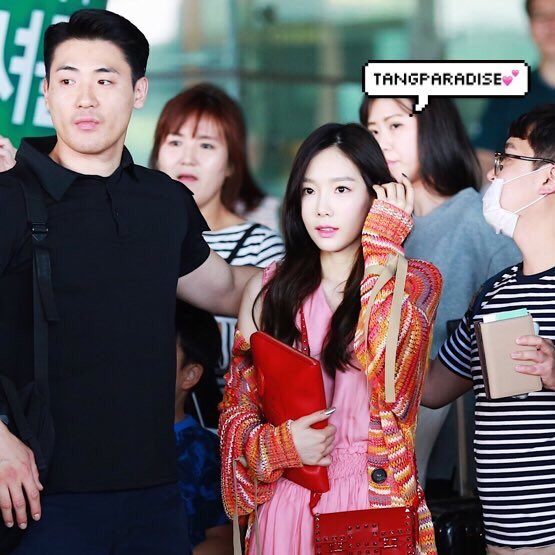 5. CNBLUE and FTISLAND
It's common for bodyguards to work for more than one group, and that's the case with this visually-blessed protector! He has worked security details with CNBLUE and FTISLAND for years.
Fans love him so much that they've even dedicated fan pages to "Bodyguard Kim" Facebook!
Share This Post