JYP Entertainment Is Behind 15 Of The Most Iconic Memes In K-Pop
Somehow Jackson Wang is constantly on this list.
While K-Pop provides fans with jaw-dropping music and performances, it wouldn't be a stretch to say that many idols' second jobs are being comedic geniuses. K-Pop has provided us with plenty of memes to laugh over, and the artists from JYP Entertainment are behind these 15 legendary memes, some of which have reached far beyond the K-Pop world.
1. The Calm Friend Vs The Hyper Friend
Posted on TWICE's official Instagram and then spreading across all social media platforms, this time-lapse of Momo and Nayeon from 2019 will always be relevant.
this time lapse of nayeon and momo will always be meme worthy pic.twitter.com/9ixZuP8Efy

— namo loops (@Ioopnamo) December 19, 2021
2. Language Barriers Sometimes Result In The Funniest Interactions
An interview between GOT7's Jackson Wang and Desiigner was so hilarious, Snoop Dogg posted a clip of it on his personal Instagram.
3. TWICE's Chaeyoung's Drinking Meme
This series of pictures is so iconic, it's an official meme template.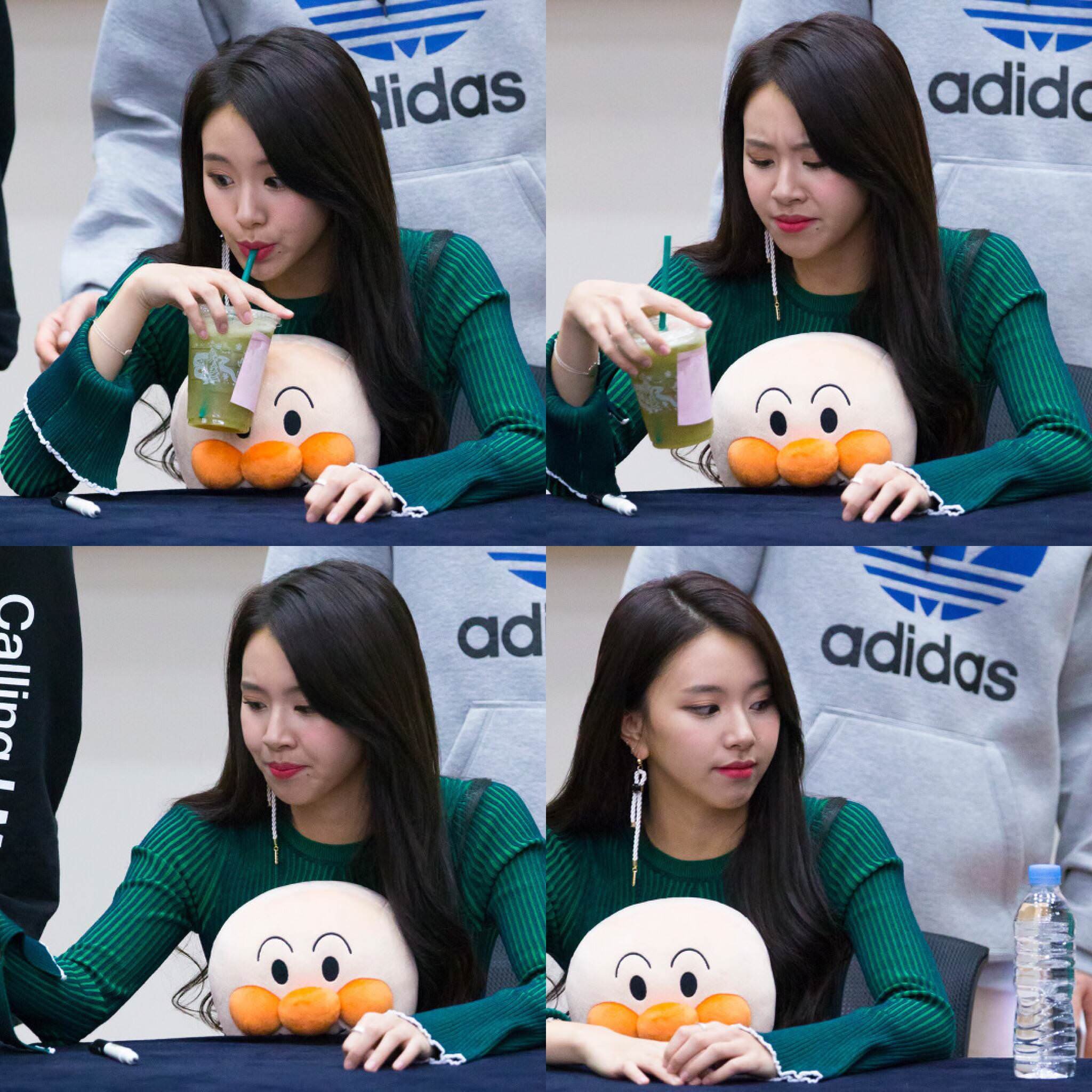 4. "Mom I Made It!"
Stray Kids' Lee Know was featured in a documentary for National Geographic, and the way his dance accentuated the narration sends fans into fits of laughter.
OH MY GOD Y'ALL MINHO WAS ON NATIONAL GEOGRAPHIC pic.twitter.com/VZD0PGqoZ5

— 해원 ! 정환・゚:*✧ ゚ (@hhwanggs) September 1, 2018
5. Shoulder Slip
With 14.2 million views on TikTok, Jackson's playful reaction to this accidental shoulder strap slip is another meme for his neverending collection.
6. Tipsy Jeongyeon
It's always award shows that give us some of the funniest videos in K-Pop.
7. "Cheese Kimbap~"
Nothing is cuter than TWICE Sana's expression in this video. Nothing.
8. "BIBIMBAP!!!!!!!!!"
In complete contrast with Sana's aegyo, Dahyun's explosive frustration with JYP is proof that only she can get away with yelling at her boss.
Dahyun need to explain "Bibimbap" (Korean Mixed Rice) to JYP and she totally lost her temper 😂

Dahyun: "Thing you eat, you mix the rice! BIBIMBAP!!! 🔥 😡"

JYP: "Wa i really don't know this 😲" pic.twitter.com/TX737KG9r8

— SK (@SubjectKpop) November 30, 2019
9. JYP Is Always At The Center Of These Memes
Jackson's reaction was the highlight of this MAMA 2019 performance for both fans and idols watching.
10. BamBam's Signature Words
BamBam has had a series of trendy obsessions, like water bottle flipping and dabbing, but the one obsession he can't let go of is saying "Skrt Skrt."
Therapist: and what do we say in that situation
Bambam: pic.twitter.com/ReSkE8l4bO

— mars 🤍 (@tzuyucix) November 4, 2019
11. "Hello, Annyeonghaseyo"
Thanks to Jackson's honesty and hilarious delivery, this clip went viral on every social media platform.
12. Stray Kids' Aussie Line
No conversation better captures Bang Chan and Felix's Korean-Australian identity than this short exchange.
OI fELiX cOME hERE bRO

hERE'S YA RAMEN

WhAT YA MaKE bRO

FoR mE cUZ pic.twitter.com/WsP27kOWlf

— lorena (@felixftyunho) April 20, 2018
13. Cursing On Broadcast
Whether it's GOT7 Jinyoung's slip of the tongue or 2PM Wooyoung's panicked scolding, JYP Nation interactions are always chaotic and memorable.
14. Nayeon Eating Ice
This was peak bunny behavior during the encore of TWICE's third win for "Dance The Night Away," and Nayeon quickly stole everyone's hearts with her adorably comical expression.
15. Whisper Challenge Or English Challenge
Stray Kids' Hyunjin's interpretation of translating words into English by adding a heavy American accent is linguistic comedy gold.
Share This Post