SEVENTEEN Might Tease Their Maknae Whenever They Can, But These 15 Moments Are Proof That Dino Is Their Beloved Baby
SEVENTEEN will do anything to put a smile on Dino's face.
SEVENTEEN share a chaotic relationship that often flips between teasing and loving, but the boys are always full of laughter and smiles no matter the situation. As the youngest of the group, Dino is often the target of SEVENTEEN's playful attacks. Though the rest of the members never pass an opportunity to make fun of him, they also make sure to shower him with an equal, if not greater, amount of doting.
1. The Most Precious Hug
The amount of joy on Dino's face as he runs to hug S.Coups outshines the sun.
Crying at this video of dino running to hug cheol…he's really cheol's baby 🥺🥺pic.twitter.com/M7sJDWCjmt

— mi 원우지 (@miwon17_) May 9, 2022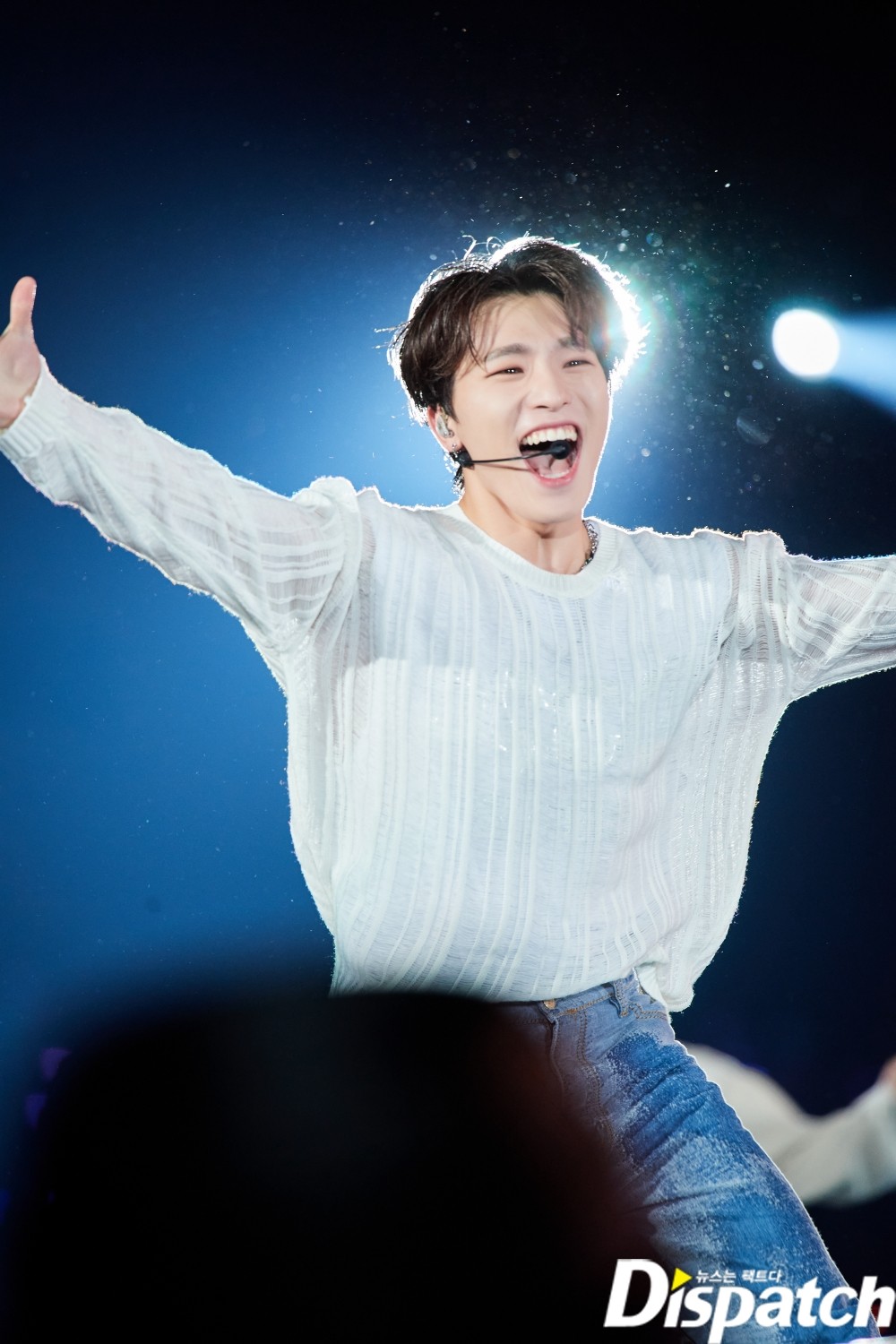 2. What Dino Wants, Dino Gets
SEVENTEEN will do anything to put a smile on Dino's face.
3. Most Supportive Cheerleaders Ever
This is how you hype up your friends.
the biggest plot twist is dino only got 4th place but seventeen still cheering and celebrated him like he won the 1st place THIS IS WHAT THE TRUE FAMILY AND BEST FRIENDS GONNA ACT I TELL YOU ONCE AGAIN THIS IS SEVENTEEN pic.twitter.com/hobGUCBBFg

— a¡na (@seokyot) August 23, 2020
4. Making Sure He Doesn't Get Left Out
There's always room for the maknae to tag along.
5. Always In Sync
Synchronization kings even when they're taking care of Dino.
Jeonghan and Minghao noticed that Dino was struggling to cut the cake and they immediately took a fork each to help him 🙁 pic.twitter.com/JjQ4jTvbiG

— ᴋᴇɴ🌼ᴡᴡ (@sunbaeknims) March 23, 2022
6. Take My Hand
The way Joshua reaches back to take Dino's hand is so endearing.
7. We'll Travel The World Together
Now they've had two world tours, and a third one is on the way!
dino got sad bc he couldn't attend their fieldtrip on their predebut days and hoshi,jihoon, seokmin comforted him to make him feel better. little does he know he'll travel the world in the future with his 12 brothers together 🥺 @pledis_17 pic.twitter.com/Ct0GMZPQUZ

— ً (@luxuryhoshi) November 5, 2020
8. When The Teasing Ends With Hugs
Mingyu can't make himself keep teasing Dino when he's this cute.
9. I'll Protect You
Don't worry, Dino. You're always safe with your hyungs.
im sorry but dino being so clingy with vernon is actually one of the cutest things ive ever seen?? 😭 @pledis_17 pic.twitter.com/sv4YLpNNMi

— 75 (@noniespancake) August 10, 2020
10. Feeding A Baby Bird
One of the greatest signs of affection is feeding your loved ones.
11. It's Okay To Be Pampered
Even if they have a Tom-and Jerry relationship, their love for each other runs deep.
seungkwan & dino's late night talk 😭😭 dino cried when seungkwan talked about him;;;; 🥺🥺 ahhh pic.twitter.com/yrpt4q41qA

— tracy 🐱 (@tinkswonu) August 31, 2021
12. Gushing Over Dino's Cuteness
This is another kind of teasing, but it's the kind that melts your heart.
13. At The End Of The Day…
Dino is SEVENTEEN's favorite.
"dino, it was a good content"
"let's end it in a cool way"
"you're the best maknae"
"lee chan, you're the last & best star of the show"
"sorry we're always so hard on you"
"saranghae!~"

ily dino! 💖#찬랑하게_빛나는_디노생일 #Our_Hero_DINO_Day @pledis_17pic.twitter.com/pb3hilIztR

— ai | med school 📚 🩺🌸 (@miss_svtmafia) February 10, 2022
14. It's The Little Things
It's the tiny actions that show how much SEVENTEEN care for Dino.
15. Run To Your Arms
There's no better way to end this list than with another adorable hug.
dokyeom saying that he loves dino then dino running towards dk to hug him ☹️@pledis_17 #BBMAsTopSocial pic.twitter.com/25gfzO8ijV

— luna ! (@kyeozm) May 19, 2021
Share This Post