The TRUE Meanings Behind These 13 K-Pop Group Names
You'll never guess what "TEEN TOP" actually means.
Many K-Pop groups boast unique (or strange) acronym names as part of their identity but not everyone knows the true meaning behind them.
1. BTS
No, BTS does not mean "behind the scenes". BTS is an acronym for "Bangtan Sonyeondan", which translates to "Bulletproof Boy Scouts". The idea behind the name is that BTS's music would serve as a shield to protect adolescents (along with their values and dreams) from the stereotypes, criticisms, and expectations that the world fires at them like bullets. In July 2017, BTS added an alternate new meaning to their acronym, "Beyond the Scene" to reflect their global popularity. It is also meant to represent the youth who are pushing beyond their current realities to move forward, toward their dreams. Fun fact: BTS's fan club name, A.R.M.Y, is short for "Adorable Representative M.C for Youth", but we don't like to talk about that!
2. EXO
EXO stands for "EXOPLANET," which refers to a planet that beyond our solar system. When the group debuted in 2012, they had an extraterrestrial/superpower concept that perfectly matched their name. The group has promoted in Korea as EXO-K (EXO-Korea) and in China as EXO-M, (EXO-Mandarin). The acronym for their subunit, EXO-CBX, refers to the subunit's three members: Chen, Baekhyun, and Xiumin. 
3. NCT
NCT stands for Neo Culture Technology and describes the group's concept of having an unlimited number of members from various countries divided into multiple sub-units: NCT Dream, NCT U, and NCT 127. The "127" in NCT 127 refers to the longitudinal coordinate of Seoul as the subunit is based in Seoul. NCT U is the "United" version of NCT as its songs don't feature a consistent lineup but feature NCT members based on who is the best fit for that particular song.
4. 2NE1
2NE1 is less an acronym and more a unique stylization of the phrase "New Evolution of the 21st Century". The former 2NE1 members certainly deserved a bold, unique name to match their style.
5. B1A4
B1A4 means "Be the One, All For One". Like 2NE1, B1A4's group name is more stylization than acronym. The name also refers to the members' blood types. One member is type B and the four others are A type. Clever!
6. VIXX
Points for trying, VIXX, but "Value In Excelsis" is just barely an acronym. "In Excelsis" is Latin for "in the highest degree". Hence, VIXX means "value in the highest degree". The name sounds elite and chic, perfect for a group that offers high quality hits every time!
7. U-KISS
U-KISS stands for "Ubiquitous Korean International Superstar". Talk about a mouthful! Say what you will, U-KISS, but this is clearly a case of "we need a meaning to fit this acronym".
8. TVXQ
Many confused fans have wondered how TVXQ can mean "Rising Gods of the East". Well, mere mortals, the meaning was actually derived from the acronym's Chinese pronunciation, written as "Tong Vfang Xien Qi". "Rising Gods of the East" couldn't be more perfect for a K-Pop act that has been ruling the world for over ten years!
9. TEEN TOP
The acronym for TEEN TOP is, quite possibly, the most absurd one in K-Pop history. Who would have ever guessed that "TEEN TOP" stands for "Teenager Emoboy Emotion Next generation Talent Object Praise"?
10. NU'EST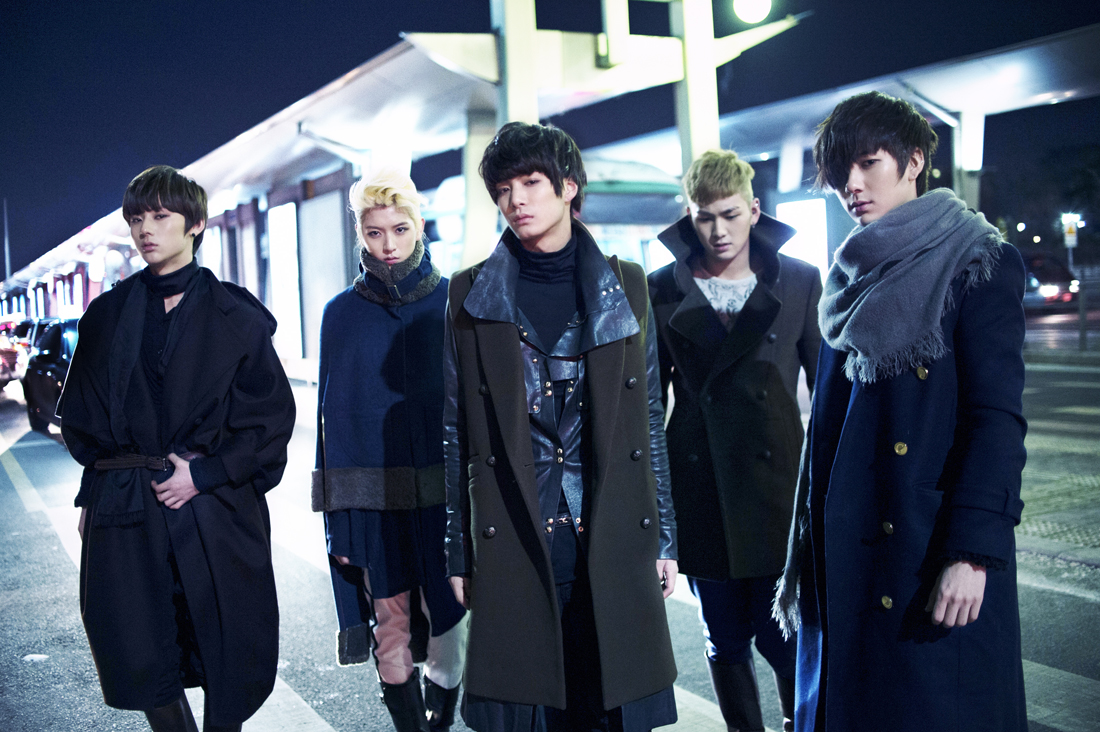 NU'EST means "New EStablished Style and Tempo". This isn't really an acronym, but it is true the group's overall image. When NU'EST debuted, their name declared that they would bring both new "style and tempo" to the K-Pop scene. Spoiler alert: they did.
11. BtoB
No, BtoB does not mean "back to business". The acronym stands for "Born to Beat". Born to beat…what exactly? The competition? The maknae when he gets out of line? Perhaps BtoB should add one more letter to their acronym to complete their phrase!
12. BEAST
Before Highlight became Highlight, they were BEAST or B2ST, which meant "Boys of EAst Standing Tall" or "Boys to Search for Top". Both meanings hint that the group would rise above their competition and dominate the music scene. After the group left their old agency, they changed their name to Highlight, which means "the brightest part".
13. MBLAQ
If TEEN TOP is the reigning champion of weird acronyms, then MBLAQ might just be the runner up. MBLAQ stands for "Music Boys Live in Absolute Quality", which technically makes sense but sounds bizarre.
Share This Post