Instagram reveals which Korean celebrities topped with the most followers and likes
With the final month upon us, social media Instagram has revealed its yearly statistics for Korean celebrities, unveiling who has the most followers, who received the most likes, and more.
Publishing the stats on December 3rd, G-Dragon records with the most followers out of all Korean celebrities with 6.6 million followers. Girls' Generation's Taeyeon comes in 2nd with 5.3 million followers.
In another category, BIGBANG's T.O.P tops at #1 for having the most amount of followers in a short amount of time, followed by former Girls' Generation member Jessica and her younger sister and f(x) member Krystal in third.
Check out all the categories and rankings below:
★ Most followers and post with the most likes ★
1. BIGBANG G-Dragon (@xxxibgdrgn) – 6.6 million followers
Most 'likes' 556k: https://instagram.com/p/6hDjoTtgA5/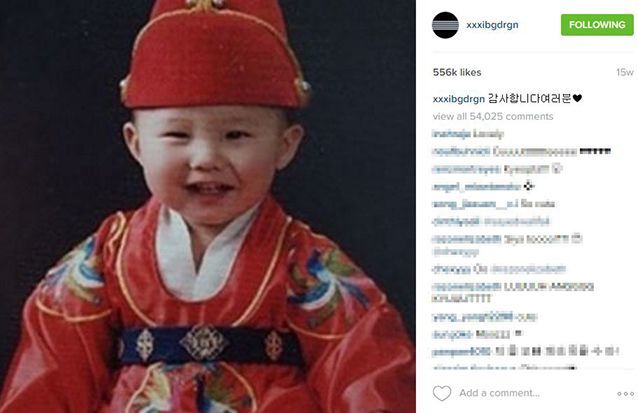 2. Girls' Generation's Taeyeon (@taeyeon_ss) – 5.3 million followers
Most 'likes' 522k: https://instagram.com/p/2a2h_JH_i8/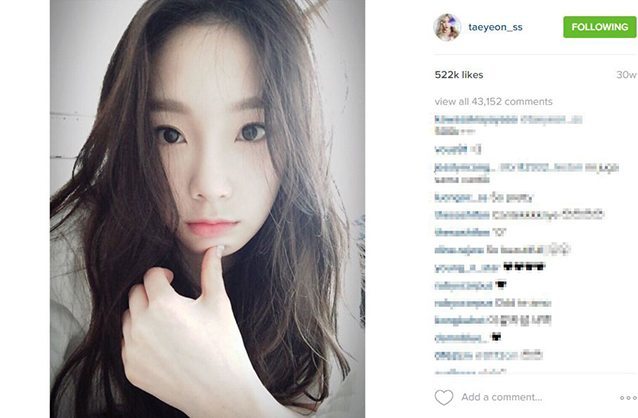 3. EXO Chanyeol (@real__pcy) – 5.2 million followers
Most 'likes' 968k: https://instagram.com/p/2sFJ4ormaR/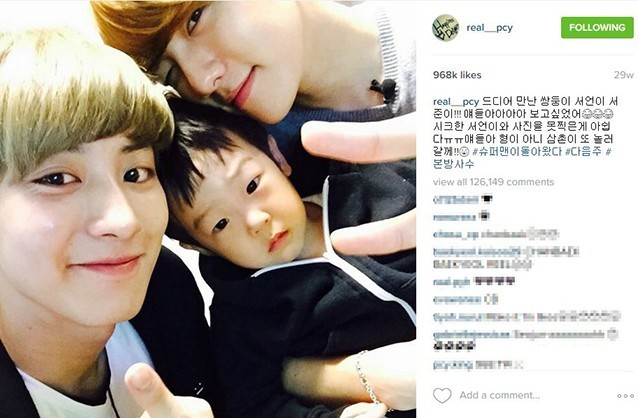 4. EXO Baekhyun (@baekhunee_exo) – 4.8 million followers
Most 'likes' 819k: https://instagram.com/p/0-ND-OhiDA/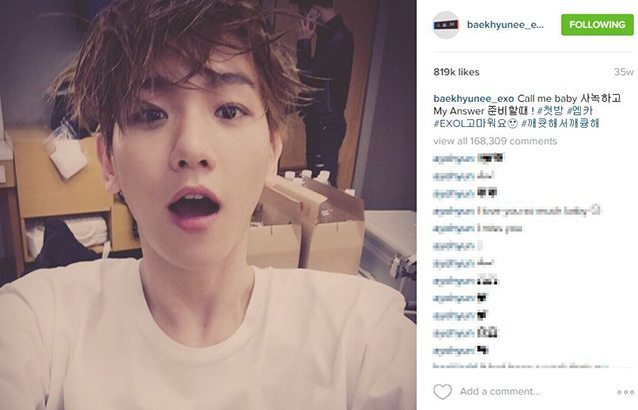 5. EXO Sehun (@oohsehun) –4.8 million followers
Most 'likes' 892k: https://instagram.com/p/1YVbTdrkDg/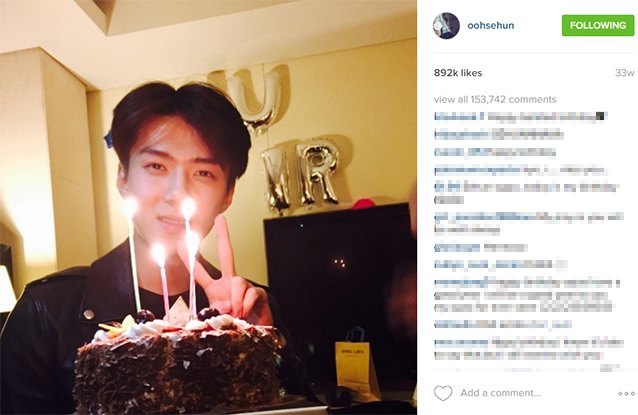 6. BIGBANG Taeyang (@__youngbae__) – 3.6 million followers
Most 'likes' 455k: https://instagram.com/p/6r-gCQQgVG/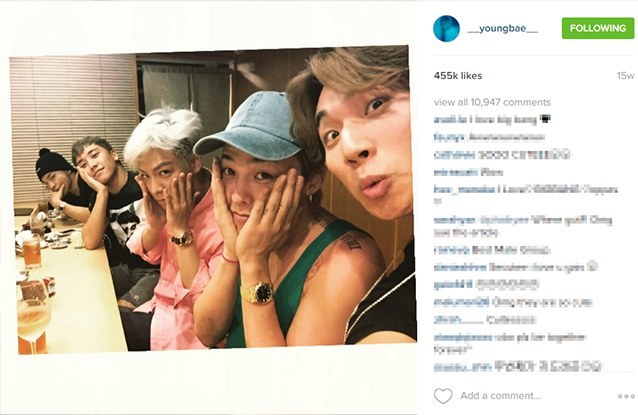 7. EXO Lay (@zyxzjs) – 3.3 million followers
Most 'likes' 657k: https://instagram.com/p/3AyEFTuTFZ/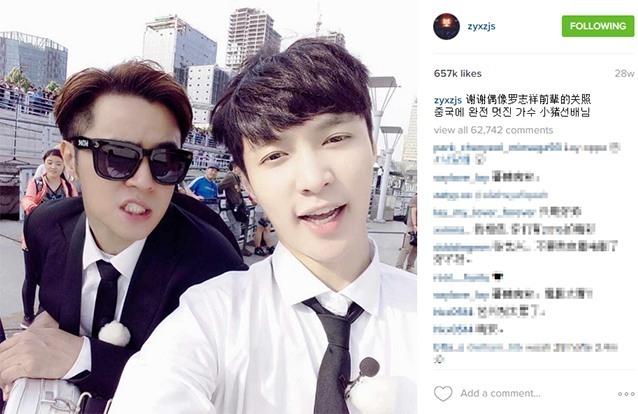 8. Super Junior Donghae (@leedonghae) – 3.2 million followers
Most 'likes' 344k: https://instagram.com/p/5mbpG8l8Ef/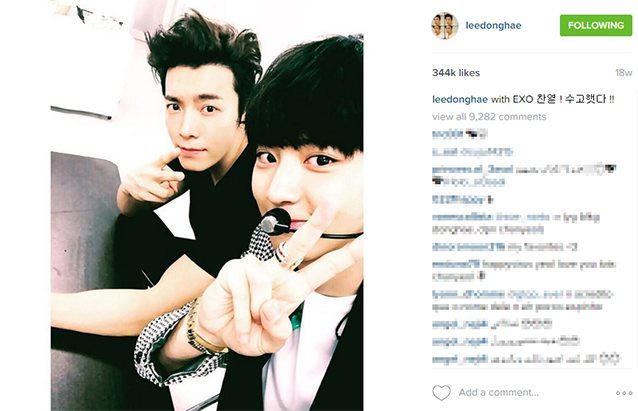 9. 2NE1 Sandara Park (@daraxxi) – 3.2 million followers
Most 'likes' 282k: http://instagram.com/p/xTjyh9iS9A/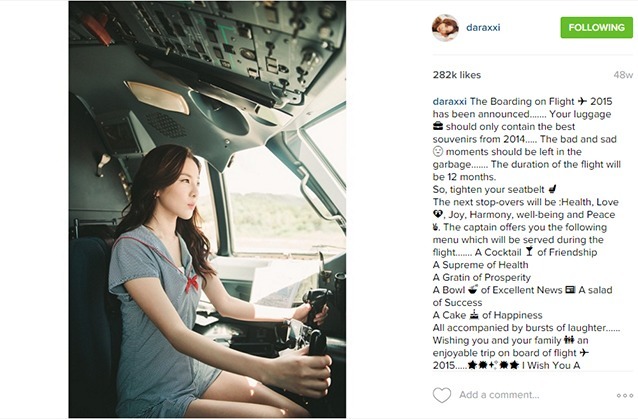 10. 2NE1 CL (@chaelincl) – 3.10 million followers
Most 'likes' 284k: https://instagram.com/p/6CHn9krL4b/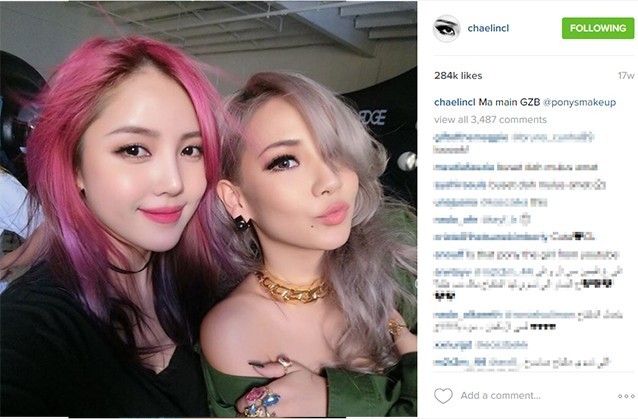 11. 4MINUTE Hyuna (@hyunah_aa) – 3.10 million followers
Most 'likes' 207k+: https://instagram.com/p/3fTlHrKtmW/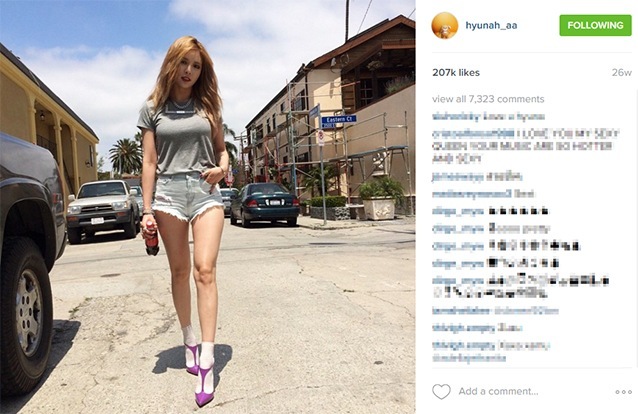 12. BIGBANG Seungri (@seungriseyo) – 3.1 million followers
Most 'likes' 395k: https://instagram.com/p/6r-XXovNWj/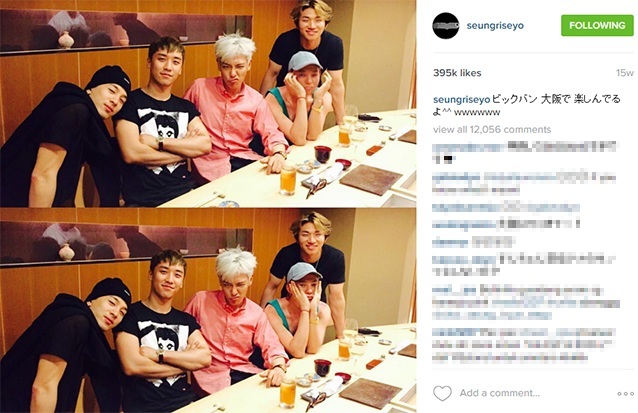 13. BIGBANG T.O.P (@choi_seung_hyun_tttop) – 3.1 million followers
Most 'likes 402k: https://instagram.com/p/51vuqepecm/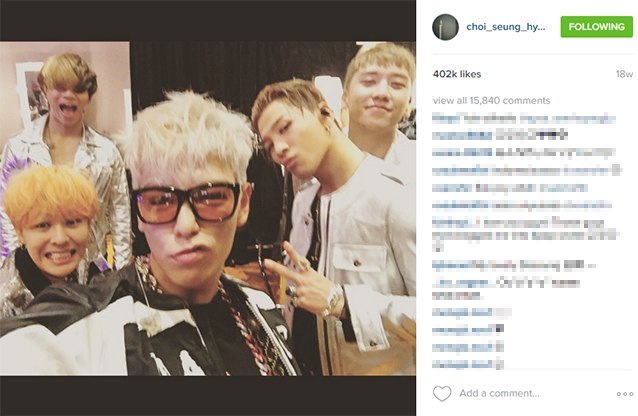 14. Girl's Generation Yuri (@yulyulk) – 3 million followers
Most 'likes' 264k: https://instagram.com/p/7jSdUENZIs/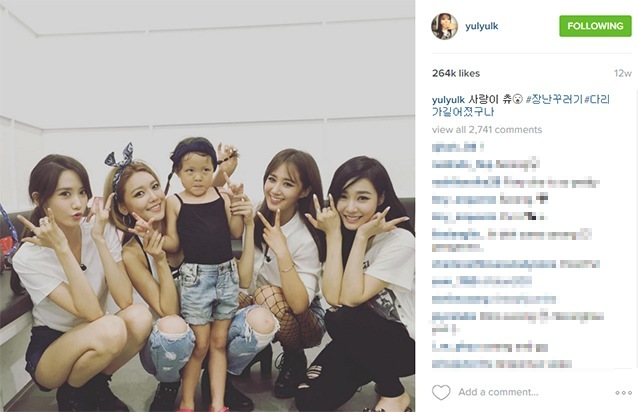 15. Girls' Generation Tiffany (@xolovestephi) –2.9 million followers
Most 'likes' 371k: https://instagram.com/p/8H05FjmOBG/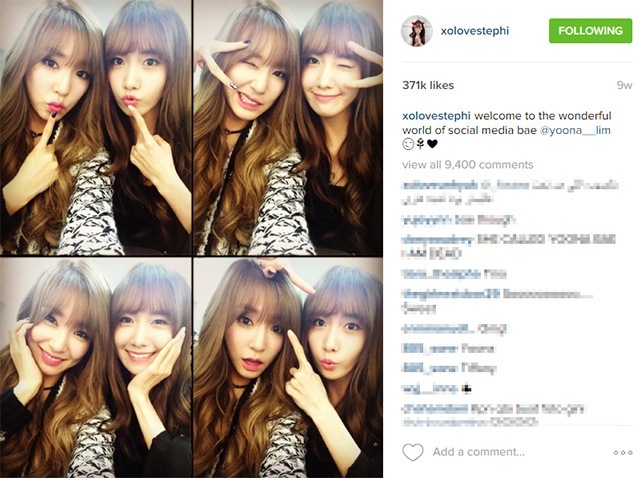 16. Girls' Generation's Sunny (@svnnynight) – 2.8 million followers
Most 'likes" 244k: http://instagram.com/p/xd5yv5LtZ_/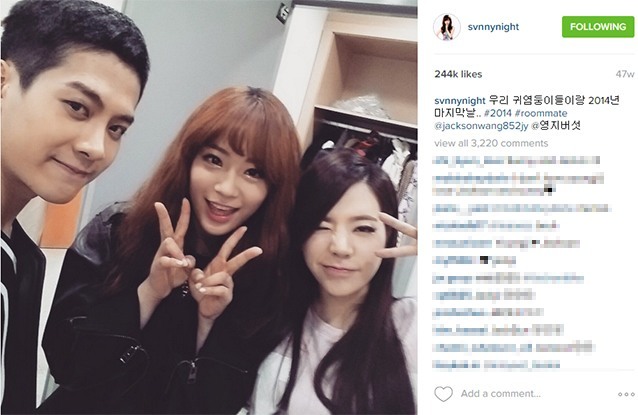 17. f(x) Amber (@ajol_llama) – 2.7 million followers
Most 'likes' 272k: https://instagram.com/p/5o1OVoN-pv/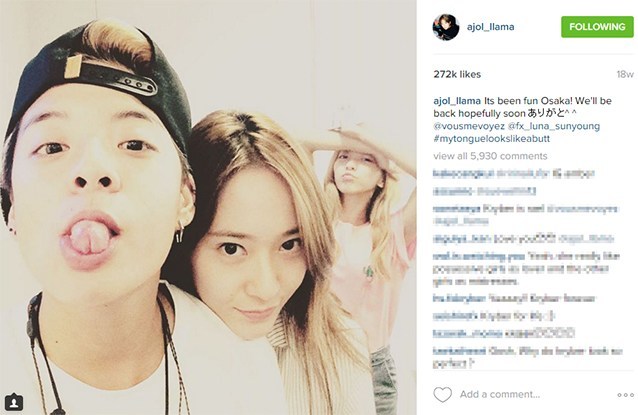 18. miss A's Suzy (@skuukzky) – 2.7 million followers
Most 'likes' 223k: https://instagram.com/p/44ExEWQCwG/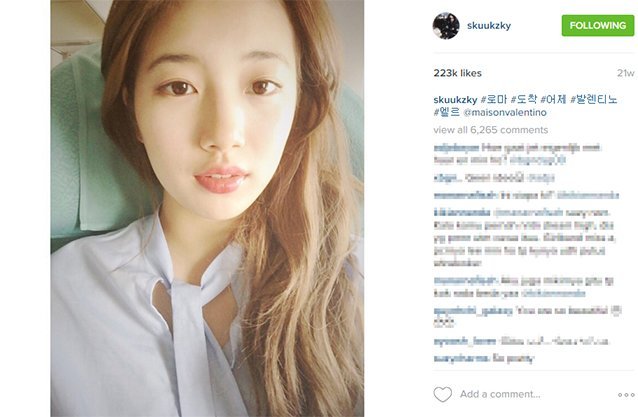 19. Girls' Generation's Hyoyeon (@watasiwahyo) – 2.7 million followers
Most 'likes' 237k: https://instagram.com/p/4gAW_gqvpW/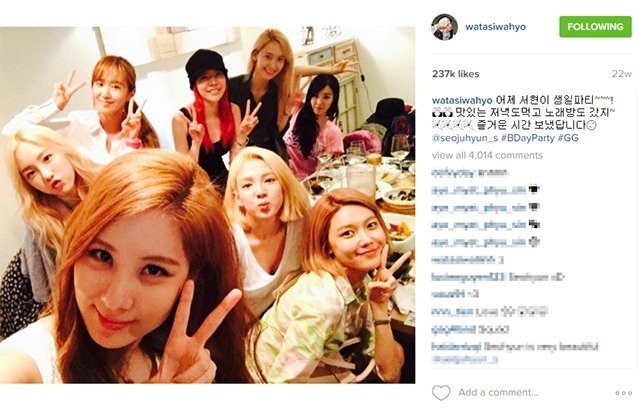 20. Girls' Generation's sooyoung (@hotsootuff) – 2.7 million followers
Most 'likes' 273k: https://instagram.com/p/41mnLzLVil/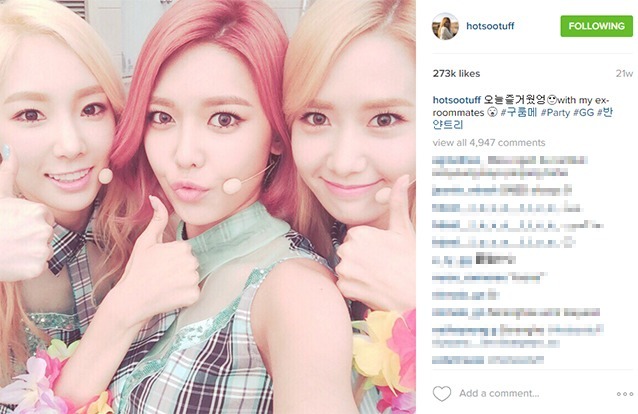 ★ Top 5 and their three most liked posts ★
1. BIGBANG G-Dragon (@xxxibgdrgn) – 6.6 million followers
Most 'likes' 556k': https://instagram.com/p/6hDjoTtgA5/
Most 'likes' 549k: https://instagram.com/p/2XoXwENgFy/
Most 'likes' 540k: https://instagram.com/p/6cl-b5tgMS/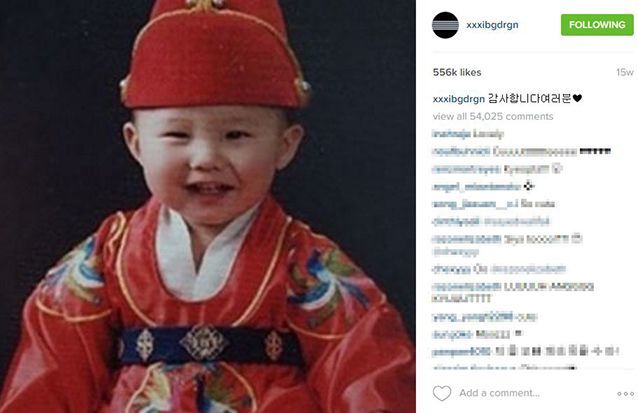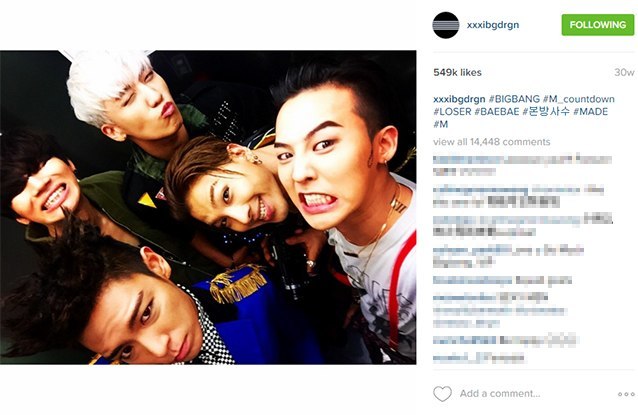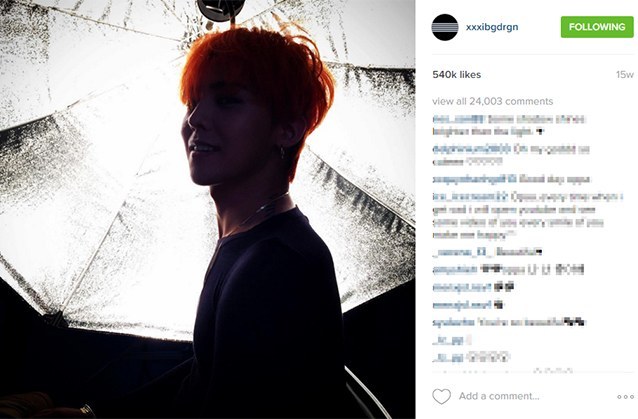 2. Girls' Generation's Taeyeon (@taeyeon_ss) – 5.3 million followers
Most 'likes' 522k: https://instagram.com/p/2a2h_JH_i8/
Most 'likes' 505k: https://instagram.com/p/19rhsZH_sX/
Most 'likes' 476k: https://instagram.com/p/00E9SHH_nh/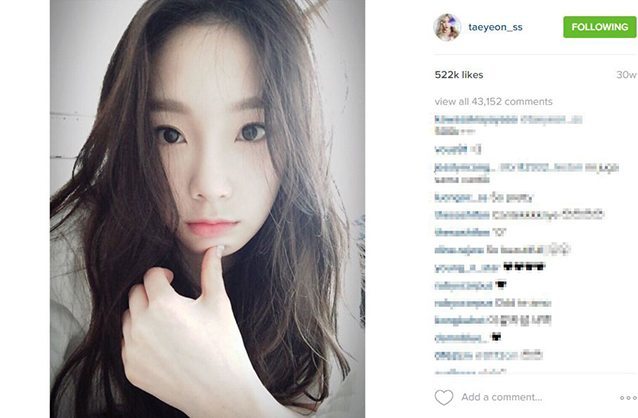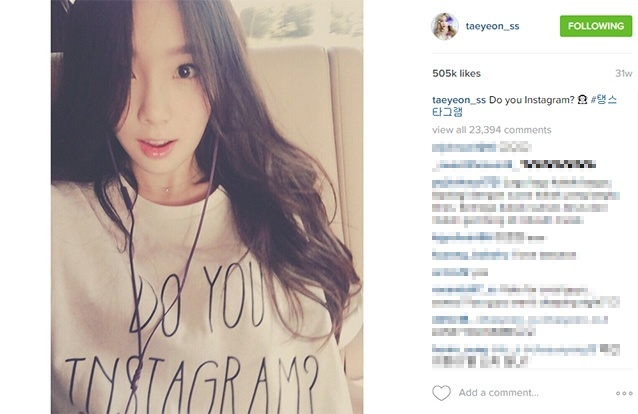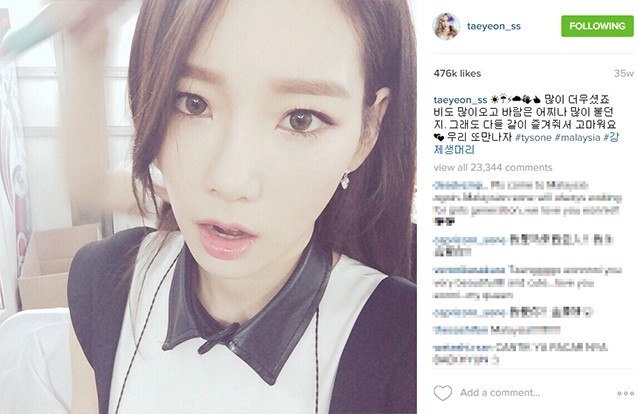 3. EXO Chanyeol (@real__pcy) – 5.2 million followers
Most 'likes' 968k: https://instagram.com/p/2sFJ4ormaR/
Most 'likes' 884k: https://instagram.com/p/2TkdyXrmX7/
Most 'likes' 881k: https://instagram.com/p/1phYM3Lma9/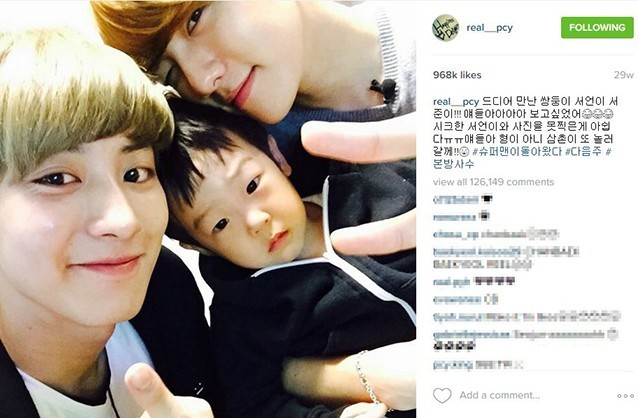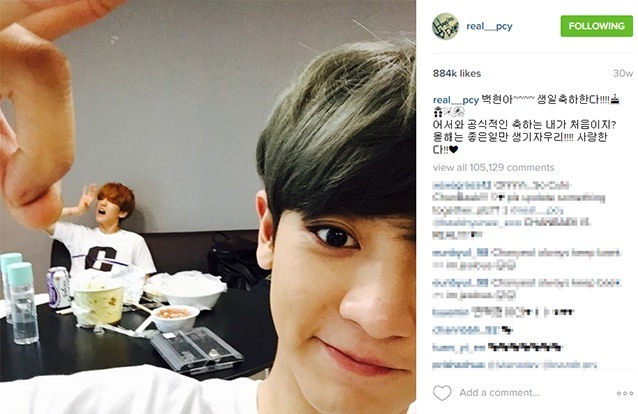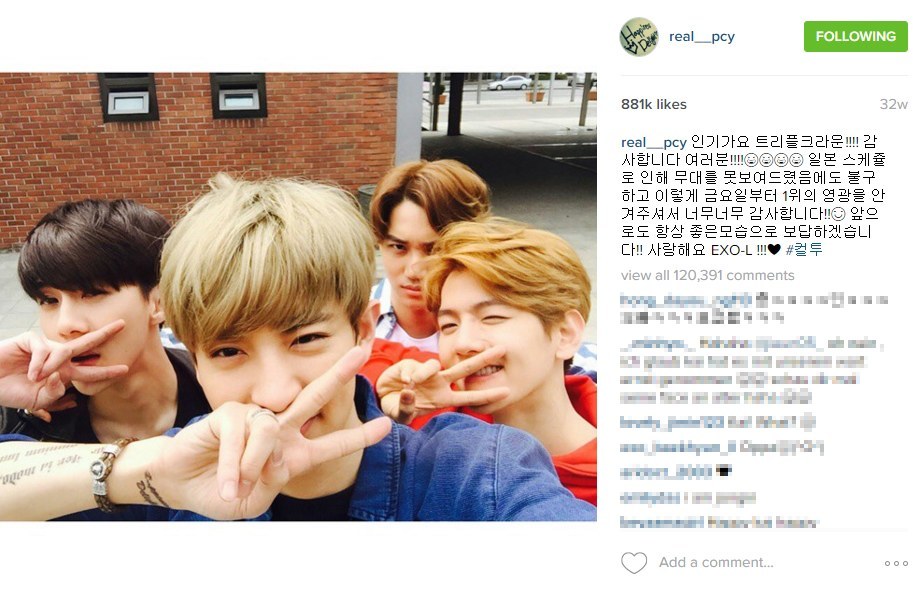 4. EXO Baekhyun (@baekhunee_exo) – 4.8 million followers
Most 'likes' 819k: https://instagram.com/p/0-ND-OhiDA/
Most 'likes' 774k: https://instagram.com/p/0xduk3hiOK/
Most 'likes' 764k: https://instagram.com/p/1XVaTQBiNp/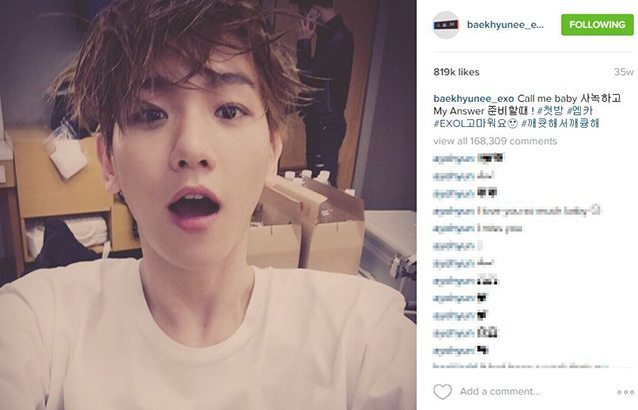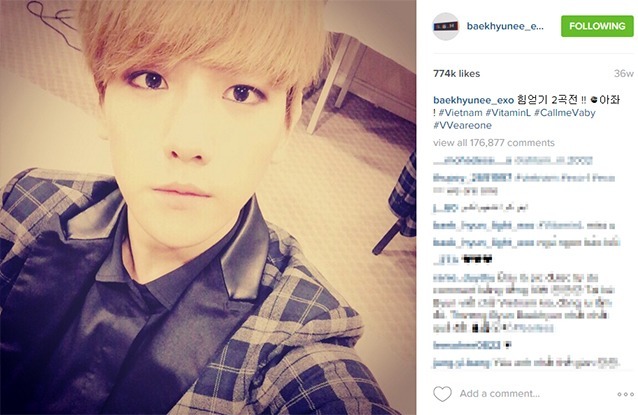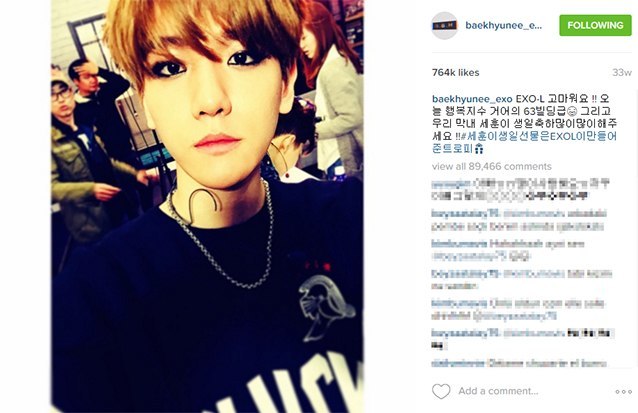 5. EXO Sehun (@oohsehun) – 4.8 million followers
Most 'likes' 892k: https://instagram.com/p/1YVbTdrkDg/
Most 'likes' 883k: https://instagram.com/p/4tOKYzrkPp/
Most 'likes' 854k: https://instagram.com/p/4qm5U8rkMw/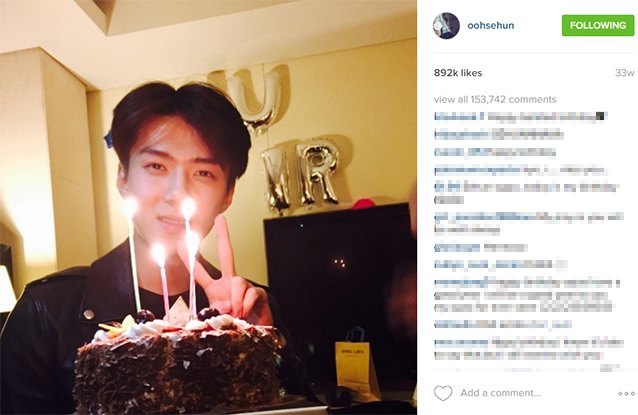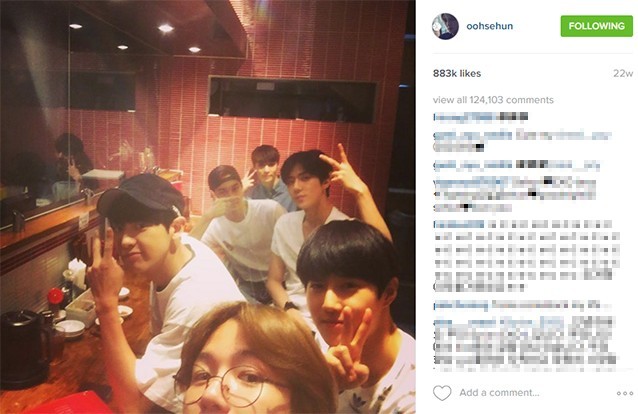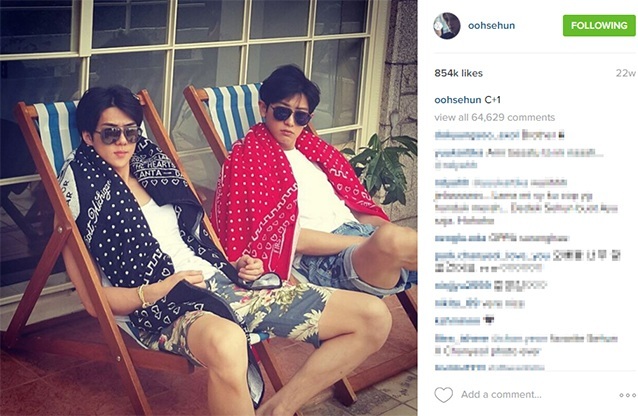 ★ Largest amount of followers gained in 2015 ★
1. BIGBANG G-Dragon (@xxxibgdrgn) – Gained 3.3 million followers/ Total of 6.6 million followers
2. BIGBANG T.O.P (@choi_seung_hyun_tttop) – Gained 3.1 million followers/ Total of 3.1 million followers
3. EXO Chanyeol (@real__pcy) – Gained 2.6 million followers / Total of 5.2 million followers
4. Girls' Generation Taeyeon (@taeyeon_ss) – Gained 2.5 million followers / Total 5.3 million followers
5. Jessica (@jessica.syj) – Gained 2.5 million followers / Total 2.5 million followers
6. EXO Baekhyun (@baekhunee_exo) –Gained 2.5 million followers / Total 4.8 million followers
7. EXO Sehun (@oohsehun) – Gained 2.2 million followers / Total 4.8 million followers
8. Park Shin Hye (@ssinz7) – Gained 2.2 million followers / Total 2.6 million followers
9. f(x) Krystal (@vousmevoyez) – Gained 2.1 million followers / Total 2.1 million followers
10. miss A Suzy (@skuukzky) – Gained 2.1 million followers / Total 2.7 million followers
★ Largest gain of followers after opening account in 2015 ★
1. BIGBANG T.O.P (@choi_seung_hyun_tttop) – Gained 3.1 million followers
2. Jessica (@jessica.syj) – Gained 2.5 million followers
3. f(x) Krystal (@vousmevoyez) – Gained 2.1 million followers
4. IU (@dlwlrma) – Gained 1.6 million followers
5. Girls' Generation Yoona (@yoona_lim) – Gained 1.6 million followers
6. Lee Min Ho (@actorleeminho) – Gained 1 million followers
7. Jung Yonghwa (@jyheffect0622) – Gained 790,000 followers
8. Kim Soo Hyun (@soohyun_k216) – Gained 770,000 followers
9. SISTAR Bora (@borabora_sugar) – Gained 670,000 followers
10. Sulli (@jin_ri_sul) – Gained 550,000 followers
★ Most popular music genre mentioned on Instagram ★
1. K-Pop
2. Hip-hop/Rap
3. R&B
4. EDM
5. Rock
6. Country
7. Samba Pagode
8. J-Pop
9. Reggae
10. Techno
Source: Maeil Kyungjae
Share This Post