K-Pop Idols Top 10 Sales for 2015
With an exciting 2015 year and promotion nearly behind us, the addition of idols' album sales has been published revealing which 10 idols has shown monetary success.
SM Entertainment idols EXO, SHINee, Super Junior, and Girls' Generation took over four of the spots in #1, #3, #4, and #5 respectively with YG Entertainment's BIGBANG coming in #2.
Others include BTS in #6, VIXX in #7, INFINITE in #8, GOT7 in #9, and IU in #10.
Check out the details below!
Find out what Netizens had to say about this article below!
Artist / Music (Physical) Sales / Download Sales / Physical + Download Total Sales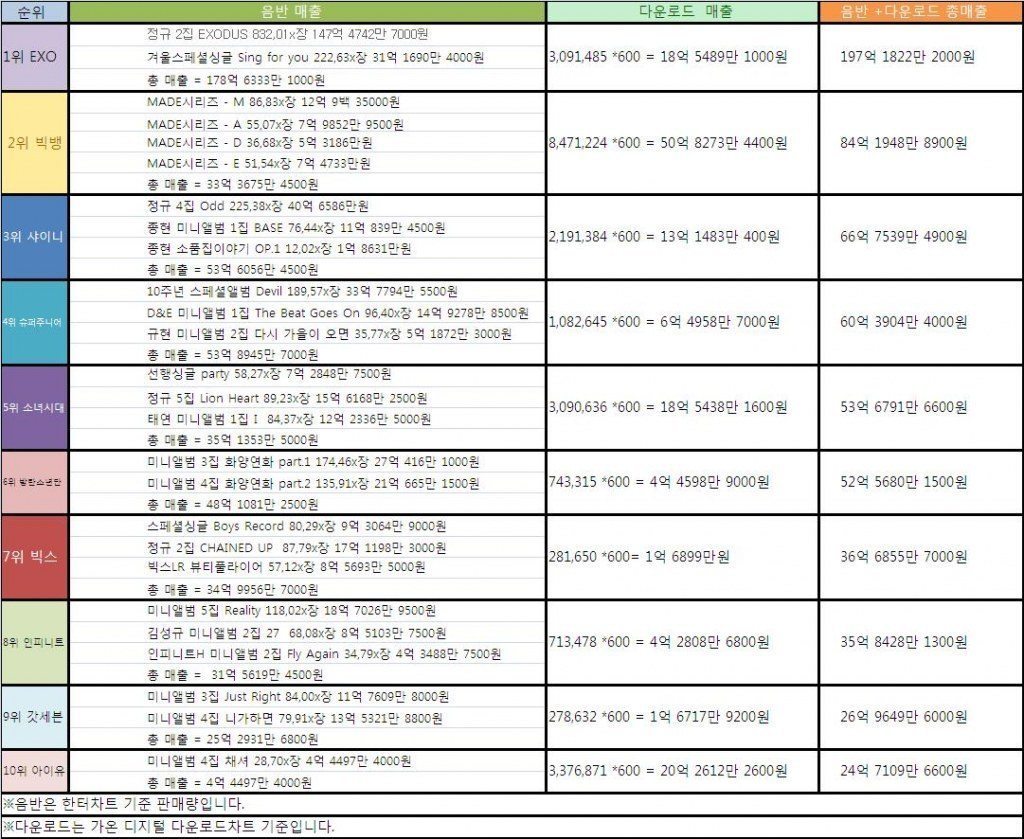 Ad
#1 EXO
#2 BIGBANG
#3 SHINee
#4 Super Junior
#5 Girls' Generation
#6 BTS
#7 VIXX
#8 INFINITE
#9 GOT7
#10 IU
---
NETIZEN REACTIONS
Koreaboo has collected reactions from Netizens who commented on the original article from our Korean source. The below comments are the most popular comments at the time of this article being published.
---
[+100, 0] This isn't idol profits of 2015아이돌매출ㄴㄴ2015 they make more money doing concerts, cfs and international tours
[+90, -12] Holy crap EXO..;;
[+44, -1] They must make so much more money if this is only music sales....ㅋㅋ
[+39, -4] Woah BTs. They're right behind the huge companies..I felt sorry for them because they were getting criticized for you but I guess the more people on Pann hate you the better your career is doing ㅋㅋㅋㅋ!
[+28, -2] EXO spends more than half of the year on tour but even without those profits they're number 1. They are unbeatable at leas among idols in this generation
Source: Pann
Share This Post