Super Junior's Eunhyuk sends holiday greetings to ELFs through handwritten letter
Despite currently in the military fulfilling his duties as a soldier, Super Junior member Eunhyuk took the time to write a lengthy letter to ELFs, wishing them a happy holiday.
The letter was published on Super Junior's official homepage on December 23rd and was titled "I love our ELFs." In the letter, he describes that he has officially started his military life and his current responsibilities all the while showing that he still retained his wits.
He adds that he has been able to adapt nicely due to the help of his fellow senior soldiers around him and for fans not to worry about him. Eunhyuk ends the letter with "I want to see you," and advised fans to take care of their health this winter.
Eunhyuk officially enlisted on October 13, 2015.
Translation of complete letter:
Soldier Lee Hyuk Jae reporting! It's been a long long time. How is everyone doing. I would be sad if you were all okay without me but even sadder if you weren't. So just don't answer this question.
I have finally been placed into a unit and began proper life as a soldier. I am at the first base military band. I wanted to write this letter right after placement but I am very late. I'm so sorry I'm almost kneeling while I write this.
My excuse is that when new soldiers are placed they take around 2 weeks getting used to things. You are taught customs and such…and you get to know the other soldiers. 2 weeks just flew by please be understanding.
Don't think that I'm lazy or have forgotten about you guys. Don't think that my heads gotten big because I've been promoted from a trainee.
I am the oldest maknae here. Being a maknae makes me think about our maknae Kyuhyun alot. 'Why is Kyuhyun such a brat when he's the maknae?'
I am a kind, respectful and hard working maknae. This is all thanks to the military band seniors who are very kind, considerate and fun. All the senior rankers have been kind enough to help me adjust to this environment.
So don't be worried about me. It's always useless to worry about Super Junior! I will be okay on my own. No joke. I'm the best, most awesome and most handsome guy on Earth right? Please be worried about your stupidly kind, and pretty (but single) selves.
It's really cold so wear scarves, gloves and furry hats. Ah! If you're wearing hats you can't see your head anyway so why don't you all shave your heads with me! Let's all look like snowmen.
Oh one more thing! Please pray for less snow. I cleaned up snow in the army for the first time after a day of snow and…….I won't say more. Let us all pray!
2015 is almost over. Finish 2015 well and get ready for 2016 well. And please take care of our members who are probably busy at the end of the year. I miss you all my ladies. Don't get sick and don't catch a cold. 
Sincerely Soldier Lee Hyuk Jae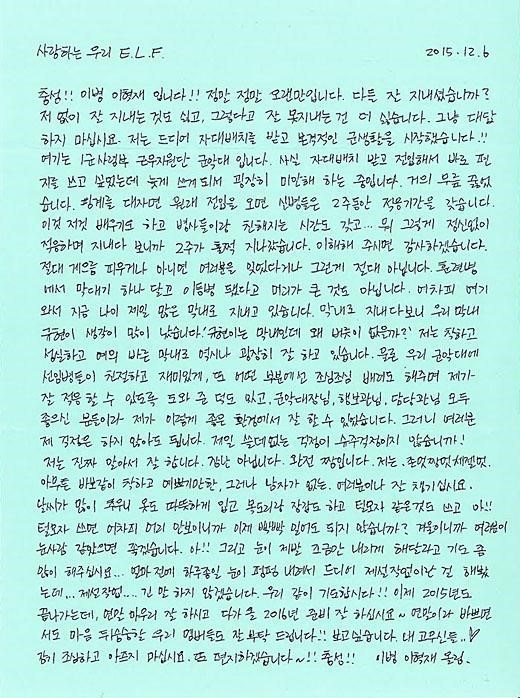 Source: My Daily
Share This Post