Plans of 10 K-Pop Entertainment agencies and their idols for 2016
With the new year starting, plans of 10 different K-Pop agencies have been revealed as they prepare to kick off 2016 with a bang.
Korean media portal X Sports News reports the following plans in no particular order:
01. Big Hit "To focus on BTS in 2016"
Big Hit Entertainment, home to vocal duo Homme and boy group BTS will be focusing on activities to support their artists with no plans of debuting a new group this year. BTS, who is well on their way to becoming a top group, is said to be focusing on solo and unit groups for 2016 as they seek out to expand their presence in the music industry. The chances that Big Hit will debut a new group this year is very low.
02. Starship "Cosmic Girls to debut in early March, SISTAR to strengthen individual abilities"
Starship Entertainment will be kicking off the year with the debut of their new 12-member girl group Cosmic Girls, who has members both from Korea and China. They are also known as SISTAR's sister girl group. Cosmic Girls' debut is expected in late February to early  March. For SISTAR, the group will focus on solo activities as they aim to strengthen and reinforce their individual skills in areas such as being beauty MCs and vocalists. Debuting in 2015, boy group MONSTA X may be entering China for activities this year as the reaction to the group's debut and following activities found a high positive reaction in the country. Yoo Seung Woo is also expected to be active this year. New collaboration tracks by Hyorin and Soyou is also being anticipated.
03. Star Empire "Going all-out with rookie group IMFACT"
Star Empire Entertainment will be gaining a new group to their family following ZE:A and 9MUSES. Set to debut this January, the 5-member boy group IMFACT. The group was originally supposed to debut last year after introducing its members to the public via SNS. IMFACT also boasts songwriting skills like Pledis' boy group SEVENTEEN. ZE:A will be focusing on individual activities.
04. SM "SMROOKIES male idols the key role, to debut within the year"
A new boy group can be expected to debut from SM Entertainment in 2016 deriving from the agency's SMROOKIES, the agency's pre-debut trainee group. Additionally, there are interests as to what activities Super Junior will be following this year under their newly established label under SM, Label SJ. Girls' Generation, SHINee, f(x), and EXO are also expected to continue activities in 2016 in addition to solo activities with Red Velvet undergoing steady activities to further solidify their mainstream popularity.
05. FNC "Launching first dance group, CNBLUE to focus on acting"
FNC Entertainment, home to boy bands FTISLAND, CNBLUE, and N.Flying, will be debuting its very first dance boy group this year. The members of the boy group will come from FNC's recently established training team Neo School. With FTISLAND, CNBLUE, N.Flying, AOA, and Juniel having all made a comeback in 2015, they are all expected to be even more active this year. While CNBLUE members focused on their music last year, it is being reported that they will focus on building their individual acting career even more in 2016. AOA is said to be focusing on group, solo, and unit activities with the possibilities of members following various types of activities in the entertainment industry.
06. YG "WINNER is the first batter, agency in consistently in discussion as to which artists will make a comeback"
After a year and four months, WINNER will be leading the first activities of comeback under YG Entertainment. Not only will they have group activities but individual activities as well. BIGBANG will be working on completing their latest Japan Dome Tour in the beginning of the year while comeback and debut plans for Akdong Musician and Katie Kim are in discussion respectively. Lee Hi album is said to be currently in production under High Ground, Epik High's label under YG. In other news, members of BIGBANG are expected to start enlisting the army this year to complete their two year services. Other than CL, the remaining members of 2NE1's contract with YG is nearing its expiration date. A new girl group, previously announced in 2012 and dubbed as 2NE1's sister girl group, is also under discussion regarding their debut.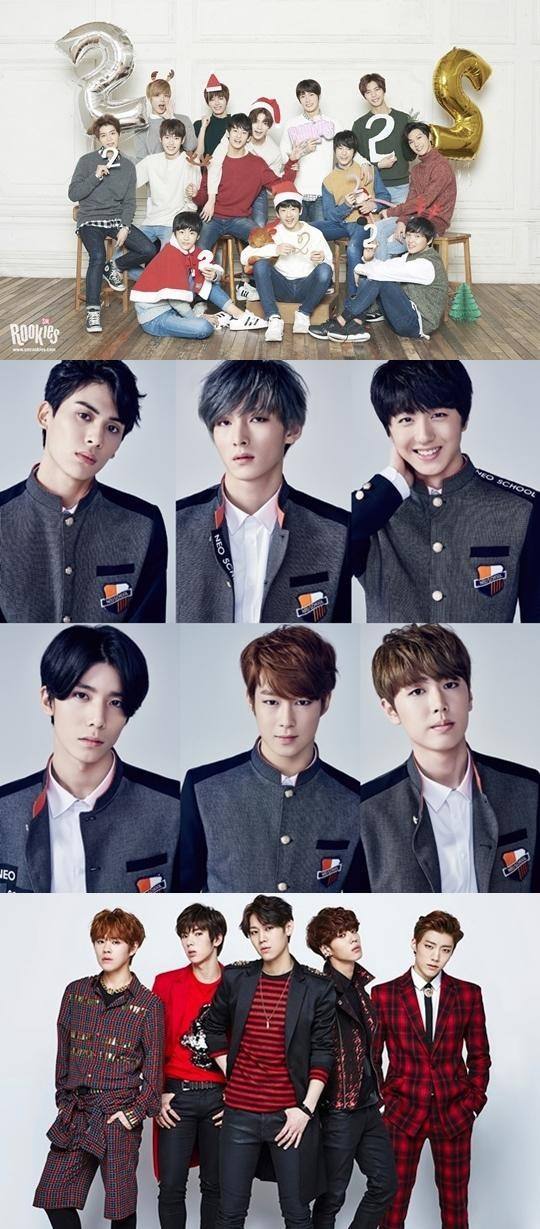 07. Woollim "Activities for INFINITE and Lovelyz, possibility of new group"
Woollim Entertainment's leading group INFINITE is working actively and is splitting their time between music and entertainment arts, Show Time and their World Tour. They will continue this momentum in 2016. Discussions are also active in terms of INFINITE's activities in units and solo schedules. Similar to last year, Lovelyz will continue their domestic activities and releasing new albums. They will begin to ease into individual activities such as in acting and entertainment shows. Indie rock group Nell is reported to be preparing a new album. Debuting a new group this year is also possible.
08. JYP "TWICE to focus on domestic activities, all singers planned to be active"
Having debuted G.Soul, DAY6, and TWICE in 2015, JYP Entertainment will focus on expanding their new artists. "Trending" groups TWICE and DAY6 will focus on domestic activities. There are high possibilities that Wonder Girls, 2PM, and GOT7 will at least have one comeback this year with the male idol groups to be active overseas in areas such as Japan and Thailand as well as in film, entertainment, drama and more personal activities. Suzy will also continue her personal activities apart from her group. 15&, G.Soul, Baek A Yeon, and Bernard Park will also be releasing albums.
09. Cube "Following BEAST and BTOB, to launch new group PENTAGON"
Cube Entertainment will debut a new male idol group named PENTAGON in 2016. In 2009, they debuted BEAST and four years following, debuted BTOB in 2012. The agency is set to continue showing off their energy as an idol company following the debut of rookie girl group CLC. After one year, "the strong unnies" 4Minute will be making a comeback in January as BEAST and BTOB at least once this year. Yook Sungjae, Yoon Doojoon, and Lee Kikwang are currently choosing their next work in acting. There is also a possibility with Cube idols open to solo and unit activities.
10. Pledis "From Orange Caramel to SEVENTEEN, to focus on domestic activities"
After a long time, Pledis Entertainment's first artist to make a comeback is NU'EST. 2015's hot rookies SEVENTEEN will be making a comeback early this year with plans of releasing two albums, both self-produced by the members themselves. Orange Caramel is also expected to make a comeback this year with yet another exceptional concept. Unfortunately, After School will continue their individual activities with a group comeback still yet undecided.
Source: X Sports News
Share This Post