144 artists and idols choose their favorite K-pop songs and albums of 2014
In a survey by MBN Star, 144 Korean artists and idols chose their favorite K-pop albums, songs, and artists for the year.
Among those who participated in the survey were Girl's Generation, 4Minute, BEAST, AOA, CNBLUE, Apink, M.I.B, Roy Kim, Block B, Lovelyz, GOT7, SISTAR, Girl's Day, Huh Gak, and more.
In the Best Artist category, the clear winner was g.o.d with 23 of 144 votes. The group, who made a comeback this year in celebration of their 15th anniversary, won over many of the young idols who had once been their fans in the 90s.
Comments by some of these artists included, "I was deeply moved to be able to listen to g.o.d sunbaes' music again," and, "It's truly admirable that, even after 10 years, they are able to make a comeback and maintain the title of the nation's boy group."
Following g.o.d, the four artists who tied for second place with 10 votes were Seo Taiji, Apink, BEAST, and SISTAR.
The Best Song of the year was awarded to Soyou x JunggiGo's hit song, "Some," which had topped a number of charts earlier this year and began a huge trend in South Korea. With 49 votes, it beat out Taeyang's "Eyes, Nose, Lips" (second place with 30 votes), Park Hyo Shin's "Wild Flower," Block B's "HER," and 2PM's "Go Crazy" (tied at third place with 7 votes).
Finally, the Best Album of 2014 went to Taeyang for his summer solo album, RISE, with 37 votes. Many other artists praised the album, saying that "Every song on the album is good" and "It's an album that makes you realize why Taeyang is such a great artist." The success of the track "Eyes, Nose, Lips" largely contributed to the success of RISE, as the song received a triple crown on Inkigayo and began a viral cover project among fans and fellow artists this year.
Second place went to IU's A Flower Bookmark with 24 votes, and third place to Epik High's Shoebox with 14 votes.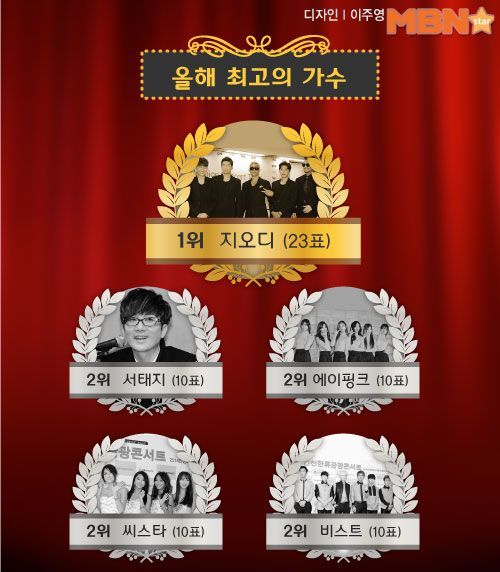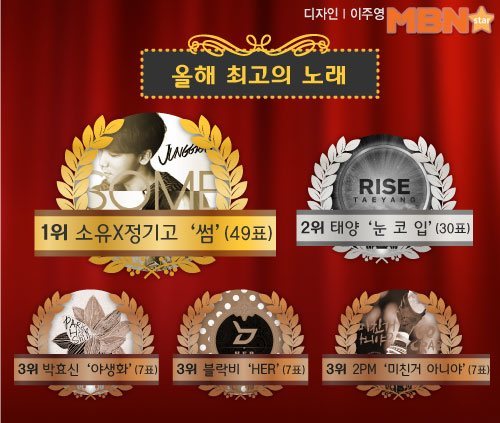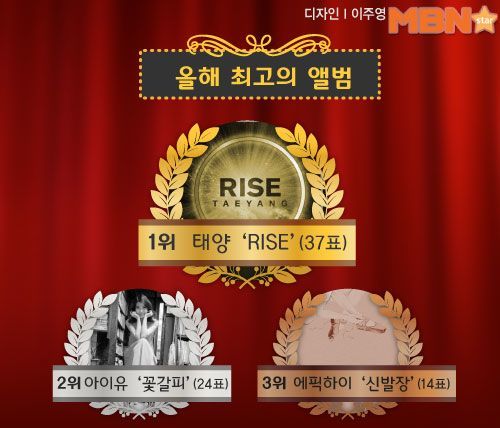 Source: MBN Star

Share This Post