American choreographer Brian Puspos claims iKON used his choreography
On November 17th, American dancer and choreographer, Brian Puspos, left an unhappy message on his Twitter, claiming iKON used his choreography and linking to a video of the said dance. 
Although he has since deleted his tweet, screenshots of his tweet, as well as replies he sent regarding the issue, have continued to circulate online. Brian's tweet read "My choreo being used once again by the iKON boys. Hey YG, hire the choreographer next time. Stop cutting corners :)" 
In addition, he linked to a clip, which was a video of iKON dancing to "Niliria," "All of me," and "Siri Says," on the 8th episode of MIX & MATCH.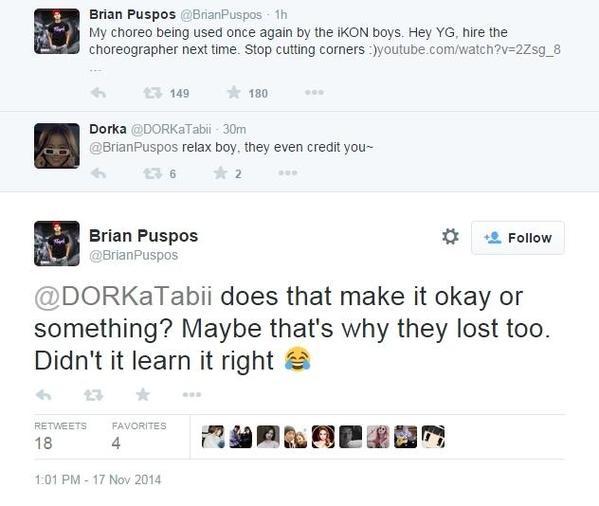 Even though another person replied to his original tweet, commenting that YG Entertainment and iKON credited him, Brian seemed to disagree that giving him credit was enough.
Moments after deleting his original tweet, Brian then tweeted, and deleted the following message:
Netizens have dug further into Brian's past tweets, also noting that Brian proudly tweeted about iKON using his choreography in an earlier episode of MIX & MATCH on October 2nd.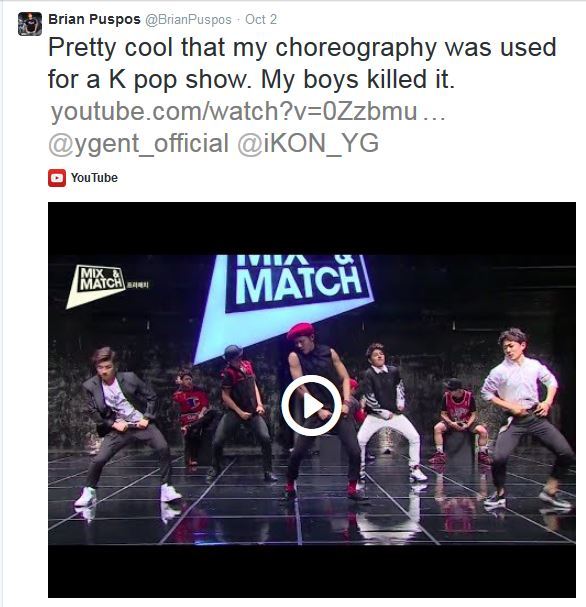 Netizens have also been speculating that Brian was unhappy because he wanted to be hired by YG Entertainment to teach his own choreography, rather than just be credited for it.
Brian has worked with SM Entertainment in the past, helping choreograph Super Junior Zhoumi's dance for "Rewind" and SHINee's Japanese track "Downtown Baby" among others.
https://www.youtube.com/watch?v=2Zsg_8imOBE
Share This Post