[★BREAKING] Another Produce 101 Contestant Being Accused Of Sexual Molestation
Mnet's audition show, Produce 101 is facing multiple controversies after allegations emerged that another contestant had sexually molesting girls in the past.
Yesterday, breaking news emerged when sexual abuse allegations were made against Han Jong Yeon by a former classmate. He was accused of bullying students in high school, forcing them to masturbate in public and fight each other for his amusement.
ʙʀᴇᴀᴋɪɴɢ ᴜᴘᴅᴀᴛᴇ
Produce 101 Han Jong Yeon's alleged sexual assault victim reveals more evidence. https://t.co/Do2368XNaG

— Koreaboo (@Koreaboo) March 12, 2017
Now, contestant Jeong Jungji is being accused of sexually molesting a female acquaintance. While the incident occurred in the past, the woman is coming forward now due to his appearance on Produce 101. 
The woman released her allegations on Korean community website Instiz, accusing Jeong Jungji of molesting her while the two were on a date. She states that while she was on a date with him, he began to grope her despite numerous attempts to stop him.
"I cancelled around 3 times before [this date], but he continued to ask me out so I decided to meet [him] this time. Then, I got sexually molested."

— Victim on Instagram
She continues on to explain how their date started off as a movie date and allegedly turned into a nightmare for her. The translation below has been organized for clarity but has still been translated directly as the original post intended.
"We met up and ate. We decided to watch a movie. We booked middle seats in the middle row but he suggested we go to the "Sweet Box" (couple's seat where the two seats are joined together and it's at the very back so no one can see what you're doing).

I felt uncomfortable so I suggested we just sit in the seats we booked. He kept touching my hand throughout the movie so I took my hand away but he put his hands on my thigh. I told him multiple times to stop and even removed his hands myself. He kept caressing my thighs, I got angry so I sent him a direct message when I got home."

— Victim on Instagram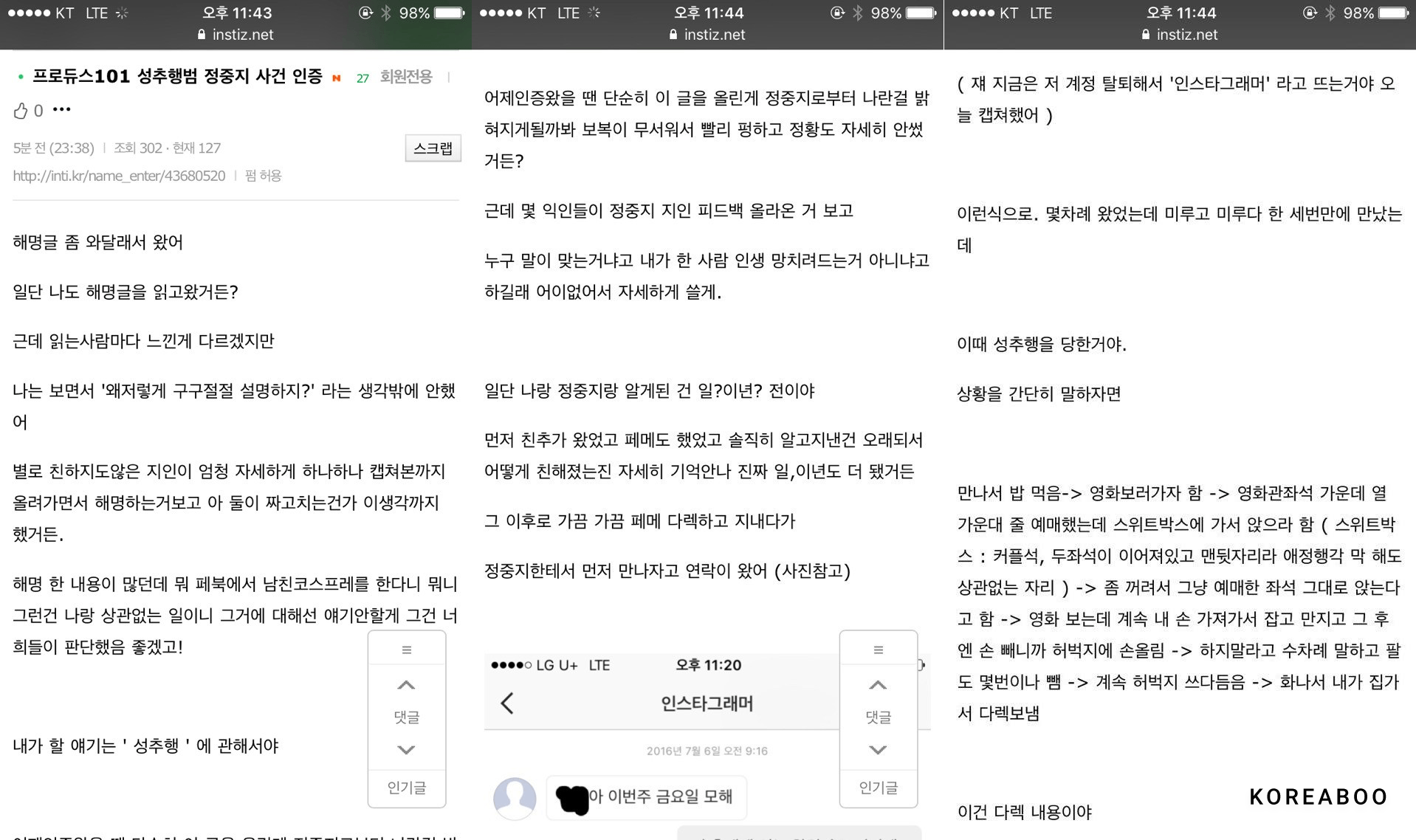 The woman continued in her Instiz post to share the entire direct message she sent via Instagram after the date. The user she messages is listed as "@gljaog" who's name is listed as Jeong Jungji in Korean (정중지).
The user's profile reads, "In the beginning God created the heavens and the earth. (Genesis 1:1)" and lists his company WAYZ COMPANY in Korean. Produce 101 contestant Jeong Jungji is signed to WAYNZ COMPANY.
Read the translated conversation below in its entirety:
"I've been thinking about it and it seemed kind of weird but you said you grabbed my hand because you felt that I was a close dongseng, but why did you touch my thigh?"

— Victim on Instagram
She received a response from the user named Jeong Jungji with an extremely long and detailed apology. The user completely admits to all the accusations that the victim is making in the messages.
"I'm sorry [victim's name]
When I saw you move your hand when I held it, I guess I just left it there without really thinking. I was bad and it was my fault. I like you so I guess I wanted to express that. That day you looked so pretty and I had butterflies and to be honest, it may sound funny, but I wanted to ask you out since we've known each other for a while.
When I told you I don't just date anyone, I didn't mean for it to come off as arrogant but I just phrased it wrong. What I meant was that I don't tend to date people. I guess I couldn't even express myself correctly because I'm dumb, I was never one to study..

That Facebook post was misinterpreted a lot.
When I was going out with that girl, she cheated on me, and the day I prepared that flower ring for her, I found out she cheated so I broke it off. Then I blocked and deleted her off my Instagram and Facebook and uploaded that post directed towards her.

Nobody knows about this, and it's all true. So afterward, I deleted the post and the person who also wrote an indirect mention was also blocked. It made me look like I had a girlfriend when I didn't.
Honestly I started liking you so I wanted to ask you out but you left early. And I acted like a fool, I'm so sorry, I ask for your forgiveness, I genuinely apologize, I'm sorry [victim's name]."

I won't contact you again, seriously, it's all my fault I'm the bad guy. I say I'm a Christian but I'm worse than human garbage. I deserve all things you want to say about me, you can curse me and it still won't be enough. I'm such a bad guy, I'm sorry, I won't bother you again.. You're going to go to college and everything will work out for you, I'm sorry..
Always stay healthy [victim's name].

Over the years you accepted the Charms sponsorship on my behalf, you understood me no matter what I did, and forgave me. I was really thankful.

I'm sorry [victim's name]. It's my fault, really. I hope you feel a little better after seeing this I know nothing can earn your forgiveness but please forgive me."

— @gljaog (Jeong Jungji)
The woman shared another screenshot where @gljaog (Jeong Jungji) sends another message, despite stating he will not contact her again. He apologizes again in this message to the victim.
"Sorry for making up excuses, I won't contact you again, I'm sorry [victim's name] I keep saying sorry but I really am sorry. Please forgive a pervert like me, I believe in God so please forgive me I won't do it again.. I'm really sorry, I'm continuing to repent, I'm sorry [victim's name].. I'll pray you continue to be well Thanks for everything."

— @gljaog (Jeong Jungji)
The next day, the woman claims that she went on Instagram to re-read the apologies but the messages have been deleted. She asked for an explanation as to why he deleted the messages, but received no response.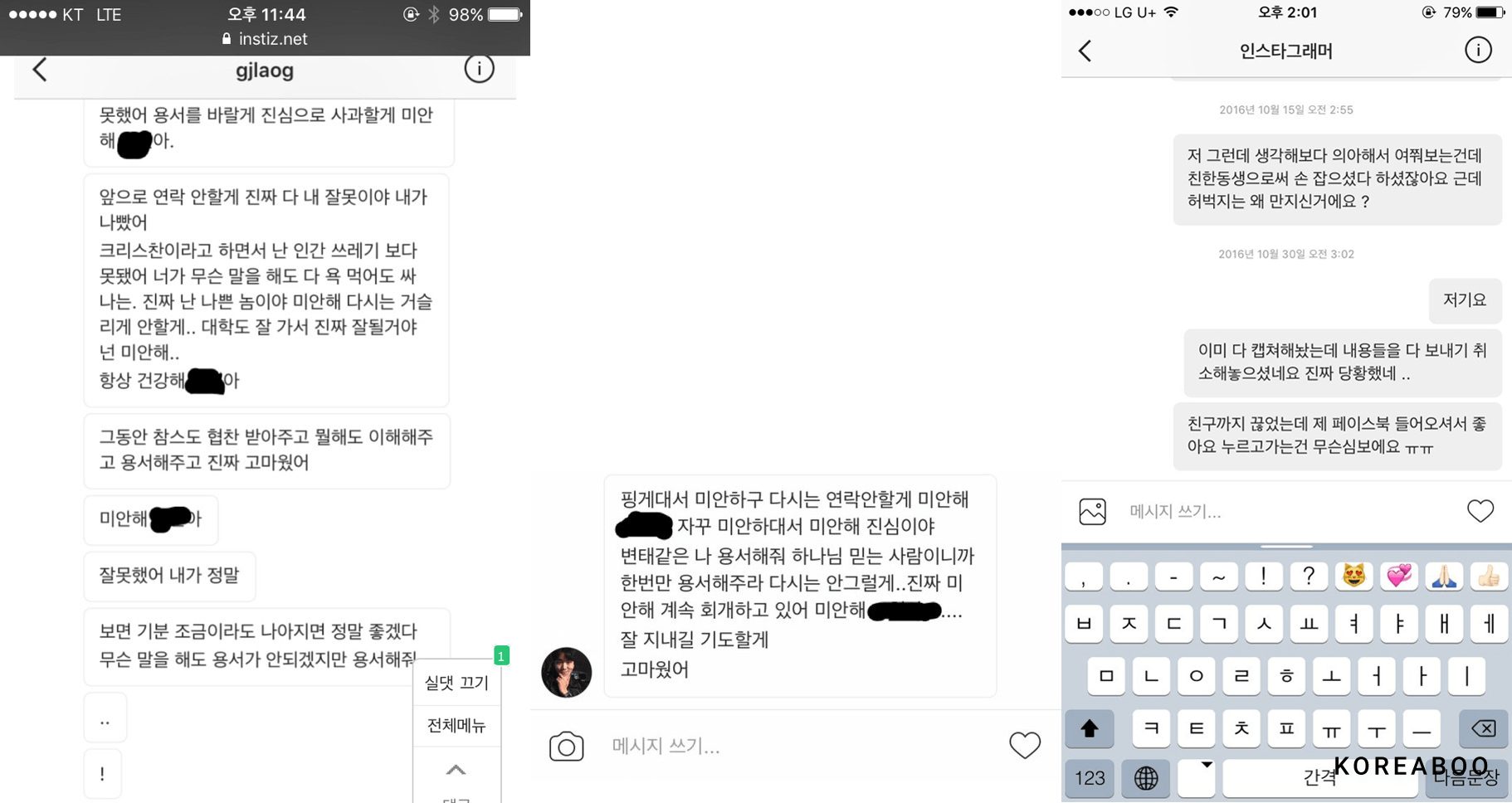 She explains to those reading her allegations that once a user deletes messages from Instagram's DM, it's removed from both parties accounts.
Koreaboo confirmed this is infact true and that users are able to delete photos and messages sent through Instagram DM. You simply have to click and hold on the message and click "Unsend".
"Excuse me. I've already captured everything but you cancelled all the previous messages you sent, this has really caught me off guard..

I even de-friended you but why did you visit my Facebook and like one of my postsㅠㅠ"

— Victim
In her original post on Instiz, she backs her claims up by showing Jeong Jungji's face as the profile picture for the user @gljaog. The photo matches with Produce 101 contestant's Jeong Jungji completely.
Koreaboo has also confirmed that prior to being deleted, Jeong Jungji's Instagram account had the same profile picture as in the victims screenshot. Through Google Cache, we have also confirmed that the account was actively used until November 23, 2016.
This matches with the victims screenshots, with the last message being sent on October 30, 2016. The victim would not have been able to message Jeong Jungji if his account had been deleted, indicating he continued using the account for some time.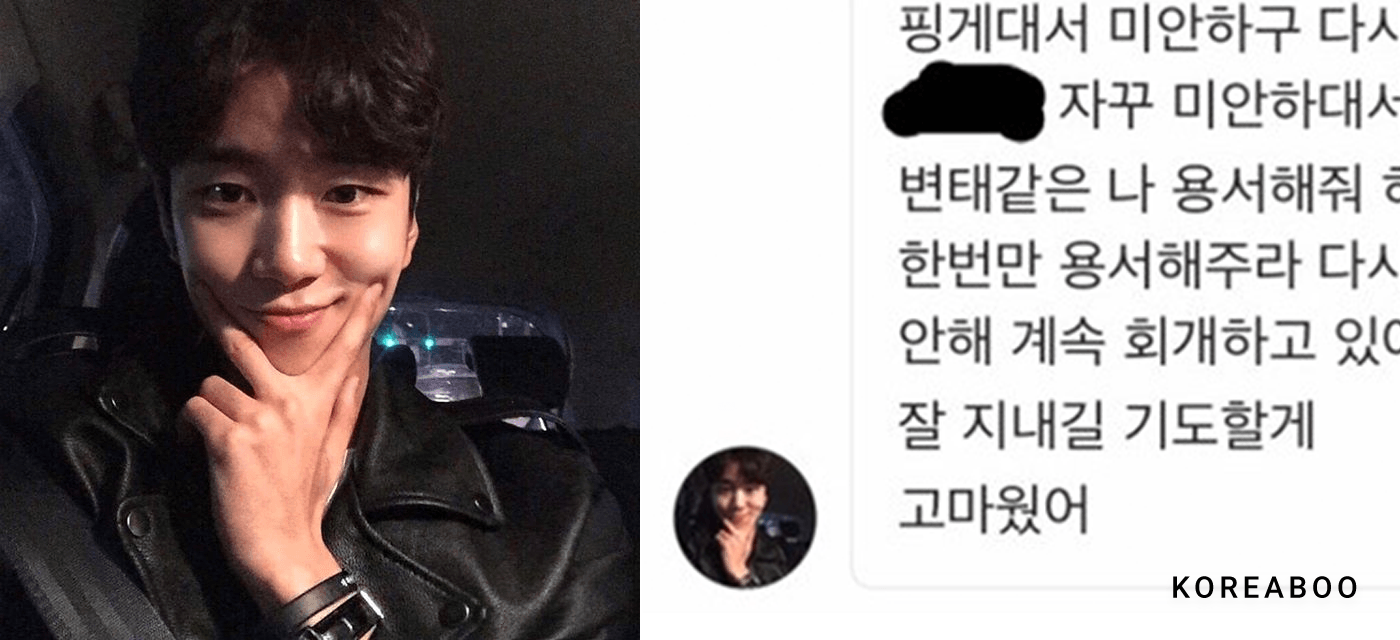 Jeong Jungji is currently active on Facebook under his name, where he has over 187,000 followers. His profile links to a new Instagram account under the username @joong.ji. The photos he uploads to his Facebook account match the photo styles that were previously uploaded to the account @gljaog, but make no mention of the previous username.
The account is currently still active and even had a new profile photo updated on March 13, 2017, just 45 minutes prior to this article being published.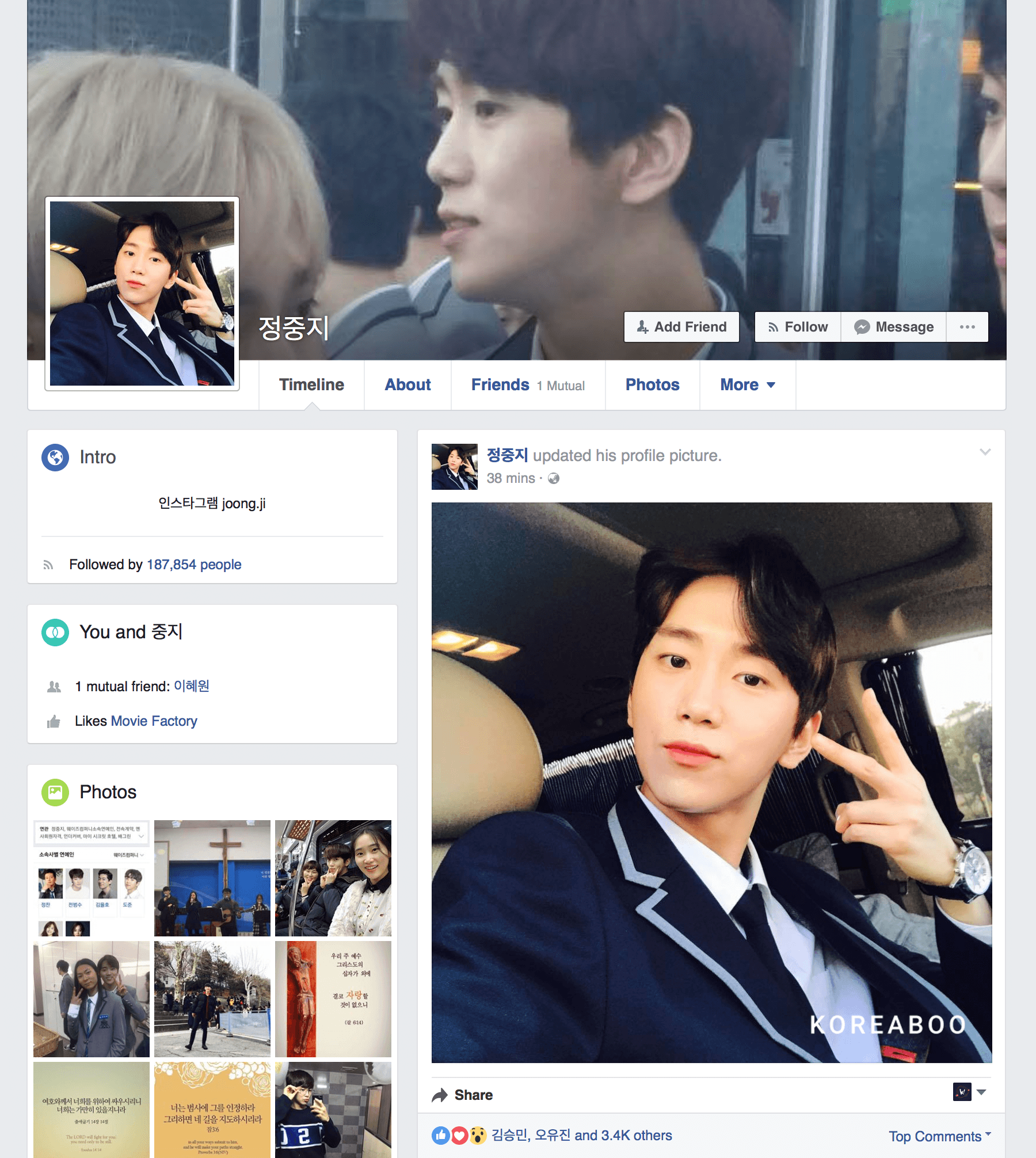 The first photo from his new account was uploaded on January 10, 2017. It appears to not have been used prior to this date but has since been regularly updated. His latest photos are all selfies, which are now flooded with fans from Produce 101.
Identical to the previous account listed in the victims screenshot, this new account also has a bible verse for the account description. It reads, "The Lord will fight for you; you need only to be still. (EXODUS 14:14)".
https://www.instagram.com/p/BQzJpoPhwCH
Since the original post by the victim on Instiz, her post has gone viral amongst Korean users. While most users were upset and angered by what they saw in the screenshots, some questioned her authenticity and insulted her.
Some users began to outline why they believed her post was false, creating explanations for Jeong Jungji's behavior. While the user remains anonymous on Instiz, Jeong Jungji and his friends would easily be able to identify her if the story were true. It seems that many of his friends and acquaintances took the conversation to Facebook and even contacted the victim.
The victim responded to insults and accusations of fraud towards her with an updated post, explaining why she deleted the original post. She revealed that friends of Jeong Jungji had even accused of trying to ruin his life and lying about her claims.
"I came to explain everything. You know, I've read the other explanation posts? And I guess everyone can interpret things differently. But while I read it, I just thought, 'Why are they explaining everything in so much detail?'

They said they weren't even that close to him but they wrote an extremely detailed story with screenshots as evidence, so it made me think that he's been planning fo this.

There were a lot of posts explaining his behavior and on Facebook they claimed that he was just cosplaying as my boyfriend but that has nothing to do with me so I won't talk about that. You can judge for yourself!

What I want to talk about is 'sexual harassment'."

— Victim
The victim responds again to defend herself by revealing how she had first met Jeong Jungji and how she knew him. In the post, she states that she had known him for a few years before they ended up meeting for the first time. 
"When I proved it yesterday, I was scared of the consequences once Jeong Jungji knew it was me, so I deleted it immediately and didn't even include a detailed story.

But some anonymous netizens saw the feedback from the alleged Jeong Jungji acquaintances and didn't know who to believe, and accused me of ruining someone's life so I'm going to write it in extreme detail.

First, I knew Jeong Jungji around a year? two years? ago.

He added me on Facebook and we messaged each other, and to be honest we knew each other for a while so I don't really remember how we got to know each other. It's really been more than a year or two.

After that, we often messaged each other on Facebook and Instagram DM's until Jeong Jungji first asked if we could meet in person."

— Victim
She included a screenshot with the messages exchanged between her and Jeong Jungji the first time they decided to meet. The screenshot was taken after his account was deleted which results in the profile photo being deleted and the chatroom name being listed as "Username".
Jeong Jungji: [Victim's name] What are you doing this Friday
Victim: I go to the tutoring academy in Hongdae at night !
Jeong Jungji: You flaked on me last time so we have to meet >< Then instead of Friday…
Victim: What day ??!!' ??
Jeong Jungji: Anytime!!!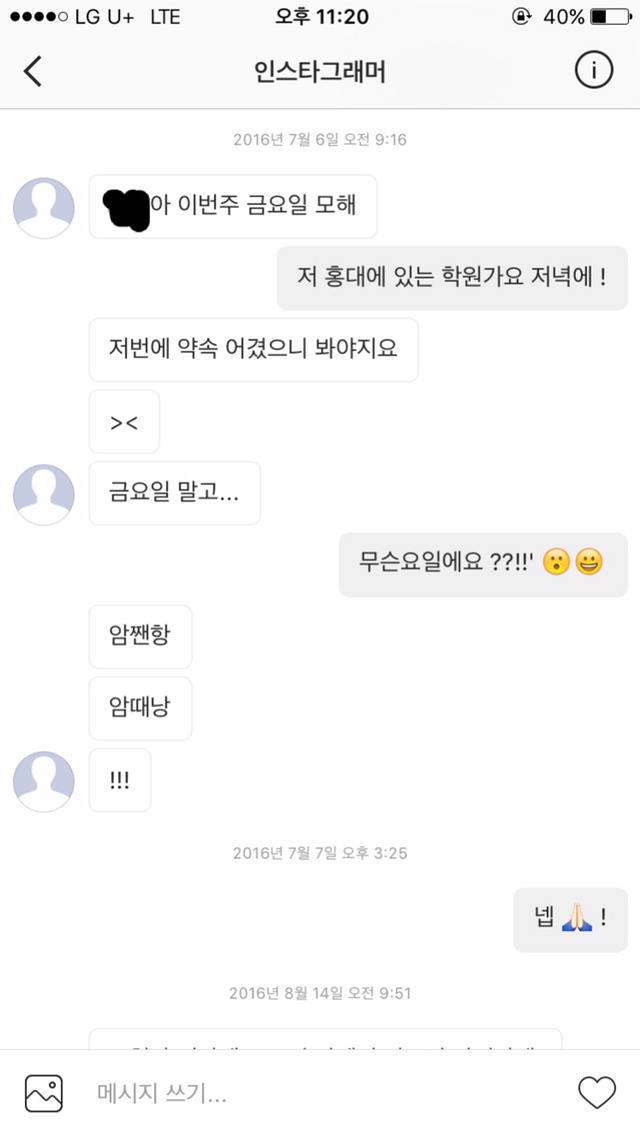 The same users who claimed to be Jeong Jungji's acquaintances began apologizing for doubting the victim after she posted her response. One user created an extremely long apology post on their Naver blog, apologizing for doubting the victim. The long post does not go into much detail but claims to be Jeong Jungji's friend and also includes an alleged KakaoTalk conversation. None of these users have provided evidence to back their claims.
Since the original post by the victim and her follow-up posts, Jeong Jungji and his agency have not responded to the allegations. CJ E&M and Mnet, the producers of Produce 101 have also not responded to these allegations.
Share This Post