AOA's Seolhyun and Jimin succumb to pressure from haters and make public apology
AOA's Seolhyun and Jimin made national headlines after being unable to distinguish Korean hero Dr. Ahn Joong Geun on a recent broadcast. 
And after receiving an onslaught of criticism from the public for their lack of basic Korean history, the two FNC Entertainment singers took to social media to formally apologize for their ignorance.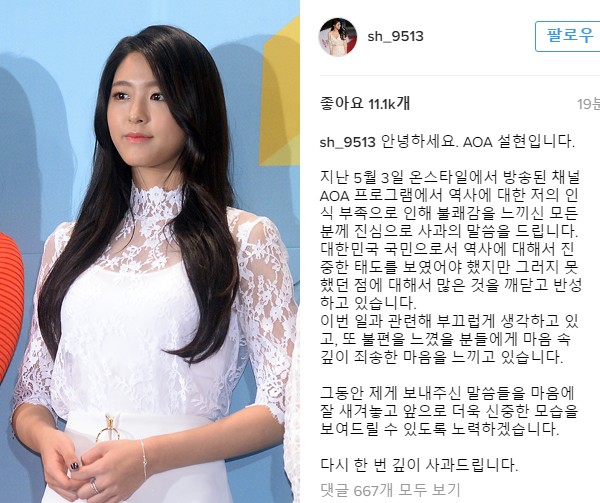 "Hello this is AOA Seolhyun.
"I would like to apologize to all those who felt discomfort due to my lack of knowledge of Korean history on the episode of 'Channel AOA' that aired on May 3rd on Onstyle . As a Korean citizen I should have taken the situation more seriously but I failed to. As a result I realized what I did wrong and I feel shame in what happened. I deeply feel sorry to those who felt discomfort due to my actions. I will take to heart all the things that have been said and show you a more hard working and serious Seolhyun. I apologize once again."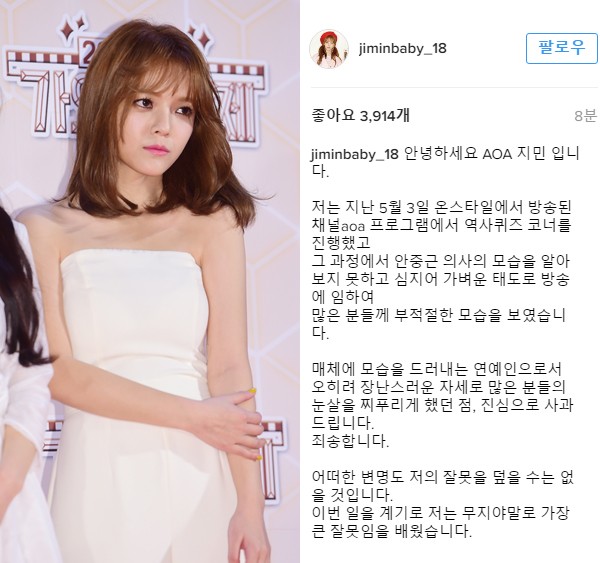 The two AOA members were criticized by viewers after being unable to recognize Dr. Ahn Joong Geun on Onstyle's quiz program aired on May 3rd. Dr. Ahn Joong Geun was a big hero who worked hard for Korean independence from Japanese invasion. He was imprisoned and executed after assassinating Itō Hirobumi, a four-time Prime Minister of Japan and former Resident-General of Korea. Many viewers felt uncomfortable watching this as he is considered one of the biggest Korean heroes and is taught at all schools starting early age.
Source: Dispatch
Share This Post