AOA's Seolhyun proves that her life-size poster is unedited
AOA's Seolhyun provides evidence that a life-size cut out sexy and alluring poster of herself was not edited. 
In a recent broadcast of SBS Midnight TV Entertainment, Seolhyun, who remains busy with her ongoing drama and CF filming, reunited with a life-size cut out poster of herself. It was revealed during the episode that the specific poster gained a lot of interest for her sexy figure and alluring beauty.  A number of distributors also reported shortage of the said poster after some of it were stolen from their retail shops, while the rest were being sold illegally online.
Despite speculations of having the poster edited in order to capture interest over her figure, Seolhyun proved the rumours wrong as she posed similarly right next to it.
Seolhyun has also been recently accused by netizens of padding her butt, with many netizens feeling cheated due to her reputation for having a perfect body.
Meanwhile, aside from being a member of AOA, Seolhyun also continues to be busy with her own acting projects and is set to star other second film, A Murderer's Guide to Memorization.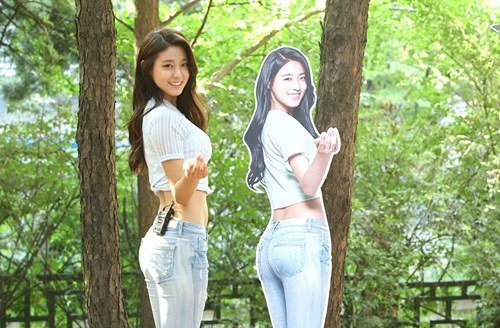 Source: MyDaily
Share This Post