ARMY showed up to help and support Suga's Mom
Even though the restaurant just recently opened, the place has been swarming with customers thanks to the help of A.R.M.Y.s!
Earlier this month, BTS's Suga's mom opened up a soondae guk restaurant called, "큰맘할매순대국," which translates to "Big Mom Grandma's Blood Sausage Soup" or "Big Hearted Grandma's Blood Sausage Soup."
The first half of the name, "큰맘할매," is a name of a franchise. Suga's mom's restaurant is located in Suga's hometown, Daegu, South Korea, and was opened in the month of his birthday.
When the restaurant opened, flower wreaths from Suga, the BTS members, and Super Junior's Heechul were displayed outside.
Here are what the garland messages said:
Heechul's garland said, "Take the plunge and eat because it's delicious." BTS members' garland also congratulated Suga's mom, "Congratulations for the Grand Opening." Suga's garland to his mom was also displayed.
"Mom, hope the business prospers/hits the jackpot."

– BTS's Suga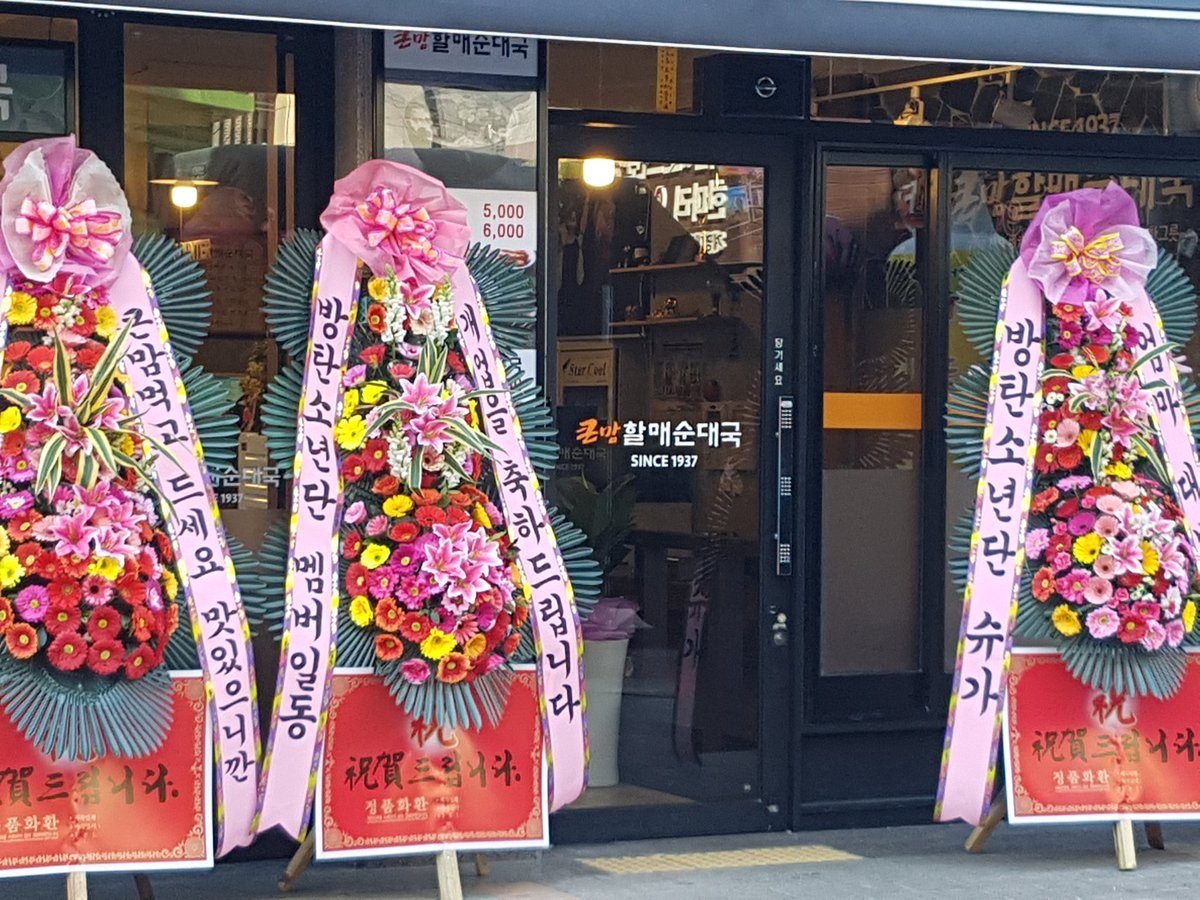 Jimin and Suga both individually congratulated the opening of the restaurant with flower vases as well.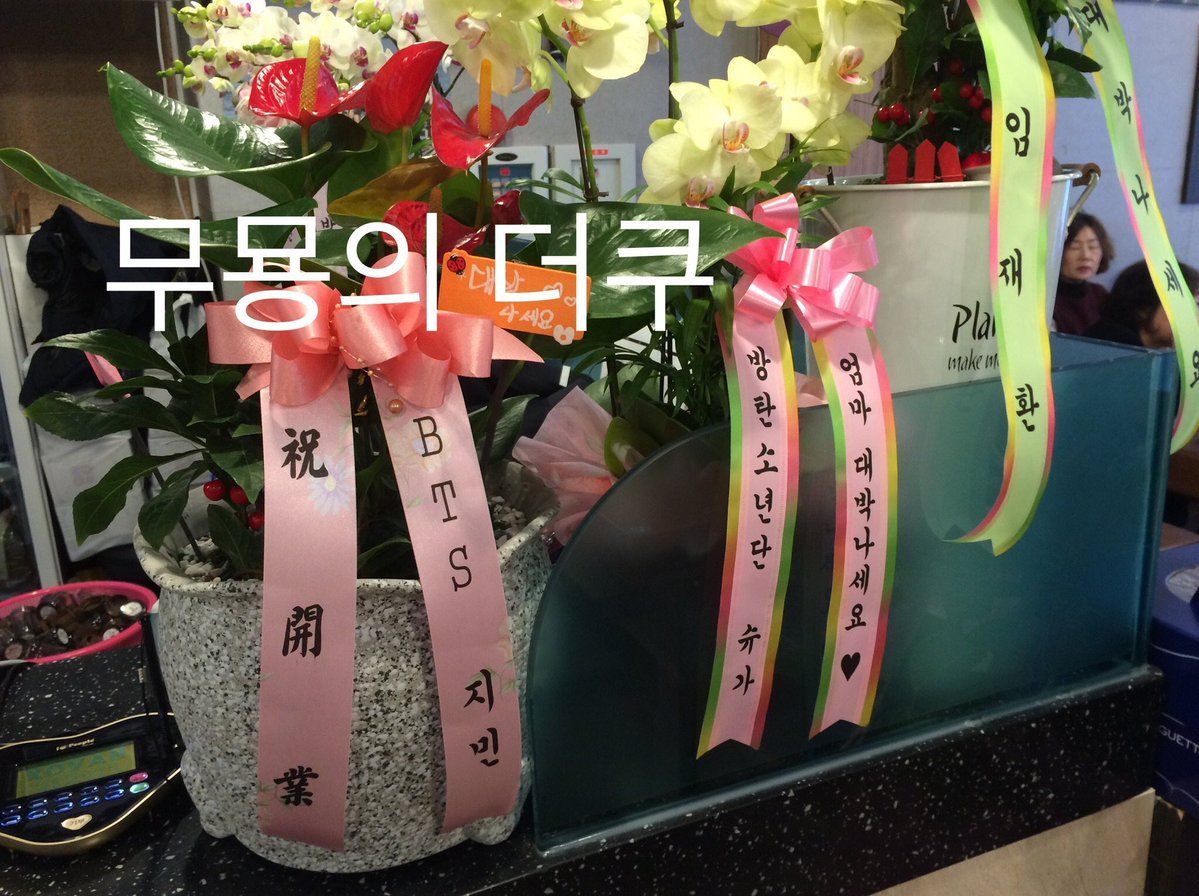 The restaurant was also decorated with BTS's official light sticks, BTS albums, Suga's HipHop Monster Doll, figurines of Suga's favorite Japanese character Kumamon, one of the awards BTS received, and a BTS poster.
가게 안에 있는 깨알같은 힙몬 슉아 피규어랑 골디 신인상…쿠마몬..아미밤과 미니 아미밤…너무 귀여워… pic.twitter.com/ec64l2DvKf

— 서갬(자리비움) (@sesangmasang) March 7, 2017

Suga's mom also hung up a picture of her with her biological sons and her six other BTS sons.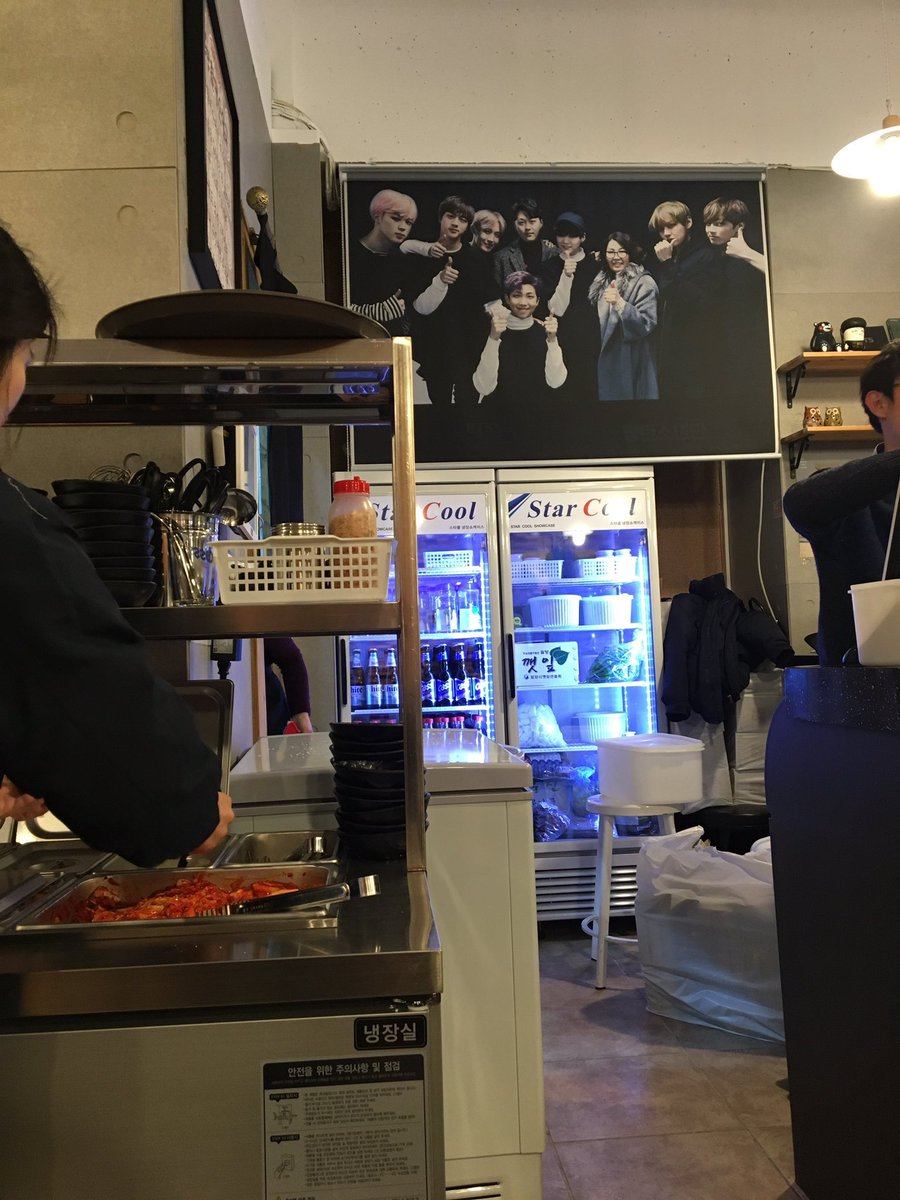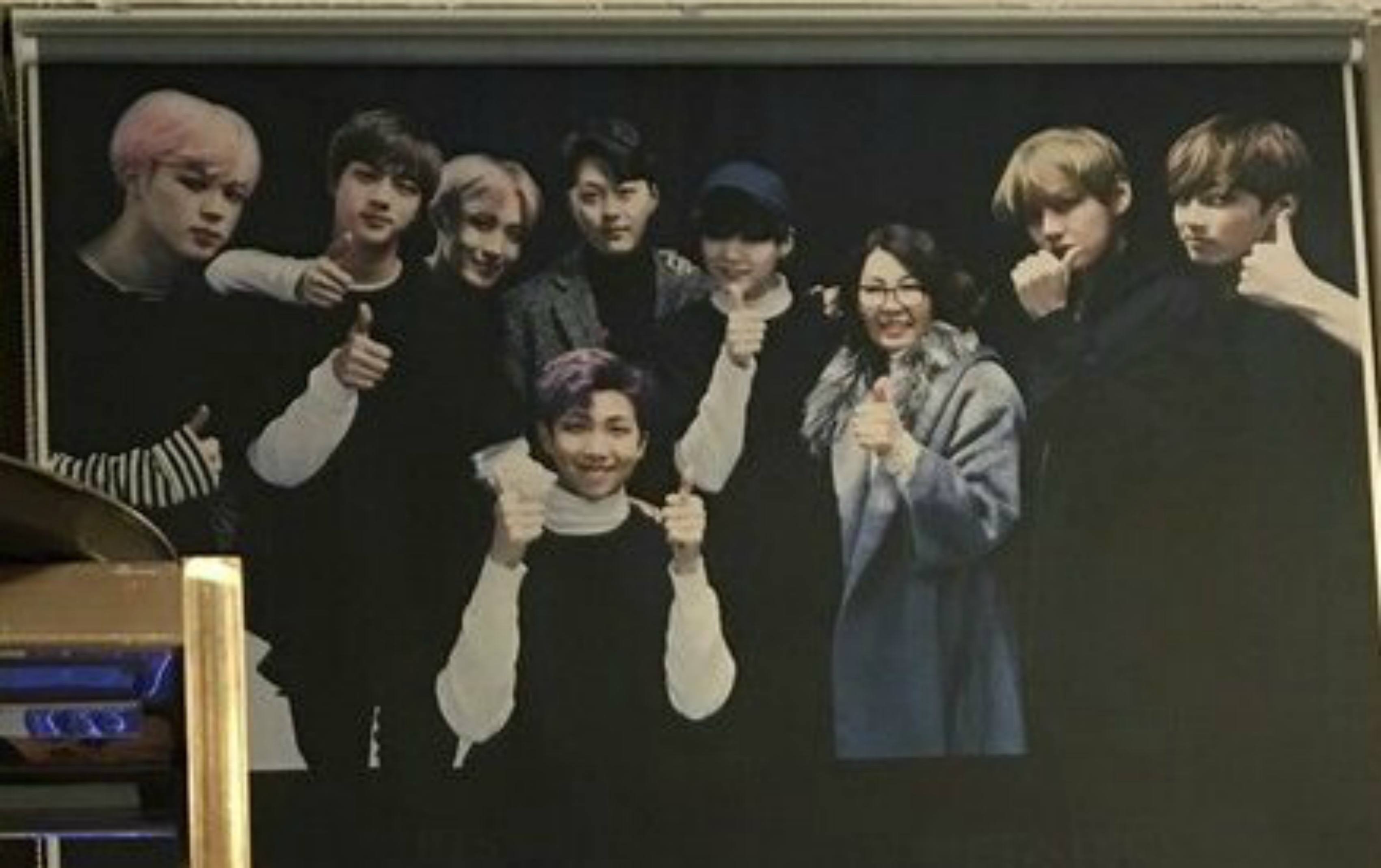 Since opening day, A.R.M.Y.s have been showing their support for Suga's mom by eating at her restaurant.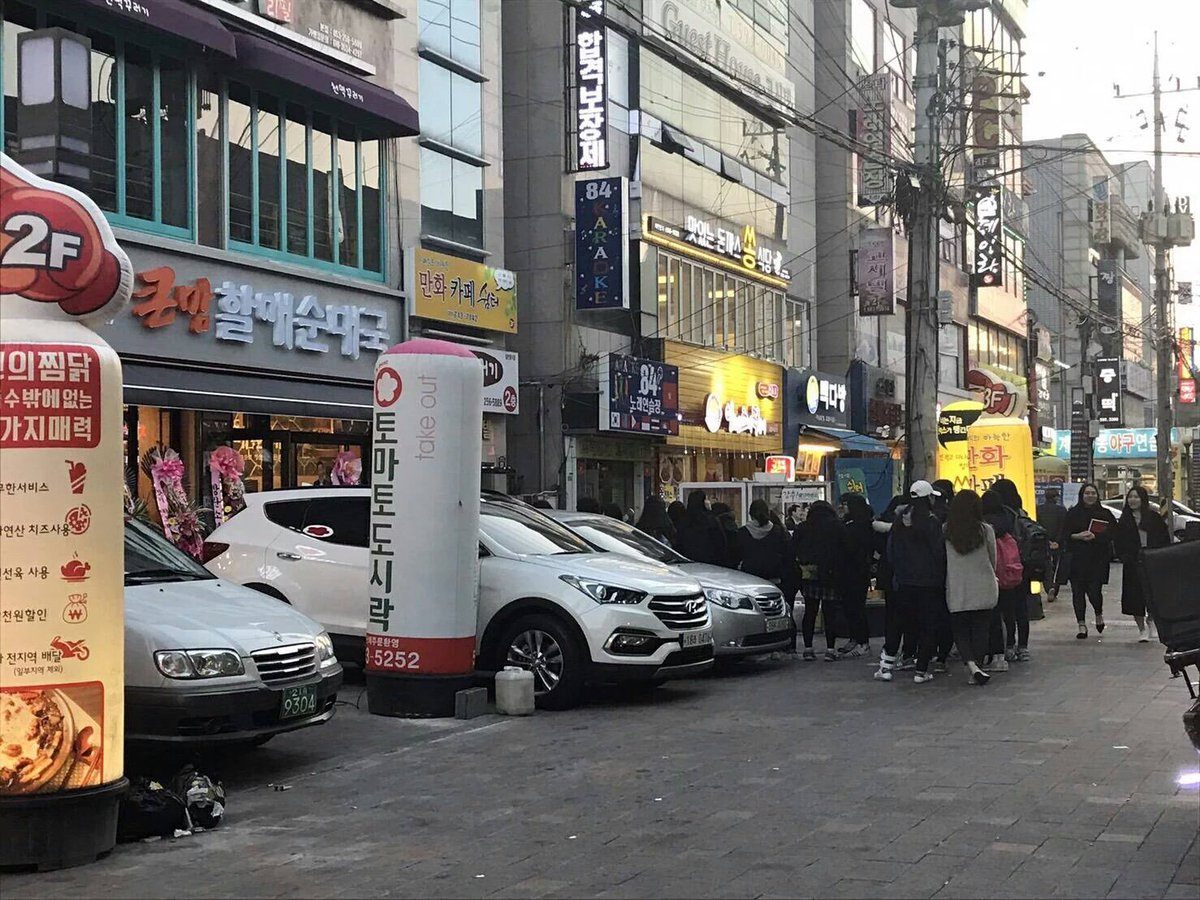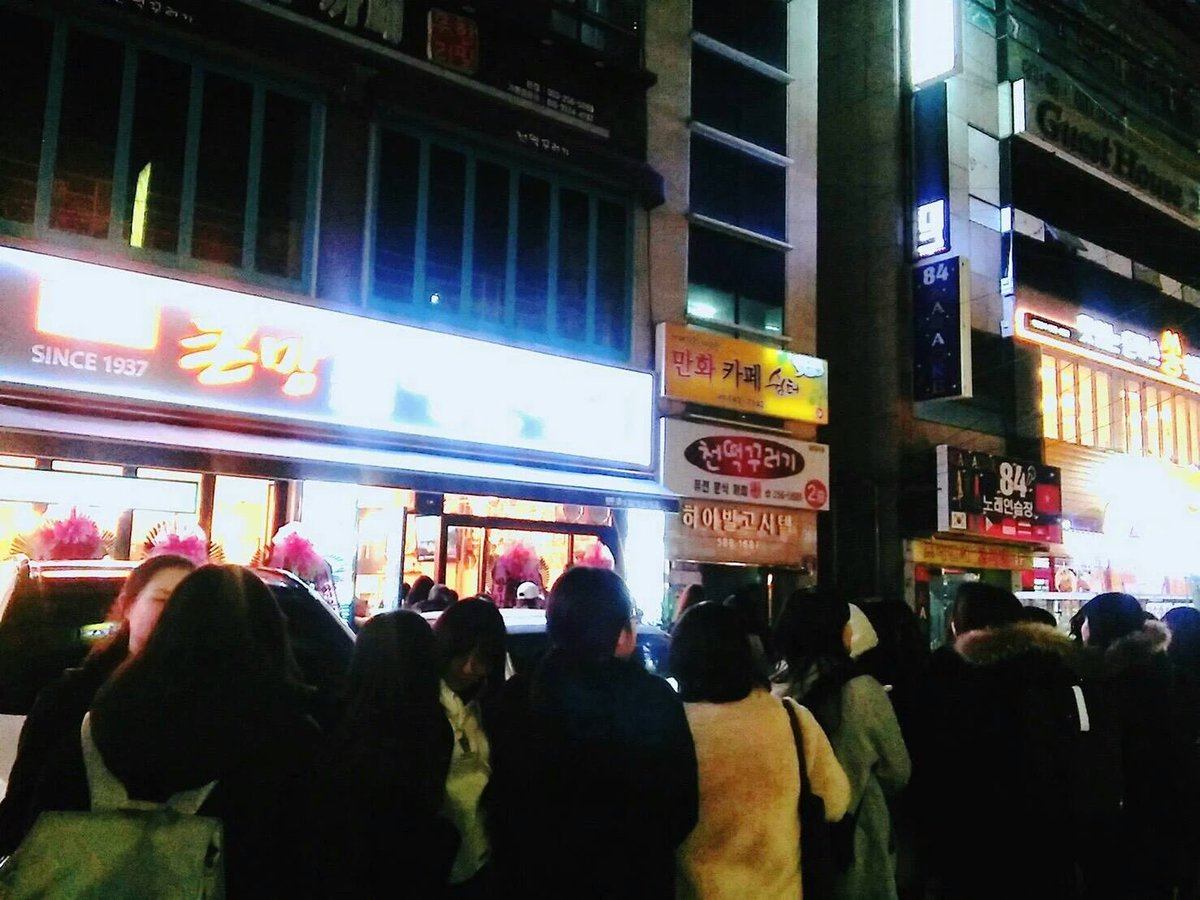 A.R.M.Y.s tried the soondae guk and approved of it by posting pictures of the blood sausage soup saying that it was indeed delicious.
근데 여기 국밥 마싯서 pic.twitter.com/e88Xi1aDqM

— ❄️0416 설탕?❄️ (@sucrose_suga) March 9, 2017
Aside from eating at the restaurant, A.R.M.Y.s have been actively helping to promote the shop. One A.R.M.Y. posted what happened while waiting in line to eat at the restaurant.
"This is so fun ㅋㅋ We're in line waiting for soup so others have been asking us, "Is someone here? Why are you all lined up?" so we all A.R.M.Y.s unanimously replied, "Because it's delicious~ You should definitely try it" then they started saying they should come when there aren't so many peopleㅋㅋㅋㅋ A.R.M.Y. have become a marketing fairy"

– A.R.M.Y @sggmbb
대유잼ㅋㅋ 지금 국밥 줄 서있는데 사람들이 막 줄서있으니까 여기 누구 왔어요? 여기 왜 줄 서있어요? 하니까 아미들이 이구동성으로 맛있어서요~ 하고 한번 꼭 먹어보세요 까지 잊지 않고 말하니까 사람들이 사람 없을때 와야겠다 하심ㅋㅋㅋㅋ 홍보요정 아미 pic.twitter.com/jCXQ4r3Jp5

— 2M (@sggmbb) March 9, 2017
Currently, BTS is on tour for their Wings concert tour.
Share This Post