Asiana Airline's Website Hacked by Serbians
Travelers of Asiana Airlines had difficulties checking their flight status or booking flights as the airline's homepage was hacked by Serbians.
On February 20 at approximately at 4:30 A.M., the website of Asiana Airlines was hacked by Serbians and changed to be full of messages aiming to spread the word of the country's political turmoil.
The text "No Peace No Justice" was on the banner at the top of the page, with the usernames of the alleged hackers, Kuroi'SH and Prosox, written underneath, along with more text addressing the purpose of the hack as a means to get the world to "understand the crimes against humanity, carried out by Albanians [sp] pigs touching Serbia".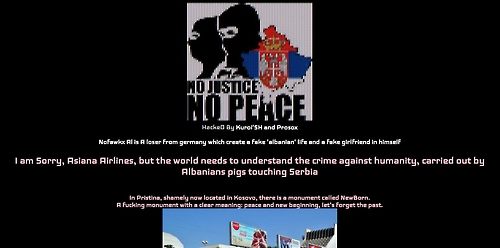 Furthermore, the hacked site mentioned a monument in Kosovo, a state that declared independence from Serbia; a move Serbia strongly opposed. Tensions escalated when Albania became the first country to recognize Kosovo, outraging Serbia.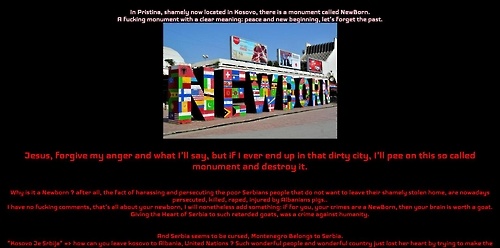 The text made a point of its anger toward a monument and talked of wanting to destroy the piece.
"In Pristina, shamely [sp] now located in Kosovo, there is a monument called NewBorn. A fucking monument with a clear meaning: peace and new beginning, let's forget the past.
Jesus, Forgive my anger and what I'll say, but if I ever end up in that dirty city, I'll pee on this so called monument and destroy it."

– Hackers Kuroi'SH and Prosox
As can be seen in the hacked website's content, Asiana Airlines was not the real target, but Albania and Kosovo. According to an insider in Asiana Airlines, it was the not the actual website that was hacked, but the DNS web-hosting company that had hosted their domain. Asiana Airlines also tweeted updates about the status o their website on their official Twitter account.
"The website itself was not hacked, but the web-hosting company that manages our domain name system (DNS) was attacked which led to this problem. We have assessed that our clients' personal information and data has not been leaked.

– Insider of Asiana Airlines
IMPORTANT NOTICE: Our Domain Name System has been compromised where users are redirected to another website when accessing our URL. (1/2)

— Asiana Airlines (@AsianaAirlines) February 20, 2017
Besides those who accessed the site at the time of the hacking, our website is now back to its original state, but in order to fully recover from the hack, more time will be needed. We are planning on reporting the issue to the Korea Internet & Security Agency (KISA)."

– Insider of Asiana Airlines
The matter has been reported immediately and is expected to be fully recovered soon. We apologize for any inconvenience caused. (2/2)

— Asiana Airlines (@AsianaAirlines) February 20, 2017
Below is a screen recording of the full website at the time of the hacking.
https://www.youtube.com/watch?v=iaLX8BE1f9M
Source: Yonhap News
Share This Post