Bae Yong Joon called out for his "naughty hands" in leaked wedding video
Bae Yong Joon and Park Soo Jin are the talk of the internet once more as a video from their wedding reception circulated online. 
A few days after holding their private wedding ceremony on July 30th, the couple was captured in a locked embrace as a video of their after party made its way online. Although the source was not identified to be from the couple's side or from a guest, the couple was seen in an affectionate scene, kissing deeply while in a middle of their dance.
However, netizens reacted to their intimate skinship as the actor's "naughty hands" were evident in the video, providing a negative public connotation. Though many reacted that it was okay for him to do as they were a married couple, some were not comfortable with the public affection in front of their families and friends.
The couple held a private wedding ceremony at Sheraton Grande Walker Hill – Aston House on July 27th only attended by their close family and acquaintances.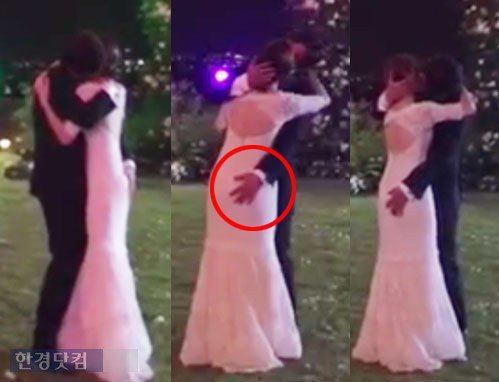 Source: Hankyung
Share This Post