Baek Yerin hits back at netizens dubbing her as the "next Sulli"
15&'s Baek Yerin is reportedly getting victimised with malicious comments made on her personal Instagram account. 
On September 26th, it was reported that Yerin addressed her sentiments towards the unpleasant comments made on her personal online accounts. The majority of these claims came from her updates on Instagram which harboured negative comments coming from netizens claiming that the singer was trying to become the "Next Sulli." 
One of her latest updates, Yerin finally responded to the speculations by stating, "There is no problem with intent, I think there is a problem with those with a twisted mind." Although the message was vague and indirect, she revealed that she can determine who is acting like fan through their comments. She emphasised that if she is not liked, then she should not have been followed or read about through social networking sites anyway.
The outburst started from the negative comments received that claimed that Yerin was allegedly copying Sulli's style and poses on her updates. The photos that circulated online featured a close-up shot of Yerin with her mouth open, while another selca showed her exposing her shoulder and chest area.
Check out Yerin's SNS outburst below.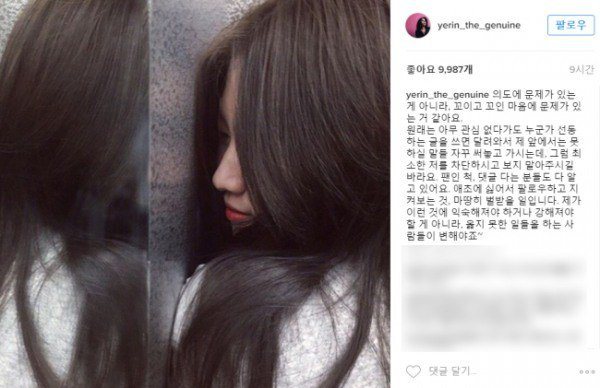 Source: Herald Korea
Share This Post