BEAST is most popular K-Pop Artist to stream according to Spotify Artist Explorer
Spotify gives a visual path into understanding how artists are related and we've listed their rankings for most popular artists with their latest experimental tool, the Spotify Artist Explorer which you can utilize yourself as well! With a growing international fanbase, many K-Pop companies have turned to the popular streaming service, which reaches over 55 countries internationally, to promote their music. Although K-Pop artist promotions are still primarily focused on other platforms, new fans are able to learn of other K-Pop groups through Spotify's "Related Artist" section. Spotify Artist Explorer aims to give a visual representation of how K-Pop artists are connected with other artists within and outside of the genre!
To use the service, simply type in the genre or artist that you want to explore and Spotify will automatically bring up 10 related artists by default although you can adjust how many related artists you want to see by using the bar on the top right hand side of the screen. Clicking on related artists will bring up their own list of 10 related artist and the map can be zoomed in and out and adjusted to view connections in more detail. The sidebar includes a "Popularity Meter" (which is presumably based off the number of streams an artist has), "Popular Tracks," as well as basic Artist information. Hovering over a "Popular Track" will prompt the Explorer to play a short clip for you!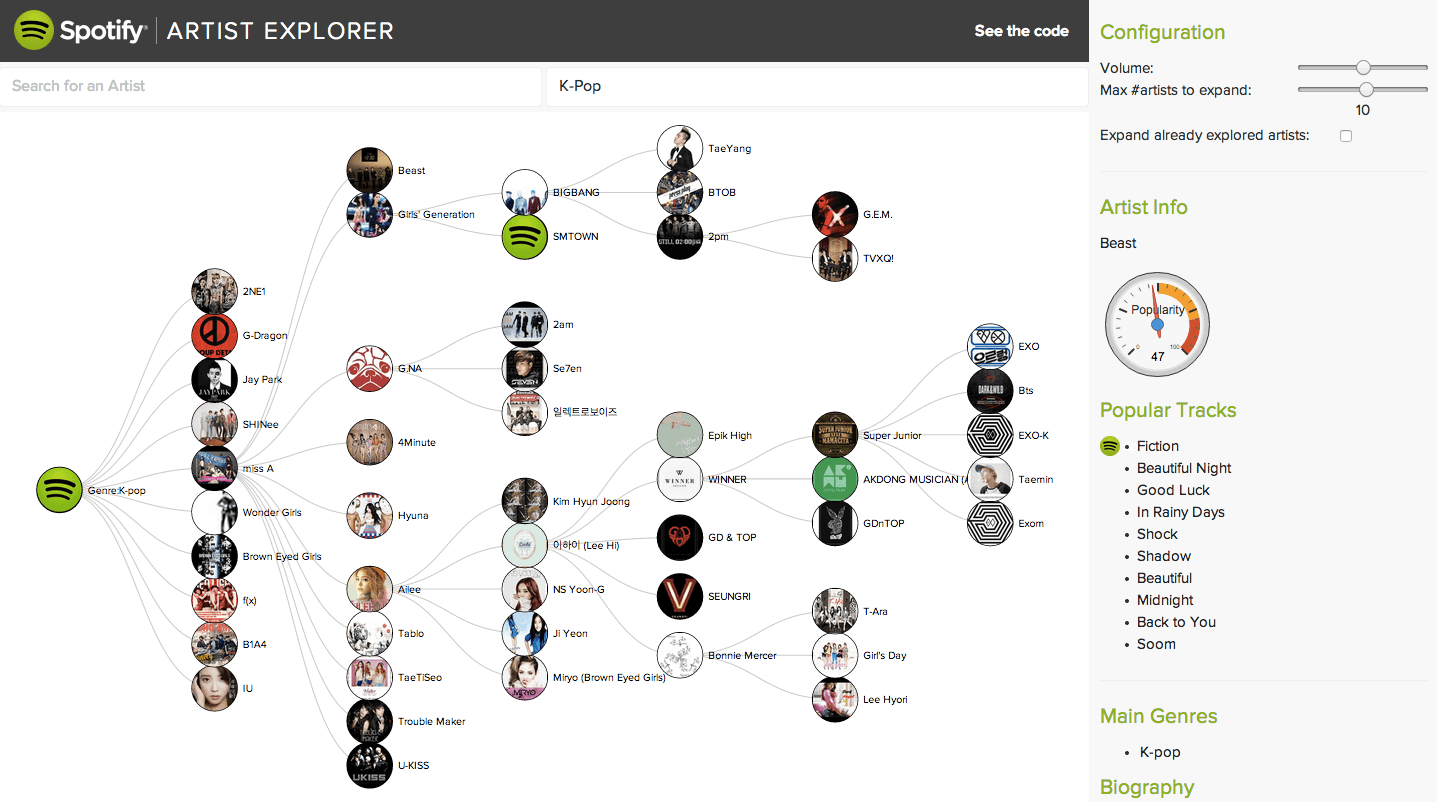 Koreaboo has delved into this tool and we've listed out the most popular artists and some interesting connections that we found through the Artist Explorer!
Most Popular K-Pop Artist/Group Overall: BEAST
The most popular K-Pop artist on Spotify according to Artist Explorer is none other than the 6-member group BEAST created by Cube Entertainment in 2009. According to the tool, they achieved a ranking of 47/100 which is the highest among K-Pop artists who currently have music on the streaming service! Their most played song is their hit track "Fiction" which catapulted the group to international fame in 2011 while their second and third top tracks, "Beautiful Night" and their explosive summer single "Good Luck," trail "Fiction" in number of plays by almost 200,000 and 500,000 plays respectively. The group recently made their third comeback of the year with "12:30" in October and is available on Spotify now.
Most Popular K-Pop Group (Male): BIG BANG
Aside from BEAST, the most popular male K-Pop group is none other than international powerhouse BIG BANG with a rating of 43/100. Formed by YG Entertainment in 2008, the 5 member boy band has achieved international acclaim, winning countless music awards with their smash hits. Their top 4 tracks are all off their latest album Still Alive with "Fantastic Baby" at over 3 million plays, followed by "Blue," "Bad Boy," and "Monster," while Taeyang's "I Need A Girl" rounds out the top 5.
Most Popular K-Pop Group (Female): 2NE1 and SNSD
The most popular Female group is a tie between the queens of K-Pop with SM Entertainment's SNSD (Girl's Generation) and YG Entertainment's 2NE1 battling it out for the top spot with a score of 45/100 each.
2NE1 has had an extra amount of international exposure following the use of their track "I Am the Best" for a recent Microsoft commercial and the track tops their top 5 with their latest track "Come Back Home" following shortly behind. Currently, leader CL is gearing up for an American debut early next year with Hollywood manager Scooter Braun. Hopefully this high ranking is a good sign for her shot at breaking into the American music industry.
Girls' Generation has a wide international audience as the 2007 group brought the Hallyu wave to the forefront of the international stage with their 2009 hit "Gee." Their top track is also from their latest comeback "Mr. Mr." with their popular track "I Got a Boy" not far behind. Recently, it was announced that member Jessica was ousted from the group, surprising fans and shaking the K-Pop world.
Most Popular Solo Artist (Male): Jay Park
It comes to no surprise that the top male solo artist is none other than Los Angeles-based rapper Jay Park! After his removal from 2PM, the rapper founded his own label AOMG (Above Ordinary Music Group) and has since been working with other artists including Gray, Dok2, and most recently, Loco. He recieved a rating of 38/100 and though his latest album Evolution is not yet available on Spotify, his top track "JOAH" is featured on the album and appears as part of an EP on Spotify.
Most Popular Solo Artist (Female): G.NA
G.NA is a Canadian-Korean Solo artist who is known for her powerful voice and has been said to be the next Lee Hyori of K-Pop. Her international acclaim comes not only from her origins, but her international activities as well! She even sung an OST for a Taiwanese drama with Aaron Yan earlier this year! She tops the list of female solo artists with a rating of 39/100!
Honorable Mentions: 
EXO has held their own with a popularity rating of 42/100 which is not far behind that of BIG BANG although they have had a rough year with the exit of members Kris and Luhan. GD and Taeyang as solo artists are also ranked closely behind Jay Park although many of their tracks have been folded into BIG BANG as the credited artists. Rookie duo Akdong Musician has a respectable rating of 22/100 after their debut less than 8 months ago with their debut album Play. Meanwhile rookie group BTS (Bangtan Boys) has been climbing in popularity with their rating of 23/100 following their Korean Dark and Wild promotions.
There are many other K-Pop artists listed on Spotify with more being added as the streaming service reaches a wider audience. Other artists include 2PM, Lee Hi, BTOB, Ailee, 4Minute, SHINEE, K.Will, B.A.P., K.Will, San E, CNBLUE, and even some older artists including Kim Hyung Joon of SS501, SE7EN, and Brown Eyed Girls.
Take a look at the Spotify Artist Explorer yourself and see what kind of connections you can find between artists! The perks of Spotify's internatioanl appeal is that it also connects K-Pop to other genres including American R&B Artists like John Legend (who will be performing at MAMA 2014), J-Pop artists such as Utada, and even Mandopop artists like Ariel Lin and Jay Chou. Maybe you will discover a new artist that you like among these connections!
Share This Post