BEAST's leader Doojoon and maknae Dongwoon apologize to fans on SNS while intoxicated
B2uties ran to Yoon Doojoon and Son Dongwoon's rescue with encouraging tweets when the idol stars made unexpected, heartbreaking apologies to fans on their SNS platforms.
On August 22nd, BEAST's leader Yoon Doojoon and youngest member Son Dongwoon took to their respective SNS accounts to write apology posts that gnawed at the hearts of many fans. Judging by what was written in the two posts, it seems that the two members may have had a few drinks prior to confessing about their deep sentiments to fans.
여러분 취했어요 미안해요.. 우리 뷰티들 생각하면 항상 마음이 아퍼요 다른팬덤보다 항상 손해보고있다고 생각해서 너무너무 미안해요 . 그래서 오랫동안 하나하나씩 갚아갈게요 사랑합니다 너무 고마워요 잘자요

— Yoon du jun (@BeeeestDJ) August 21, 2016
In the tweet posted by the group's leader, it was written, "I'm drunk right now, everyone, so I apologize.. Whenever I think about our B2uty, my heart always aches because I feel like they are constantly getting the short end of the stick and are always losing so much compared to other fandoms. Every time I think about that, I feel so incredibly sorry. That's why we will begin to pay you guys back one by one, for each and every thing, for a long time. I love you and I thank you all so much. Sleep well."
Many BEAST fans that read Doojoon's tweet were also shocked to see the drunk Instagram posts made by the group's make, Dongwoon.
Though the original caption to this post has since been edited, it initially read, "Hey, whatever, I'm drunk right now. Just follow us. I love and thank you guys so damn much," as seen in the screenshot below.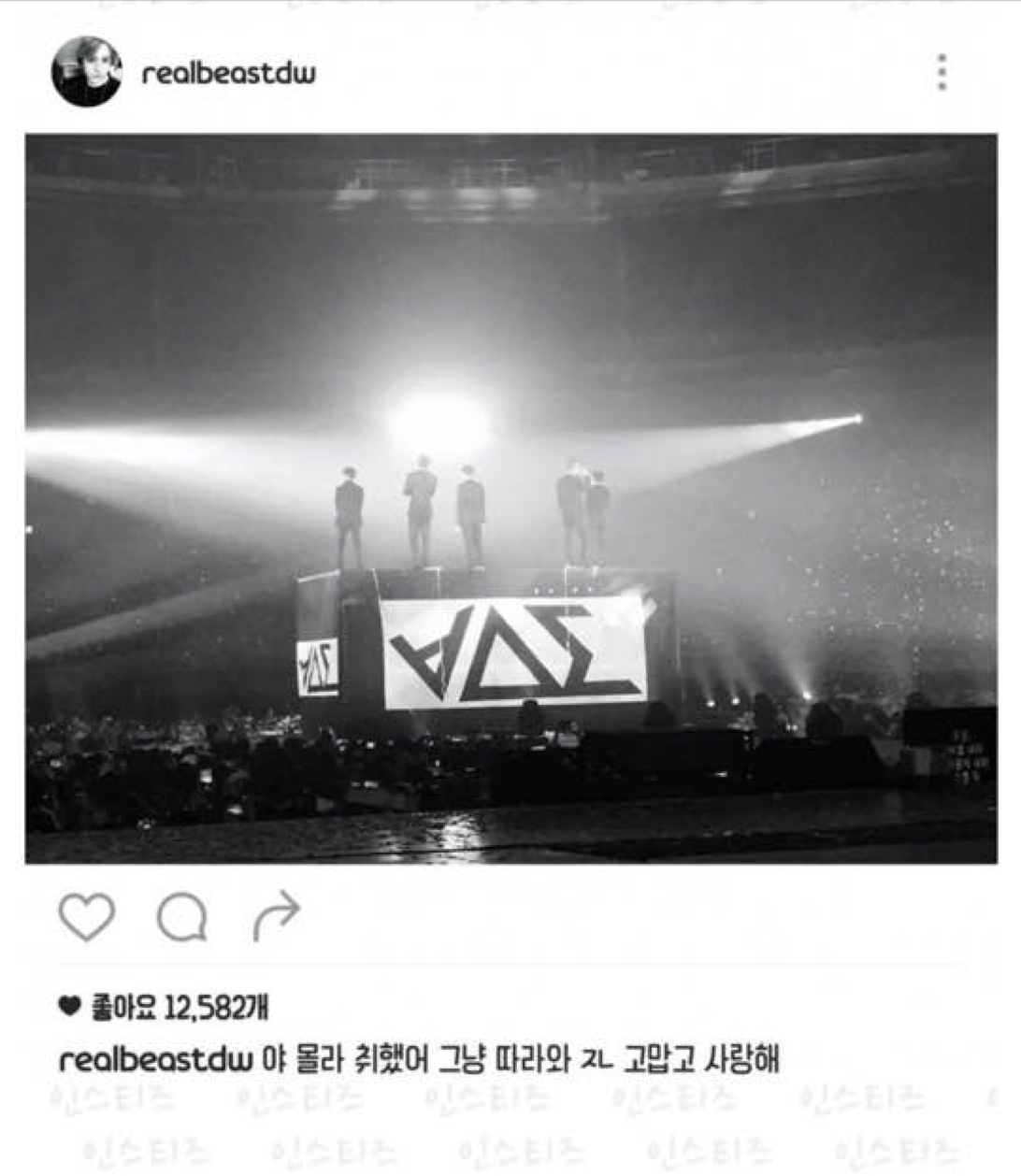 Fans have claimed that during the eight whole years BEAST has been promoting, they have never seen Dongwoon use such harsh terminology and grammar, which made his posts even more heartbreaking to read. The group's maknae even drunk-replied to fans' comments until 3:00 in the morning.
Though the portion of the fans' comments have been left out, captures of Dongwoon's responses have all been posted online, as provided below.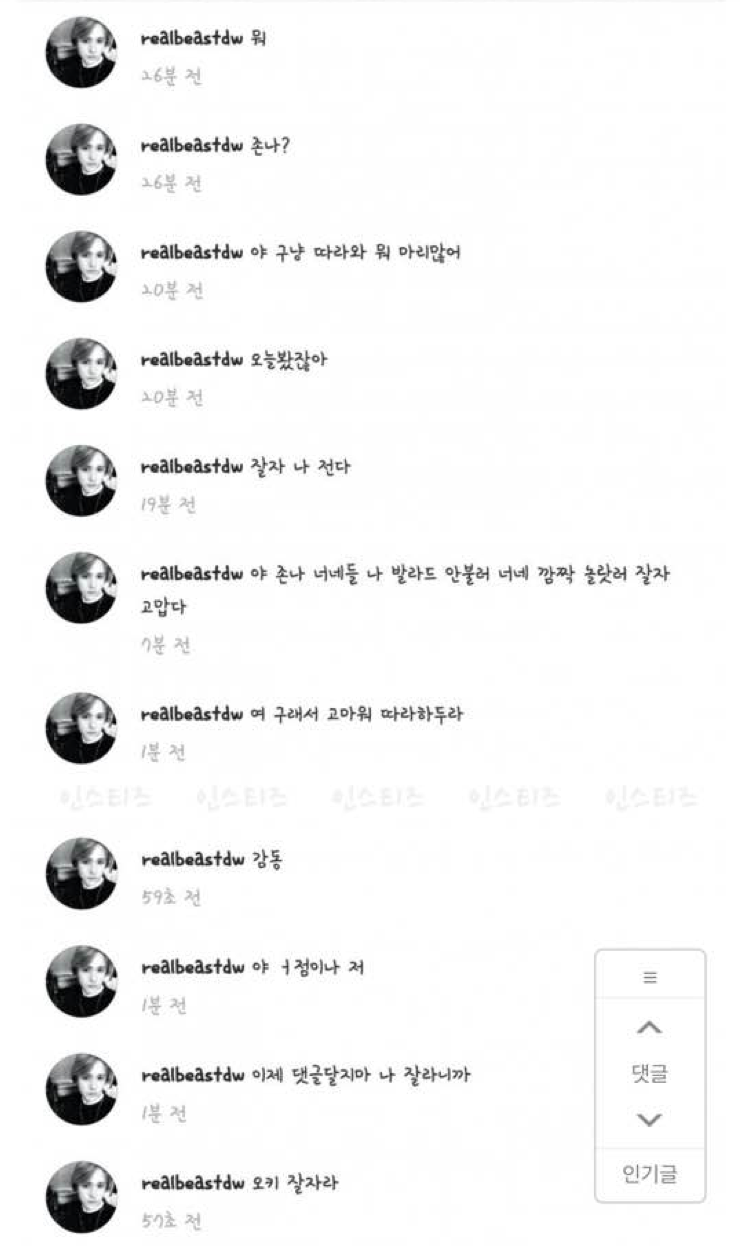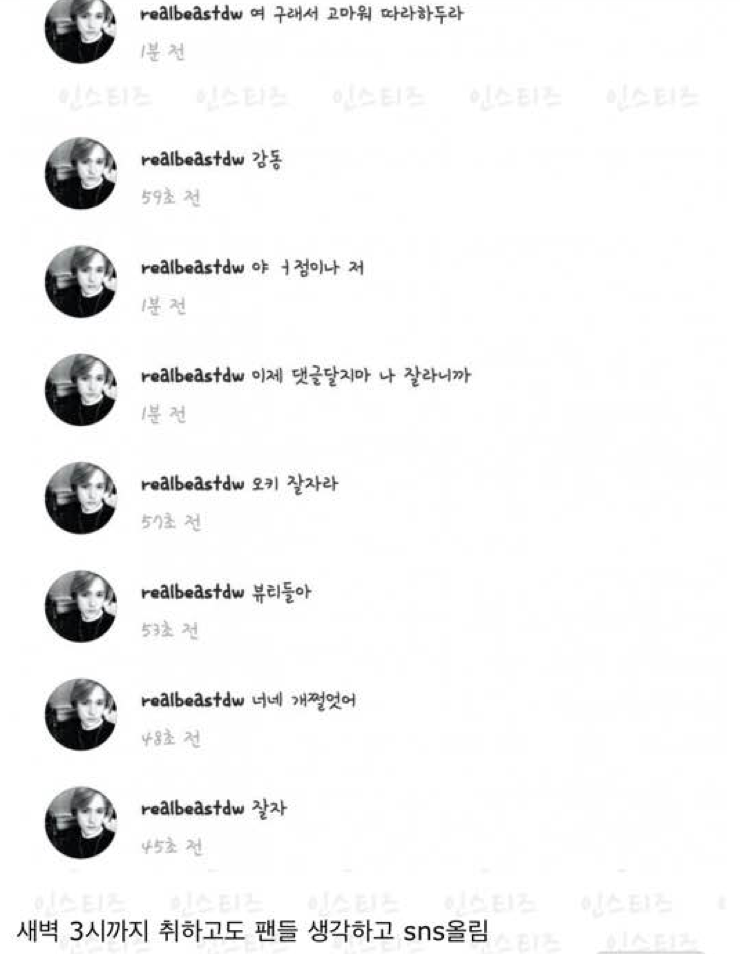 Many of Dongwoon's comments to fans read, "What? Damn… just follow us BEAST, why are you guys talking so much?" "I saw you guys today at the concert, I was really touched by all of you," and "I don't sing ballad, damn, but you guys really surprised me today. I'm going to bed now, sleep well."
He even made comments that were silly and didn't make much sense such as, "Yeah, you guys sang along with us at the concert because you followed us, okay goodnight stop leaving comments because I'm going to sleep now."
The comments that made fans' hearts ache the most, however, were his last three posts which read, "Hey, B2uties. You guys were freaking awesome tonight. Goodnight."
What are your thoughts on these two BEAST members' sentiments?
Source: Instiz
Share This Post