Big Byung plans for first ever fansign with comeback popularity
After making a comeback with their second title tack "Ojingeo Doenjang" ("Squid Soybean Paste") on December 16th, project group Big Byung announces plans of a fan signing event to be held in South Korea.
Consisting of BTOB's Sungjae, VIXX's N and Hyuk, and GOT7's Jackson, Big Byung is a project group gathered by Defconn and Hyungdon, thus promoting as a comedic non-typical K-Pop group.
Although they were initially supposed to disband after releasing their debut title track "Stress Come On!" in 2013, it seems like that is not happening any time soon, thanks to their growing popularity!
In fact, Big Byung has promised through their fancafe that if 500,000 views were reached, Yook Duk (Sungjae) will be present for the fansign. If 600,000 views were reached, Yook Duk and Wang Kong (Jackson) will be present. For 700,000 views, Hyuk Ddi (Hyuk) will be the additional member, while all four members will be present in exchange for 800,000 views. Going further by being more ambitious, they promised a free hug event with 1 million views, and a Big Byung mini concert for 1.5 million views.
The group has currently gained 539,500 views for their "Ojingeo Doenjang" music video, but plans are already on the way as Sungjae and Jackson are confirmed to be present at their first fan signing event.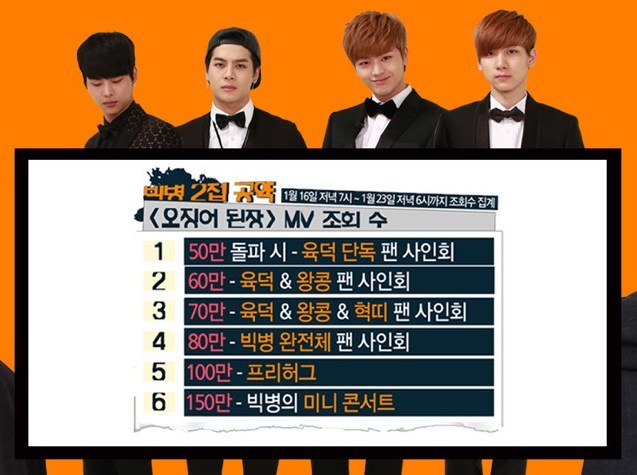 Source: STARNEWS and Big Byung's fancafe
Share This Post