BIGBANG's added fan meeting dates in Taiwan canceled due to complaints
BIGBANG's upcoming fan meeting in Taiwan may be not push through due to the complaints received from their fans' parents. 
A local report in Taiwan confirmed that BIGBANG's fan meeting scheduled for September 10th will not happen. The event reportedly received a number of complaints from the parents of their fans as the students may have the tendency to be absent or leave early from their classes on the day. This was due to the the upcoming Chuseok (Mid-Autumn) Festival that leaves the students to receive make-up lessons on the same day.
BIGBANG was originally scheduled for two fan meetings on the day but the 2pm slot was evidently canceled by the organisers.
YG Entertainment was asked to comment about the cancelation and stated that, "Since there has been no confirmation for the added dates, it was not right to announce it as canceled." 
Meanwhile, BIGBANG will be visiting the country on September 9th to 11th. T.O.P will be absent from these fan meetings due to other commitments.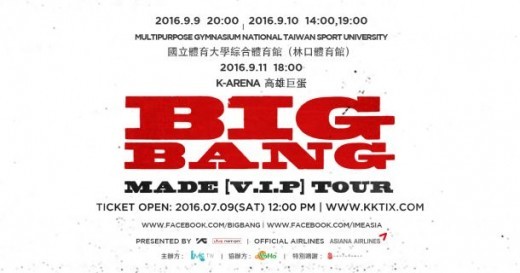 Source: TVReport
Share This Post