BIGBANG's "Happy Together 3" recorded as the show's lowest rated episode in 16 years
Despite the high anticipation of BIGBANG's appearance on their first KBS variety show with Happy Together 3, the specially 100-minute extended episode recorded the show's lowest rated episode ever. 
Happy Together first began airing its initial season on KBS in June 1999, and has been one of the broadcasting station's most popular variety show for three seasons straight, including the third season which began in 2007.
According to Nielsen Korea, the May 21st episode featuring BIGBANG recorded a nationwide audience analysis of 4.6%. This is down 0.4% compared to the previously aired episode (May 14th) which recorded 5.0% while the April 30th episode recorded 4.7%, just 0.1% more than the BIGBANG special.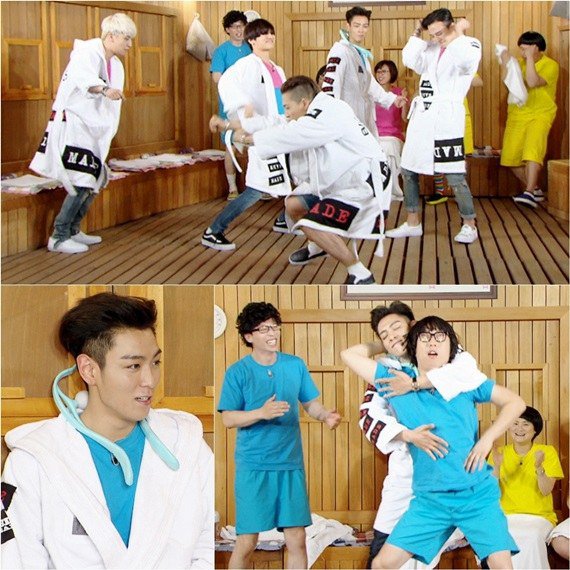 Happy Together 3 was the first time BIGBANG appeared on a KBS variety show as a complete group. In 2014, BIGBANG had made cameo appearances on the popular KBS family show Return of Superman due to their relationship with fellow YG Entertainment artist Tablo, who appeared on the show with his only daughter Haru.
Other than cameos, Happy Together 3 was the first official variety show they group has appeared on in seven years. Because of this, there was much anticipation and hype surrounding their long-awaited appearance. Unfortunately, the anticipated "BIGBANG Effect" did not occur.
Broadcasting in the same time slot as Happy Together 3 was Jagiya on SBS, which recorded 6.7%, and The People's Police 2015 on MBC, which recorded 3.0%.

A broadcast official commented, "I'm worried that 'Happy Together,' which boasts 16 years of history and is the face of the variety programs on KBS, may have begun its path down hill with this event as the catalyst."
There is also speculation that the 100-minute extension for this episode may have had an adverse effect on the viewing audience. Whether the trend of Happy Together 3's continuing falling ratings will continue is a question that can only be answered with the airing of future episodes.
Source: Newsen
Share This Post