Blast to the past: "Running Man" reveals photos of the cast's 20 year old-selves
Ever wondered how the Running Man cast looked back in their 20s? In the latest episodes, unseen photos of the entertainers were revealed.
The latest episode of SBS Running Man aired on March 29th and featured the stars of the film Twenty, including actors Kim Woo Bin, Kim Ha Neul, and 2PM's Junho. On the show, rare photos of each regular cast members of Running Man had old photos published alongside their current appearances, and the difference from then and now is amazing.
Gary's (37) portrayed a strong hip-hop feel in his photo of when he was 20 years old, while Haha (35) sported a basketball jersey with a frizzy hairstyle. Song Ji Hyo (33), on the other hand, had fuller cheeks 13-years ago.
The biggest difference can be seen in Kim Jong Kook (38). In his Turbo photo, the singer is much smaller in size with none of the big muscles he is known to have in sight.
Yoo Jae Suk (42) takes on a Chow Yun Fat style with his parted hairstyle and dark sunglasses. A photo of Ji Suk Jin (49) while in his sophomore year in high school was shared, taking on a fashionable look of jeans and long-sleeved shirt and posing for the camera. Lastly, Lee Kwang Soo (29) looks handsome in his chic fashion of a black sweatshirt and green beanie, his thin mustache style making a comeback.
No doubt, their auras between then and now are completely different.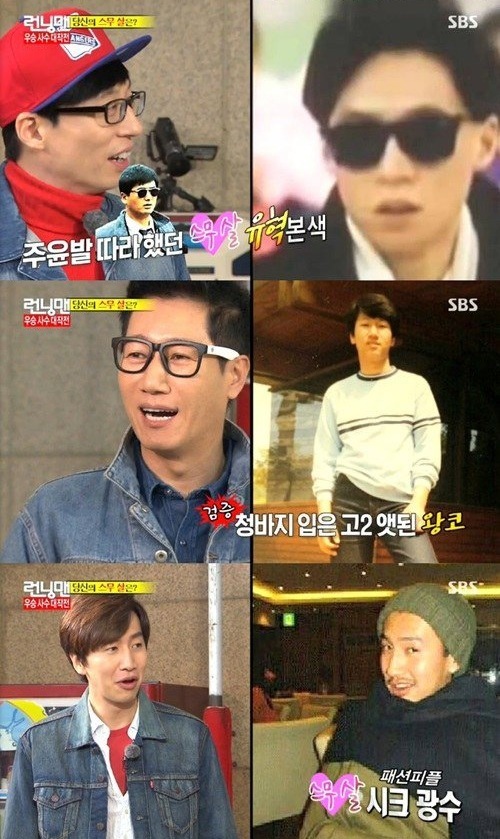 Source: Newsen
Share This Post