BLOCK B's fandom boycotts against Seven Seasons for a handful of reasons
Fans of BLOCK B are uniting to boycott against the boy group's agency until an official feedback is given on why their artists are being mistreated and neglected.
Recently, the BBC fandom has begun boycotting Seven Seasons, also known as KQ Entertainment, for many reasons that have been built up over the years, including mistreatment of artists and neglect. In this case, the mistreatment and neglect of the BLOCK B members.
The BBC administrators have asked the rest of the members of their fandom to refrain from purchasing the Blooming Period Production Note DVD that was recently released by Seven Seasons. They advised that if fans have already ordered the DVD online, but the item has not been shipped yet, to please cancel their transaction and claim for a refund.
In addition to the boycott, the fandom administrators posted on one of South Korea's biggest online communities called Instiz, a total of 20 specific reasons why the fandom has resorted to boycotting the agency, along with the title, Seven Seasons' Barbaric Actions.
Koreaboo has directly translated the list below:
During his trainee days, member Jaehyo was chronically injured in the knee due to a car accident. In the year of 2014, Jaehyo began feeling pain in his knee again, however the agency completely disregarded the respective member's health condition and sent him out to compete on KBS's sports activity show, Dream Team, in October of the same year. Ultimately, the member had to receive surgery and ended up performing on stage while sitting in a chair for a minimum of six whole months.
1-1.While still recovering, member Zico had to guard Jaehyo himself at the airport because the agency failed to provide any bodyguards to help protect the members, especially an injured Jaehyo, from chaotic fangirls who came dashing towards them, even though this is something that they should be providing at all times.
When the group's main vocalist, Taeil, released his first solo digital single for the song,  "Inspiring", the agency didn't make any publicity stunts to help promote the release, nor did they release any articles about the song. On top of it all, they released the song at 12:00 in the afternoon. Because of this, most fans weren't even aware that the song was released.
2-1. Member Park Kyung's first solo digital single received attention and support only after he had to promote and publicize it himself since publicity from the agency's behalf was nonexistent.
Ever since the release of "HER" in 2014, Block B went through a group hiatus of one year and seven months before releasing a comeback as a whole.
Member Jaehyo wanted to hold a live "Naver V app" broadcast because he wanted to do something with his fans, so he planned out a whole concept and took it up with the agency to get approval. However, the only response he received was, "Who would watch it if you were the one hosting it?" along with the terrible words of, "If it doesn't do well, you're responsible for it." When the said member still pushed forward with his plans despite what they said, only one broadcasting staff (who was sick with a cold) showed up with one lousy camera (stuck to a cellphone) to film Jaehyo's CCTV.
4-1. When the BLOCK B members asked to appear on more variety shows, the agency lowered their self-esteem by pointing out how unpopular they were and that they weren't good enough to come out on the shows.
The agency uses BLOCK B's official Twitter account to only retweet or share news articles. They don't even sort or censor which articles they share. Recently, the agency even used the group's account to tweet about something company-related and not BLOCK B-related.
5-1. After the group's official Instagram account was created, the agency only flooded it with puzzle-like cuts of the group's album cover and nothing has been updated since.
After fans began inquiring and requesting the agency for feedback regarding their barbaric actions, they uploaded photos that were all blurred out onto the group's official fan cafe photo library.
6-1. Every time fans have shown disappointment toward the agency or requested feedback from the agency regarding a complaint, Seven Seasons has always tried to "cover-up" or "brush the complaints off" by releasing unseen photos of the Block B members, thinking it will ease the fans.
When it was the group's 2000th day of Korean debut, the agency sent them to spend the anniversary with a majority of Japanese and Thai fans, even though it was the day of their debut in South Korea. The weirder part is, it was held in Seoul. Even Japanese fans showed disappointment in this issue.
7-1. Today, September 24th, is member Taeil's birthday and Zico's birthday was on the 14th of the same month, but the agency has only held a birthday party for Taeil and not Zico. Again, this was held in Japan while something like this was never held in Korea before.
(This was has been omitted as it has been said to be false.)
The group's official homepage and its hosting server has expired, but the agency has just kept it that way for the last four days. They finally got it renewed and fixed yesterday, but they updated Zico's birthday with the incorrect date, as seen below. (His birthdate is September 14th.)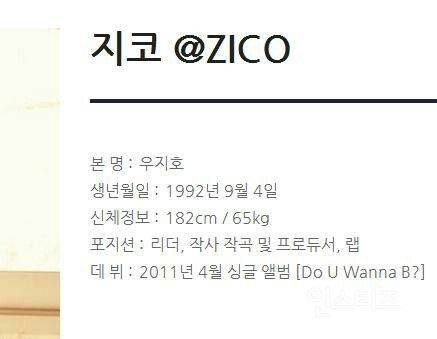 10. The group's official homepage should always be updated with a current calendar of the group members' schedules, but it is always left empty and never updated. Due to this, fans have to find out what the BLOCK B members are doing through news articles. Fan-run blogs and SNS accounts are much faster at updating the members' schedules than the actual agency.
11. The agency pretty much never promotes or publicizes their artists. Park Kyung was featured in Ceci Magazine's October 2016 issue, but fans only found out after other fans purchased the issue and randomly saw him in there. There were never any news or updates about his appearance on MBC's Idol Star Athletics Championships nor Radio Star.
12. Ever since BLOCK B went under the management of Seven Seasons in 2013, the group promoted on music shows for their comebacks for only 93 days in total. However, from the beginning of their management until September 6, 2016, they have been on a hiatus for a total of 978 days.
13. In their most recent comeback, the song "A Few Years Later" was revealed as an album pre-release, which means it was released before the whole album was. When fans requested for that song to also be a title song beside "Toy". However, they completely ignored the request.
14. In 2015, BLOCK B held two days of concerts in South Korea while holding 22 different concerts in Japan. Chart below shows the dates of the concerts in both countries.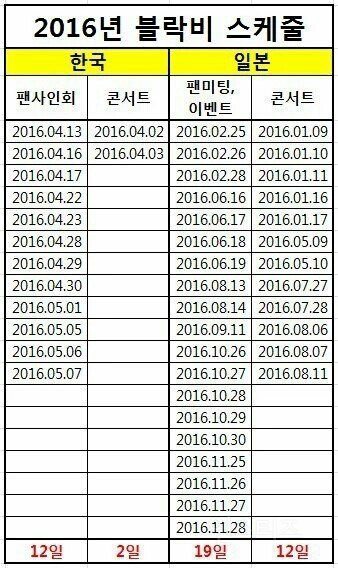 15. The group's activities on Naver V app has gotten noticeably low. Despite video interactions being one of the most concrete ways to make new fans, the agency fails at utilizing the tools given right in front of them and they don't even try. Park Kyung even said on one of his close celebrity friend's Naver A app broadcasts that he is always wanting to have his own broadcast and that he is always willing to hold on, but his agency will not let him.
16. At a recent overseas activity called KCON, Park Kyung was unable to attend. Even though the other members stated that it was due to personal reasons, in actuality, it was because the agency made a mistake and did not properly apply for his traveling visa.
17. In 2013, when they were first creating the entertainment company, they said that they would become "an agency made for BLOCK B". However earlier this year, the corporation renamed itself KQ Entertainment, demoted Seven Seasons as a company in lesser standing than KQ Entertainment, and also claimed to start creating rookie idol groups under a new, separate agency called KQ PRODUCE.
18. The album that the group released earlier this year was only a mini-album, but the agency released a "production DVD" at the price of 30,000 KRW (approximately $27.00 USD). The DVD's features include one mere music video, a music video 'making' clip, and one photobook. Because it didn't sell as well as the agency had expected, they posted a notice on the group's official fancafe about an upcoming fansigning event.
19. Yesterday, without any notice, the agency deleted their official Youtube channel. Fans were worried that all the view counts, likes, and subscriptions along with all the music videos and behind-the-scenes making videos would disappear or reset. However, the channel was restored back to normal, but fans had to find out the hard way through actual news articles and not from the agency's notices.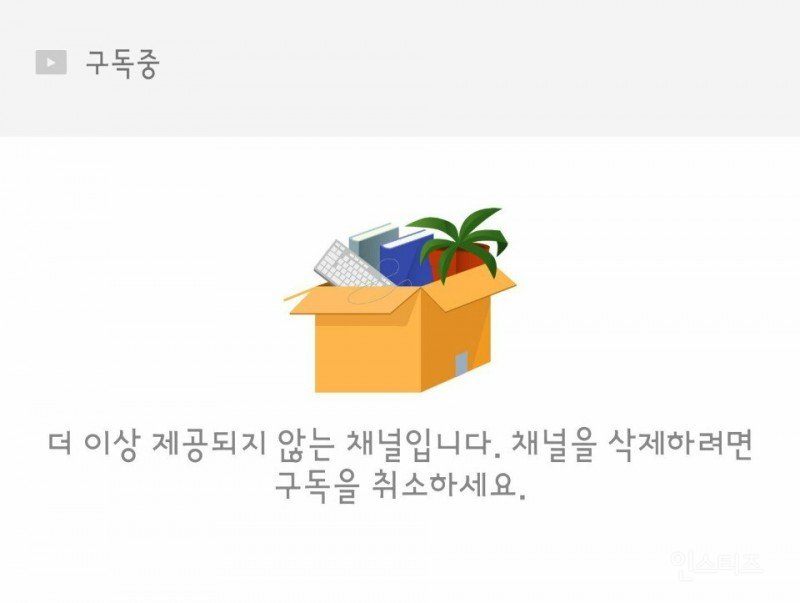 20. Since the 2013 star-up and creation of the agency and until this day, the company's headquarter still does not have a training studio nor a recording studio. BLOCK B has been and still is renting a venue for each practice session and until this day, each member has had to hire an individual vocal trainer on his own.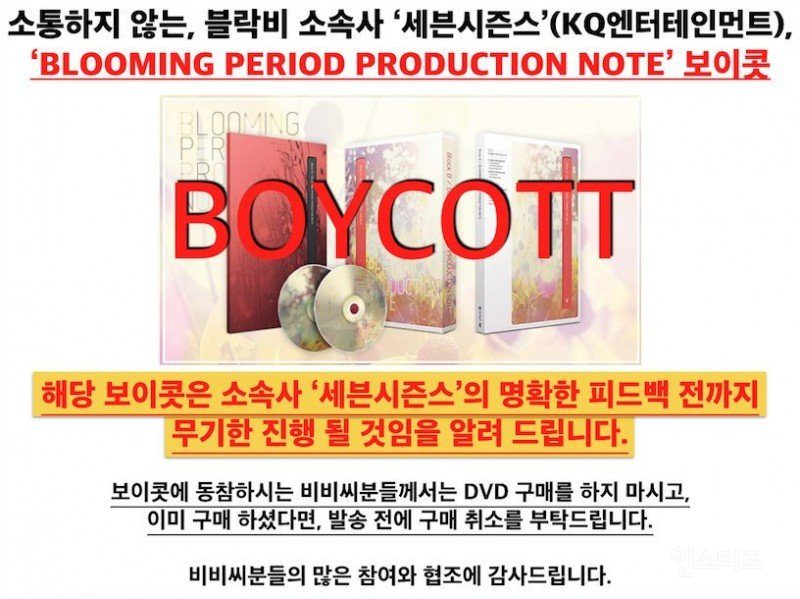 Source: Instiz
Share This Post