This idol thought his group was gonna fail, because one member was so ugly
BtoB's Minhyuk lightheartedly dissed Eunkwang's visuals while sharing his brutally honest first impressions of his fellow members.
On the March 2 episode of Mnet's New Yang Nam Show, Minhyuk was asked about his first impressions of his bandmates.
"When I saw Eunkwang, I thought the group would fail. But then I saw Hyunsik and figured the group might actually be okay."

— Minhyuk
Upon hearing this, Eunkwang revealed that Minhyuk had told him this before. He stated that he met Minhyuk for the first time when they all went out to eat. Eunkwang turned around when he heard that the new member Minhyuk had arrived.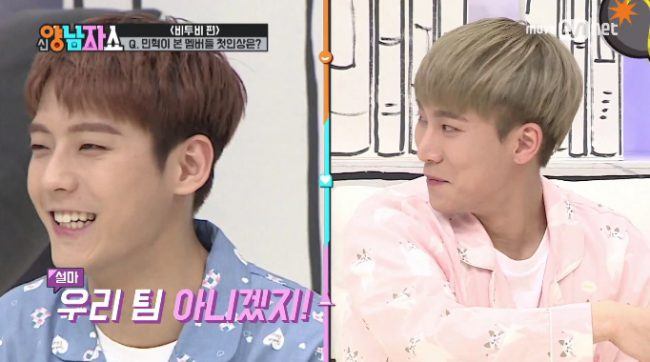 As soon as Minhyuk saw Eunkwang's face, he hoped that they wouldn't be in the same group.
"Honestly, I didn't know anything else about him. I could only judge from his looks. I saw his face and started worrying about my future. I was only 22 years old and my life depended on this group. But then one day, I heard him singing and regained hope. After all, a singer should be good at singing."

— Minhyuk
When asked what he would've done if Eunkwang wasn't good at singing, Minhyuk responded that he wouldn't have joined BtoB.
Check out the hilarious clip of the episode below:
Source: Dispatch
Share This Post