BTS becomes first Korean group to rank on UK's official Album Chart
BTS popularity continue to dominate global charts as the group achieve a new milestone as the first Korean group to make it into UK album chart.
After the release of the groups new track "Blood Sweat and Tears" the group have continued to break personal and industry records. The groups latest music video as of October 15th has already surpassed 21 million views on Youtube since its release on October 9th.
Now the group have been revealed to break a new milestone as the group are the first Korean group to enter the UK charts. On October 15, the UK Official Chart Company revealed BTS have made it on the album chart with WINGS placing the group at #62. The group also currently stand at #16 on the indie charts.
The groups global appeal continues to spread as the group were also the first Korean group to featured in Billboard's Twitter Top Tracks Chart landing third for their track "Save Me" and ninth for "Fire".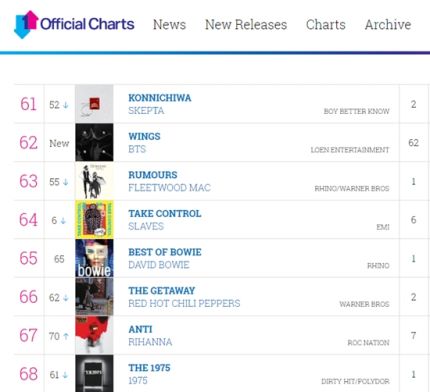 Source: OSEN
Share This Post