[★TRENDING] BTS fans outraged with organizers for oversold concert event due to poor management
BTS fans, largely known as ARMYs, have expressed their outrage and utter anger towards organizers after they were mistreated due to an oversold concert and more.
The popular Korean boy group recently kick-started their second tour with TGM Events around North America called Highlight, which began in San Francisco, California on September 22nd, followed by Houston, Texas on the 24th, Atlanta, Georgia on the 26th, and finally, Toronto, Canada on the 27th.
What made this tour oddly unique was that no formal tickets were sold for the concert and instead, fans looking to attend the BTS concerts needed to purchase a promotional t-shirt through TicTail as this was a fashion collaboration between Community54 and the boy group.

T-shirts were initially sold for $70 USD and gave each purchaser an entry into the event in the city selected as well as a hi-touch with the group. Due to popular demand, a $50 t-shirt was then added with the same options though no hi-touch was included.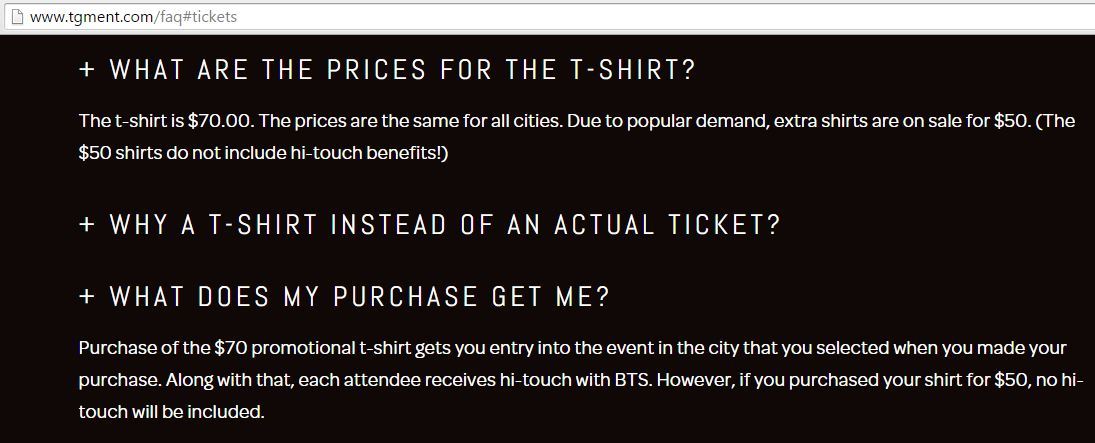 Additionally, fans who were interested in photo, autograph, and VIP passes were allowed to purchase passes separately.
$150 VIP Pass: Group Photograph Pass + Autograph Session Pass + Early Entrance (300 passes available)
$100 Autograph Session Pass Only (100 passes available)
$50 Group Photograph Pass Only (100 passes available)
After the Atlanta stop which was just recently completed, BTS fans who attended the concert expressed their outrage at TGM.
According to several fan accounts, due to the Atlanta concert being oversold and the small size of the venue, many fans (said to be approximately 100 or more) were left out in the rain and unable to watch their favorite idols perform. Instead, notes were handed out explaining the situation which read, "We're sorry the venue is at capacity, we will give you a full refund as well as a group photo and hi-touch with BTS after the show. Please write your name and e-mail address and we will give you a full refund."
How did u have time to print out all these denial notes? @tgm_events Hmm seems like u already knew before u over sold pic.twitter.com/u4Dl5HBugy

— Cortney Anna (@ontaekey_) September 27, 2015
@tgm_events needs to get it together. 100 people were left out in the rain because they oversold the show. pic.twitter.com/wV94Xqb7NV

— Sleighdee Reindeer🎄 (@Brttnymchlle) September 27, 2015
https://twitter.com/wotemmie/status/647915535531962373
With the promise of compensation, fans unable to enter the venue waited outside until the concert ended (two and a half hours) when they were ushered inside for their hi-touch and group photo. However, after a long wait, it was finally announced that BTS had already left the venue.
"So right now, the situation is that due to our own mistake, we oversold you guys tickets. We sincerely apologize for that, it was definitely our fault. In this respect, we don't have a solution for you right now, but we are trying to come up with one right now. Everyone in here, we will definitely refund you […] we will do our best to reimburse you any expenses you may have incurred coming over here," said one of the staff.
In various fan videos, Atlanta ARMYs were heard shouting their anger at the unfulfilled promise. Another TGM staff member was heard apologizing to the crowd, saying, "We made a bad mistake. We can't say that everyone makes mistakes. We made a bad mistake. […] We wanted to, we thought we could, we can't […] We wanted to make you all happy."
It was further revealed that the promise and decision of the hi-touch and group photo compensation were wholly made one-sidedly by TGM without consulting Big Hit Entertainment or BTS, thus the group had left the venue without knowing over 100 fans were left out in the rain to wait on them.
One fan's recording revealed that another female fan stepped up and volunteered to keep in and be the main contact with TGM after getting everyone's information to make sure they are given what they deserve (see video above). Unfortunately, fans were ushered out of the venue due to it being past its hours of operation.
For fans needing to get in contact with this fan, visit her Tumblr here.
https://twitter.com/wotemmie/status/647963835714936833
Another fan uncovered a post allegedly tweeted by a TGM staff member revealing that the company had known for over two months that the Atlanta stop was oversold.
@tgm_events @tgm_nadia they knew they were sold out since July.. #Awkward #Highlight2015 #HighlightTour #BTS pic.twitter.com/WyCPGr9HFB

— Dawnyy ;D (@DarkendDawn) September 27, 2015
Unfortunately, this is not the only Highlight stop that received complaints, with the very first one in San Francisco garnering major criticism. Fans reported that VIPs were given entrance at an arbitrary time with General Admission allowed in afterward in which non-VIP holders were able to fill in seats "reserved" for VIPs. Because the seating was considered "free seating," security was unable to get VIPs who came in later their to their designated seats.
Additionally, fan accounts also stated that those who did not pay for hi-touch were given hi-touch, causing many VIP pass holders had to wait to go after those who did not pay for it in the first place.
In Houston, the second stop, fan accounts revealed that the hi-touch was disorganized. It was also noted that posters for BTS to sign ran out, so sheets of paper were given to the group to sign for fans instead.
Unfortunately, this isn't the first time that TGM has been under fire for their management. In the past, the company was said to be blacklisted after what happened with Korean group B1A4 in Malaysia. Additionally, they are known for the cancelled concerts of Kim Tae Woo and more in North America.
TO ALL THE FANS WHO DOESNT HAVE ANY IDEA WHAT'S HAPPENING: #sueTGM @tgm_events pic.twitter.com/urkD6wwXUL

— thank you, jonghyun 💖 / bio 💫 (@dormjihoonst) September 27, 2015
Share This Post