BTS's Jimin's New Hair Color Mystery Trending As They Leave For LA
There's a 10 out of 10 chance that the new hair style looks good on him! 🔥
BTS made headlines this morning as they were spotted at Incheon International Airport to head to LA for their Permission To Dance On Stage concerts and other schedules.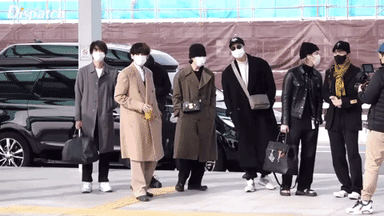 Of course whenever they are seen at the airport, their airport fashion becomes a trending topic! With a variety of top brands like Louis Vuitton, GUCCI, Thom Browne, Chrome Hearts, and more the boys were stunning visuals on their way in to check in for their flight.
However, one member's fit detail in particular had ARMY getting out their magnifying glasses. Usually when one of the members have a hat on it's for one of three reasons: it's really cold outside, it's for ~fashion~, or they're trying to hide a new hair look.
For BTS's Jimin, fans were quick to spot that the 26-year-old still had his black mullet hair but with some new highlights!
No, not actual highlighter highlights (ARMY is so funny) but some SILVER highlights!
ARMY was raving for this bit of information. Even though all we got was a little glimpse, it was enough that "JIMIN HAS HIGHLIGHTS" was trending on Twitter within the hour!
With more than 19.7k tweets (and counting), Jimin's silver highlights has everyone excited.
LOOK AT HIS HAIRRRR DOES JIMIN HAS HIGHLIGHTS OR I AM SEEING THINGS pic.twitter.com/nmnSzl52HU

— ً (@abyssjoon_) November 17, 2021
With some even theorizing what kind of hair the K-Pop idol has hidden under the beanie.
HEAR ME OUT. pic.twitter.com/ZdqCIjL9Jg

— ♡ (@flterkook) November 17, 2021
ARMY's reactions were hilariously on point! (we may also pass out)
JIMIN HAS HIGHLIGHTS AND THE MOMENT HE TAKES OFF THAT BEANIE AND SHOW HIS HAIR IMMA PASS OUT pic.twitter.com/OXmsJOB4pz

— sope🐼 (@attackonhobi) November 17, 2021
It wouldn't be the first time Jimin rocked some highlights as the "Filter" singer has previously sported orange highlights during BTS's "Fake Love" era.
And rainbow highlights for their "Butter" comeback!
As the group rests after their flight and preps for their upcoming schedule, we're counting down the hours until we see that hair reveal!
Share This Post