BTS Surprises Lucky Korean Students With A Personal Visit
BTS made a surprise visit to Samjung Middle School in Seoul on March 6 and left the students with an unforgettable memory.
As part of SK Telecom's "T-World will go on" campaign, BTS visited one lucky middle school, to the delight of the students. Even though the group has been busy with album promotions and preparing for their world tour, they still found the time to give people a truly special moment.

The SK Telecom "T-World will go on" campaign has a special event called "School Attack", where BTS visited Samjung Middle School in celebration of the beginning of the new semester. The BTS members also held a quiz with the students and gave signed CDs to those who got the quiz questions correct. They also showed great fan service by taking group pictures with the students.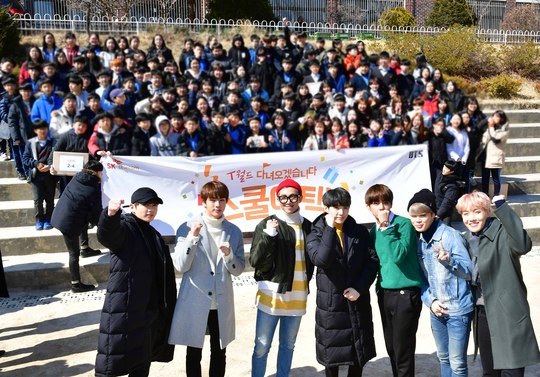 A student who participated in the event commented,
"I was hopeful I could attend the "T-World will go on" event and I'm really happy I was chosen as a winner. I think I used my entire life's worth of luck today."
Another said,
"I was sad that BTS concluded their Korean promotions the same month as their comeback back in February but seeing them today got rid of all my sadness."
Source: Newsen
Share This Post