BTS' V criticized for alleged rudeness towards BIGBANG and EXID on Mnet M! Countdown
In light of their latest win on M! Countdown, netizens have come to scrutinize BTS member V after he was seen singing BIGBANG's "Loser" during his group's acceptance speech.
During BTS' winning speech, member V can be seen breaking out into a lipsync moment, singing to BIGBANG's "Loser" passionately as Rap Monster delivers thank yous on behalf of the group. However, viewers who noticed V's singing were not all amused.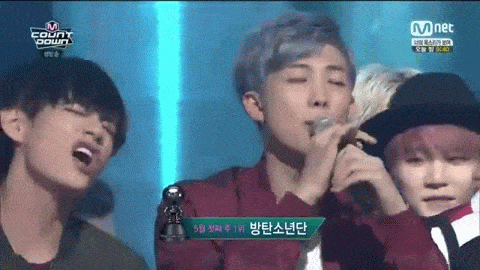 Many netizens took the online boards and commented how rude it was for V to sing "Loser," in which they believed was rude towards not only BIGBANG – since it's the norm to sing your own song during your winning stage – but EXID as well, whom they were up against for the M! Countdown trophy on May 7th.
Netizens wrote, "He's really going overboard..BIGBANG fans are going to be so pissed, I'm not even a fan and it looks like he's mocking them," "His fans are being ridiculous..'It's cause he's excited'…so disrespectful," "I'd be so pissed if I was a BIGBANG fan," "This makes me lose all respect for them," "I'm sure EXID was glad to see them sing 'Loser' after winning against them," and more.
https://youtu.be/8M4jDYNyvN4?t=35s
Possibly responding to these comments, V posted on BTS' group Twitter account shortly after the broadcast, "These three songs are the ones I listen to every day before going to sleep because they're really good, so it became a habit that the lyrics came out of my mouth upon receiving the trophy..ㅠㅠ I love you guys, you're really cool!"
Along with the lengthy post was a screenshot of his phone and playlist with BTS' "I Need U" followed by BIGBANG's "BAE BAE" and "LOSER" in the TOP 3.
BTS has also been caught up in a controversy where netizens accused the group sajaegi, enabling them ahead of BIGBANG on the charts in terms of albums sold.
맨날천날 자기전에 이세곡은 꼭듣고자는데 너무 좋아서 맨날 부르다보니 입에 붙어서 상받자마자 너무 기뻐 저도 모르게 에고고..ㅠㅠ 사랑합니다 정말 멋지십니다! pic.twitter.com/Ey4Kk2nqpy

— 방탄소년단 (@BTS_twt) May 7, 2015
Share This Post