Chinese Tourists Leave Korean Airport Looking Like A Giant Garbage Dump
Photos of Jeju International Airport shown overflowing with trash left by Chinese tourists is causing massive outrage.
Jeju International Airport was transformed into a giant garbage dump after a mob of Chinese tourists discarded trash on the floor of the international departure gates. The airport staff had advised the tourists to make use of the trash bins on multiple occasions, but a large group of the Chinese tourists chose to simply discard their bags on the floor before boarding.
The Korea Airports Corporation in Jeju was forced to increase the number of cleaning staff at the airport while continuing to advise Chinese tourists on the proper way of discarding the duty free plastic bags.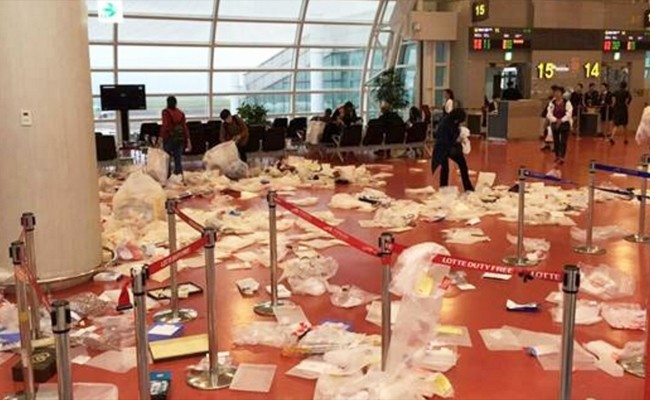 The issue has been a recurring one at the airport since last year, but it seems like the solution is yet to be found. According to airport officials, not all Chinese tourists do this, but when a large group shows up, the phenomenon occurs again.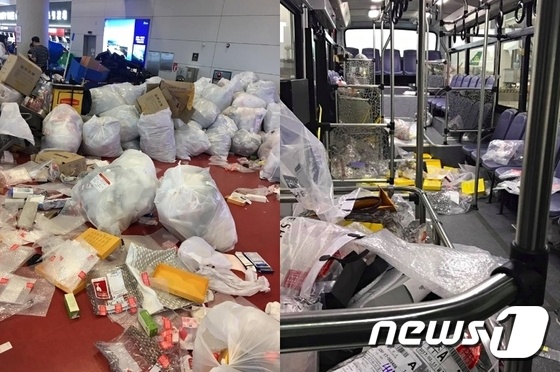 Even though the issue mainly takes place at the international gates, the littering problem also takes place on the transfer buses as well.
Airport officials say there is only so much they can do for the current situation. Besides advising to use the bins, they cannot force people and reprimand anyone that does not abide by the rules.
A staff from the Jeju Airport duty free department gave the following statement to the media.
"This is not a problem with the Chinese people. This is a problem with group-mentality and also fault of the airport for improper action."

– Jeju Airport Duty-Free Staff
Jeju Airport officials finished off by saying that they are planning to install more bins and planning additional solutions to combat the littering problem.
Source: Money Today
Share This Post