Chonbuk National University students pose topless for unofficial graduation recital poster
18 graduating students from the Chonbuk National University Department of Dance took several promotional pictures for their upcoming graduation recital. One of them included the students posing topless, which has made the photo go viral.The graduation recital is to be held on November 26th and is free for all attendees. The graduating class consists of 17 girls and 1 boy, and they will be performing classical ballet and traditional Korean dances in their showcase.
This unique way of promoting the recital was created by the students and sent out as an invitation to their friends and families. It quickly garnered a lot of attention that the university is not seeking. An official stated that this was damaging to the university's reputation, and he did not know why the students sent this around, since the university had their own official promotional poster.
Furthermore a professor from the Art College at Chonbuk, stated that the university was looking into the matter because it made no sense for them to pose topless since there is no nudity in their show.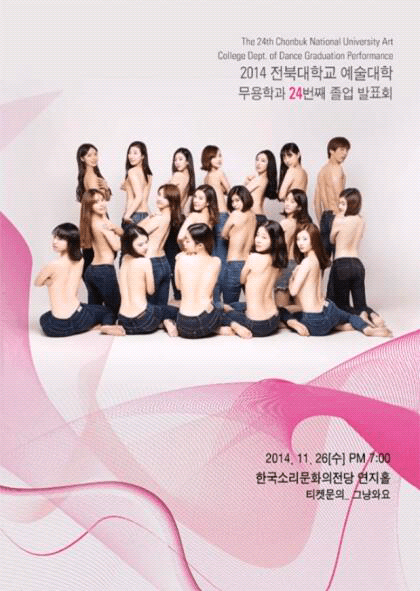 Source: The Korea Observer
Share This Post