CL continues to lead by a large margin in TIME 100 online poll
With only a few days remaining until the online poll for the TIME 100 is closed, CL is shown to still be leading the pack with the majority of the votes.
The 2NE1 member, who is currently preparing for her solo debut in America, was nominated as one of the candidates for this year's TIME 100. While winning the online poll does not immediately give her a place into the actual publication's list, as it is chosen by TIME's editors, CL topping the ongoing poll is a feat in itself.
Leading with 5.6% of the votes is CL, while Russia's leader and president Vladimir Putin is following behind with 5.1%. Others include entertainer Lady Gaga with 2.8%, actress Emma Watson with 1.9%, and the Dalai Lama with 1.8%.
Do you think CL is deserving of a spot on the "2015 TIME 100″? Let TIME's editors know by voting for her today! Voting will close on April 10th at 11:59PM local time, with the poll results unveiled on the 13th. The official "2015 TIME 100″ list will be announced on the 16th.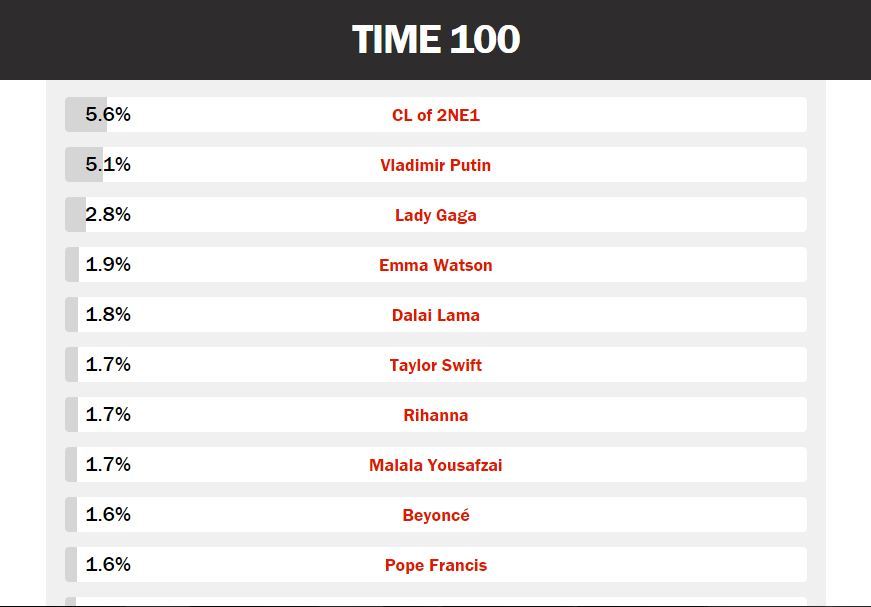 Source: TIME
Share This Post